Regular price
Sale price
$119.00
Unit price
per
Sale
Sold out
SPECIFICATIONS
Working Temp: -60℃~ 50℃
Type: Pneumatic Jack
Type: Pneumatic Car Jack, Car Pneumatic Jack/Hydraulic Car Jack/Car Lift Jack/Car Repair Tool
Origin: Mainland China
Min Height: 165 mm / 6.5 inch
Max Height: 400 mm / 16 inch
Lifting Time: 5 Sec
Item Type: Car Jacks
Certification: CE
Capacity: 3.0 ton / 6600 lbs
Brand Name: VEVOR
Air Inlet: G1/4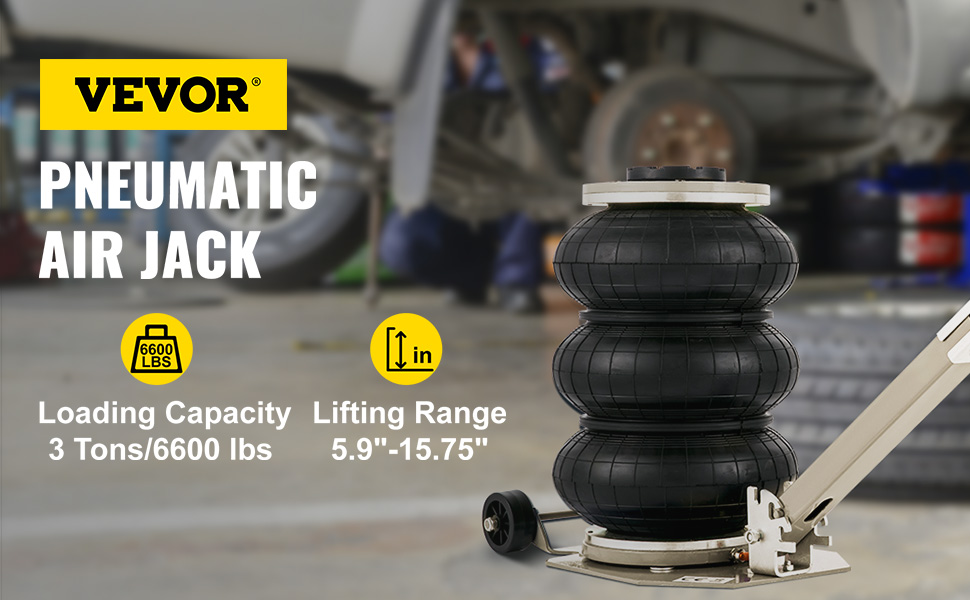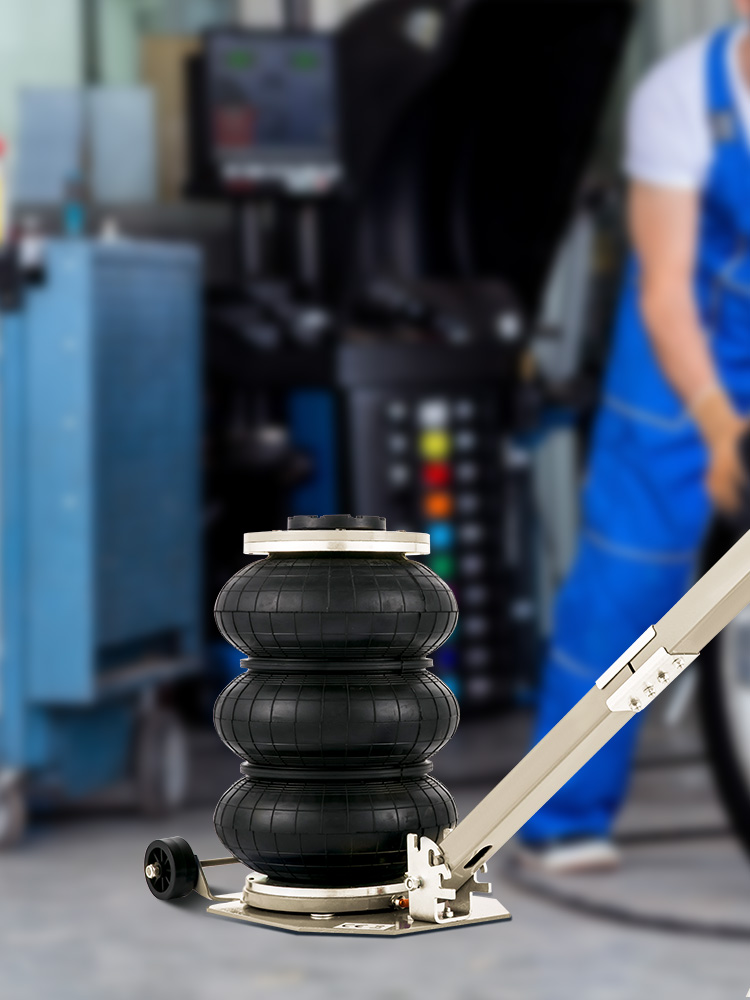 Pneumatic Car Jack
Our pneumatic jacks are designed to be tough and built to last! They are compact, powerful, and very fast to use. The bag air jack can be lifted in 5 seconds. Inflated with compressed air, they are easy to handle and easier to handle without a load than spring types.
Labor-Saving Jack

Heavy Duty Construction

Secure Usage

Adjustable Handle
Tough Equipment & Tools, Pay Less
VEVOR is a leading brand that specializes in equipment and tools. Along with thousands of motivated employees, VEVOR is dedicated to providing our customers with tough equipment & tools at incredibly low prices. Today, VEVOR's products are sold in more than 200 countries and regions with 10 million
plus members worldwide.
Why Choose VEVOR?
Premium Tough Quality

Incredibly Low Prices

Fast & Secure Delivery

30-Day Free Returns

24/7 Attentive Service
Key Features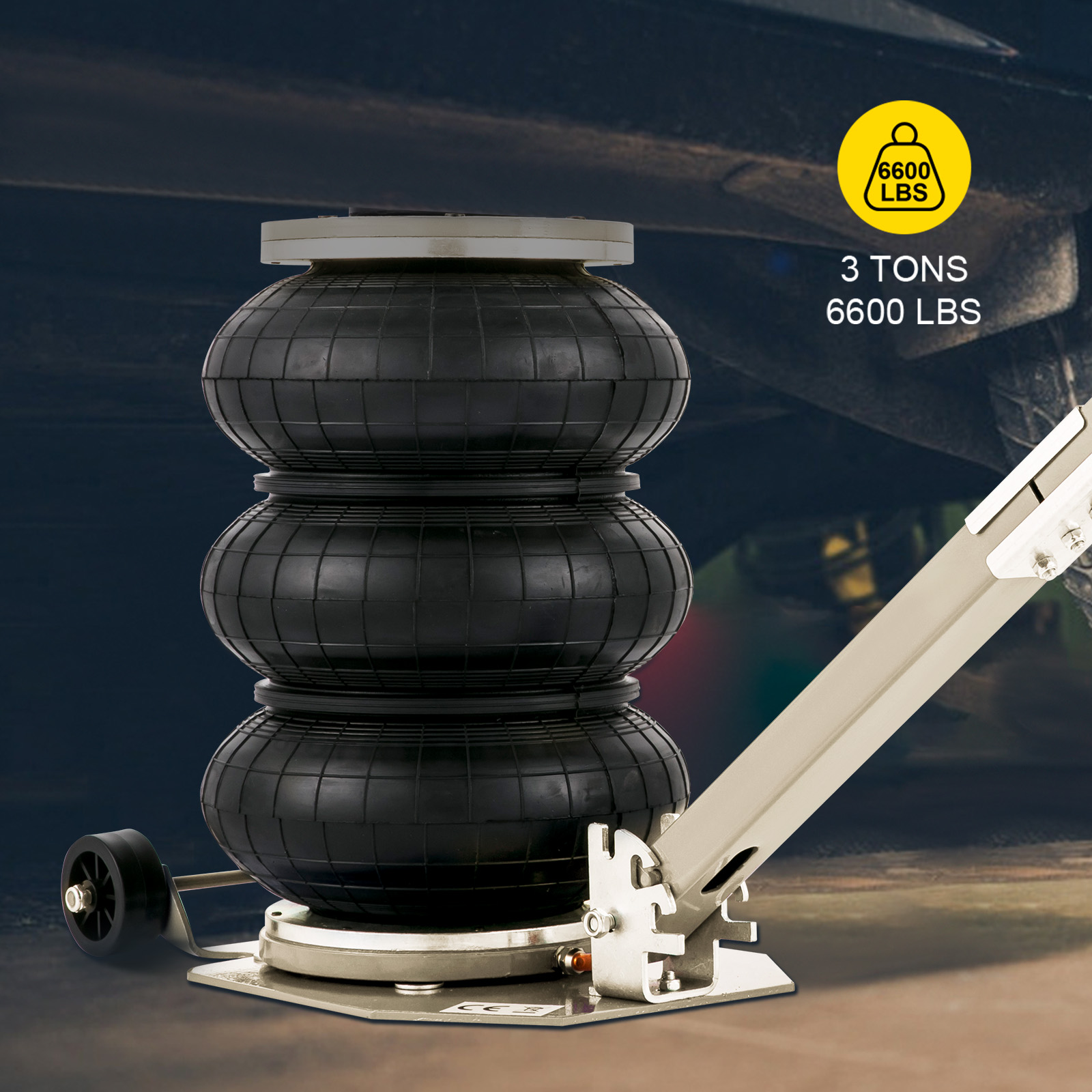 Heavy Duty Loading Capacity
This triple airbag jack can support 3T/5T. It can be used to lift your small cars, family cars, minivans, SUVs off-road vehicles, or other heavy objects.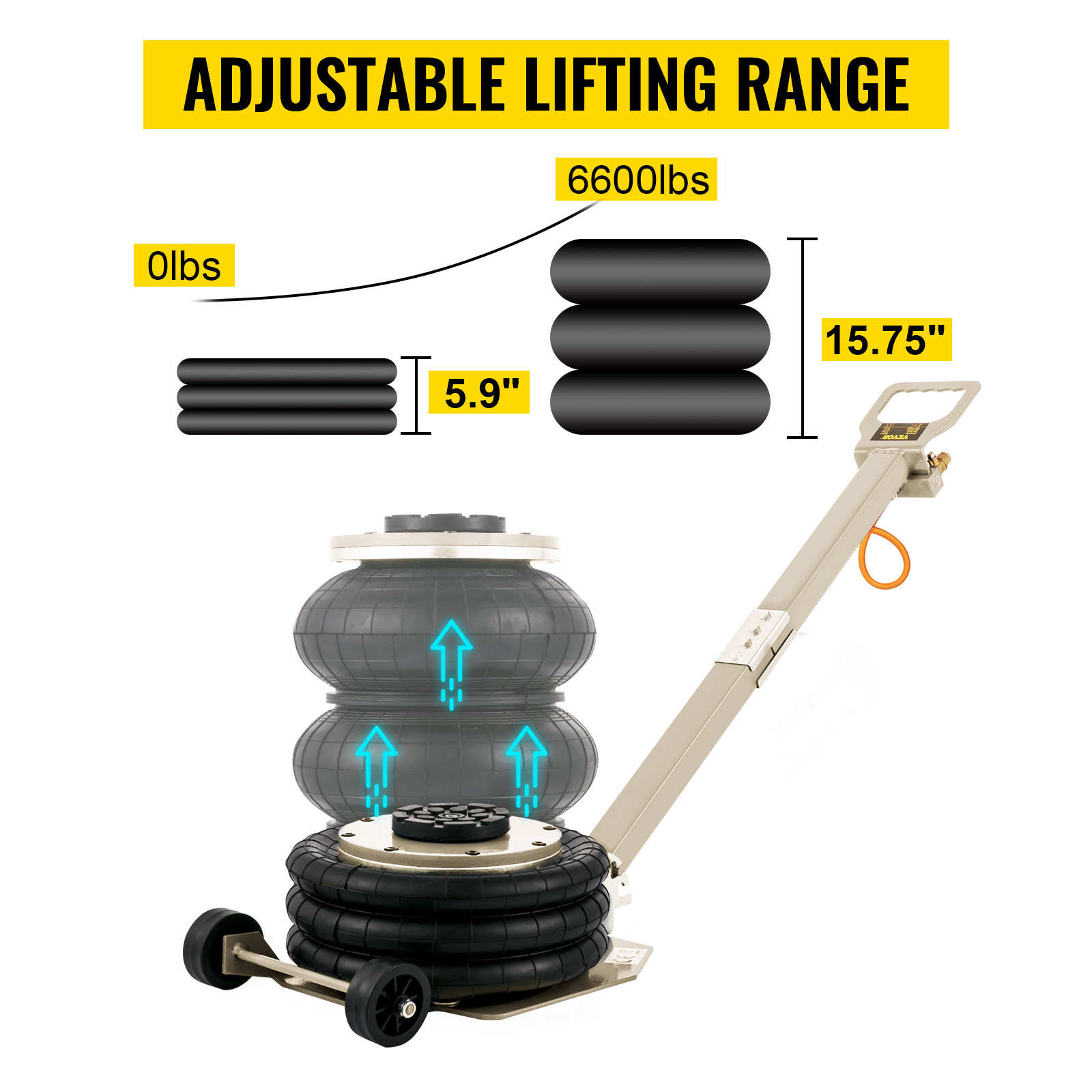 5.9"-15.75" Lifting Range
It only takes 5 seconds to lift from 5.9"/150 mm to 15.75"/ 400 mm, the max. Lifting height is suitable for most vehicles. Working Temp: -60℃~ 50℃.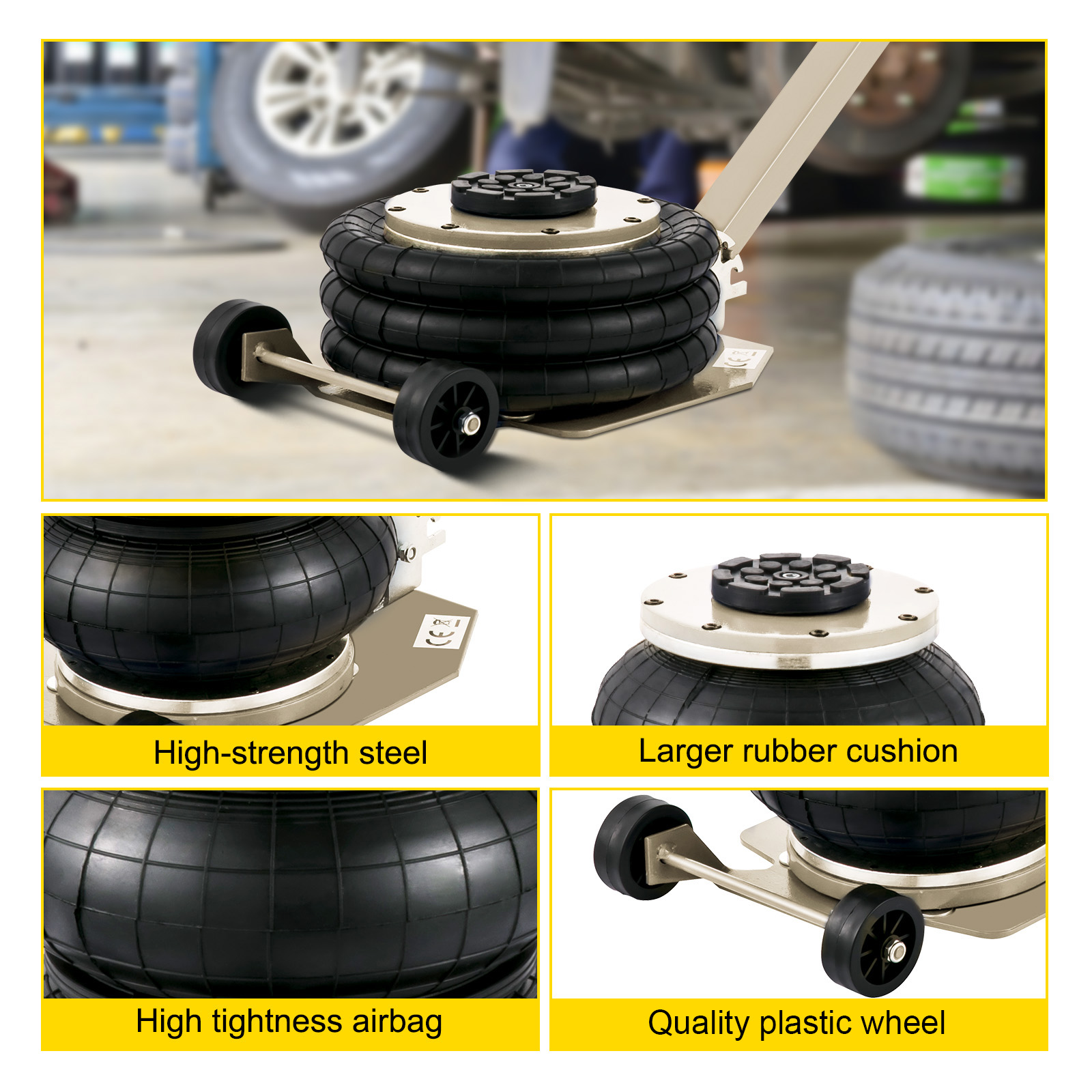 Solid Construction
The thickened rubber and steel plate work together to make the lifting secure and more stable. The combination also reduced the impact and led to precise lifting.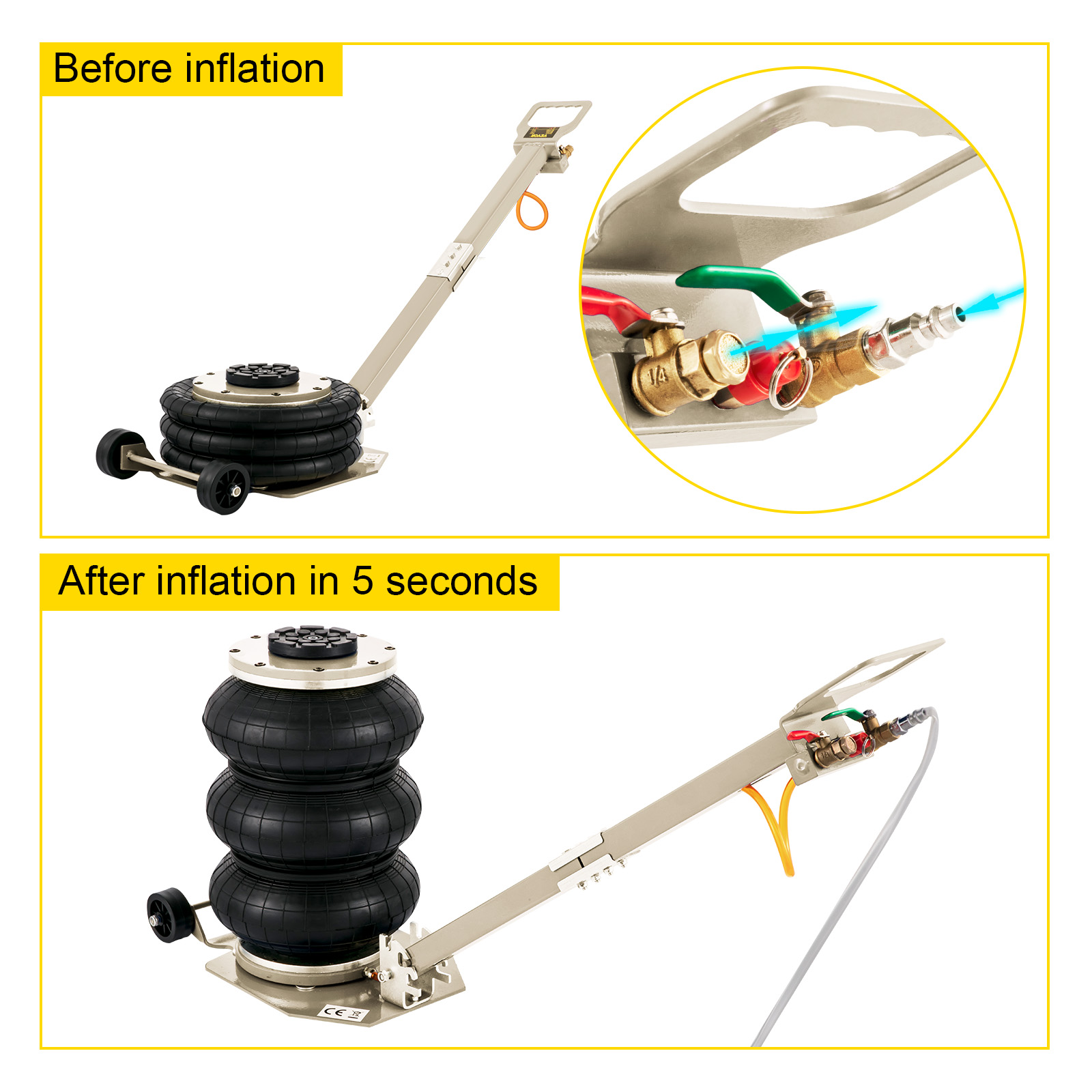 Easy Operation
There are three valves on this triple airbag jack: air input valve, air outlet valve, and relief valve, which can help you operate the jack securely and quickly.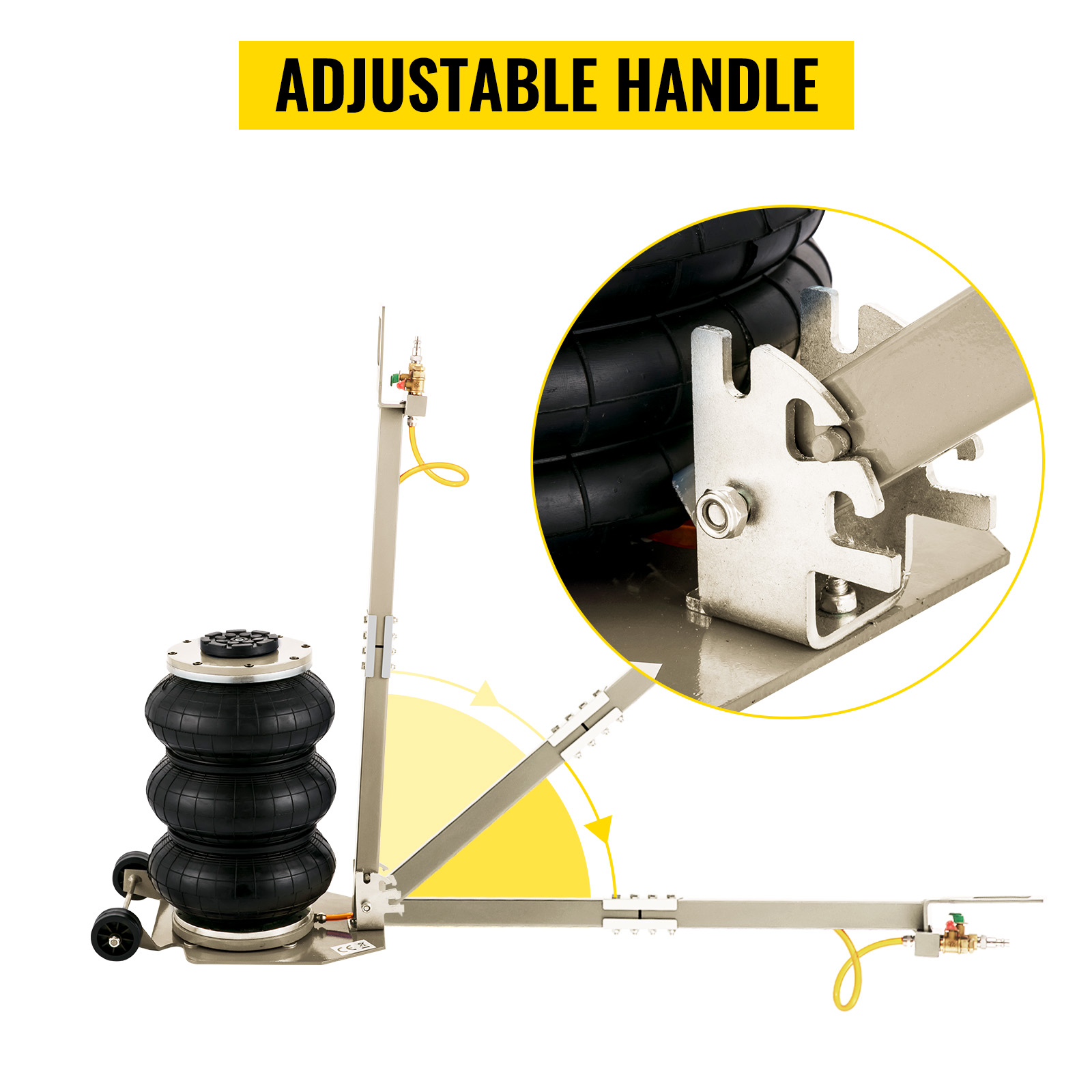 Adjustable Handle
Three adjustable angles to facilitate your different operating positions. In addition, the handle can be detached, does not occupy too much space, and can be easily placed in the trunk.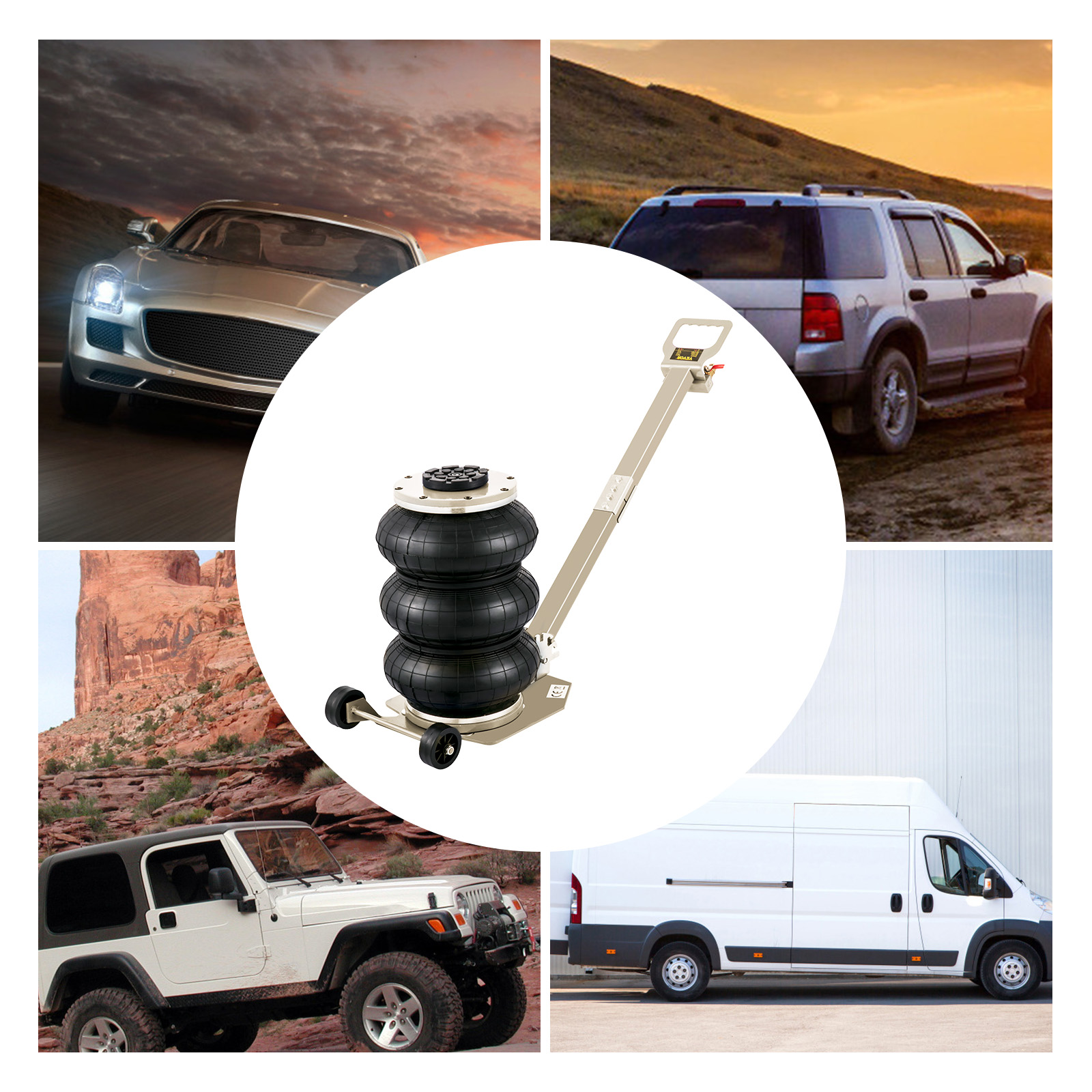 Wide Application
The pneumatic jack lift is great for heavy lifting in auto shops, repair shops, and household warehouses and is suitable for family cars, minivans, SUVs, off-road vehicles, etc.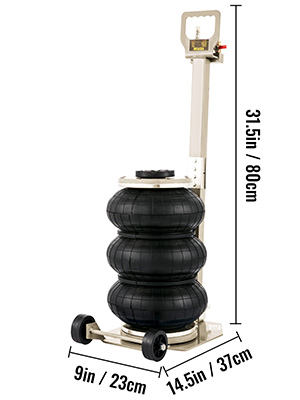 Specifications- 6600 lbs Pneumatic Car Jack, Adjustable Handle
Capacity: 3.0 ton / 6600 lbs

Min. Height: 150 mm / 5.9 inches

Max. Height: 400 mm / 15.75 inches

Air Inlet: G1/4

Color: White / Red / Blue

Lifting Time: 5 Sec

Working Temp: -60℃~ 50℃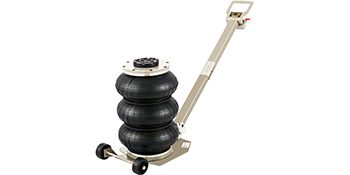 Package Content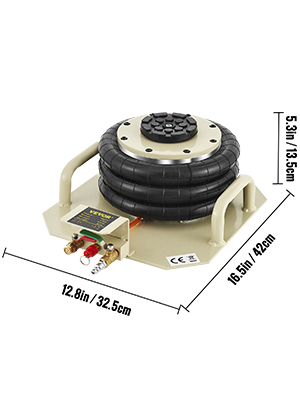 Specifications- 6600 lbs Pneumatic Car Jack, No handle
Model: 3T PneumaticJack

Capacity: 3.0 tons/ 6600 lbs

Working Pressure: 8 kg/cm²

Min. Height:135 mm/5.3''

Max. Height: 420 mm/16.5''

Air Inlet: G1/4

Lifting Time: 5 Sec

Working Temp: -60℃~ 50℃
Package Content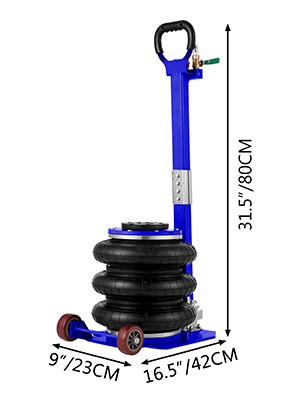 Specifications- 11000 Lbs / 5 Ton Pneumatic Car Jack
Capacity: 5.0 ton / 11000 lbs

Min. Height: 165 mm/5.71 inches

Max. Height: 400 mm/15.75 inches

Air Inlet: G1/4

Color: Blue

Lifting Time: 5 Sec

Working Temp: -60℃~ 50℃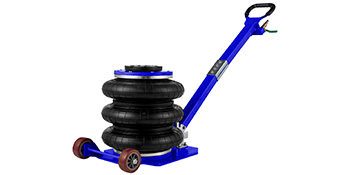 Package Content
Product Highlights:
Effortless Lifting Solution: Boasting a capacity of 3 Ton / 5 Ton, our pneumatic jack is designed to take the strain out of lifting. With a minimum height of 5.9" / 150 mm and a maximum height of 15.75" / 400 mm, it achieves rapid lifting in just 5 seconds. Operating smoothly within a temperature range of -60°C to 50°C, its G1/4 air inlet ensures efficient air supply. This triple-bag jack redefines convenience in car lifting.
Robust Build: Crafted from high-strength steel, our pneumatic jack exhibits remarkable durability. Its airbags are expertly sealed to prevent leaks and damage, making it a reliable tool. The rugged wheels excel across all terrains, giving you the flexibility to tackle car maintenance tasks anywhere, anytime.
Safety at the Core: Your security is paramount. To use the jack, close the red valve, open the green valve, and introduce compressed air. Once the desired height is achieved, close the green valve. After usage, release air by opening the red valve. The incorporated relief valve ensures safe pressure levels during operation, adding an extra layer of protection.
Adaptable Handle: Convenience meets versatility with our airbag jack's adjustable handle, offering three positions for your preference. The handle is also detachable, enhancing portability and making outdoor transportation hassle-free.
Versatile Applications: Tailored for lifting single wheels in soft or muddy conditions, this quick jack car lift suits family cars, minivans, SUVs, and off-road vehicles. Its dependable performance is ideal for various scenarios.
Important Notes:
Always employ jack stands rated for the appropriate capacity to support the vehicle's weight before conducting any work or inspection. Never surpass the rated capacity to prevent load loss.

Ensure the parking brake is engaged at all times.

This jack is designed exclusively for use on level and stable surfaces.

Avoid using it on uneven or unstable terrain to prevent instability and potential load failure.

Prior to proceeding, secure the tires that won't be lifted with wheel chocks placed both in front and behind.

Always position the jack centrally beneath the axle or frame surface for safe and effective operation.
Share
View full details