Regular price
Sale price
$74.00
Unit price
per
Sale
Sold out
SPECIFICATIONS
Size of Carrying Case: 16.5 x 9.8/ 42 x 24.5 cm
Origin: Mainland China
Length of Rubber Pipe: 30 in/ 74 cm
Length of Plate: 15.6 in/ 40 cm
Certification: CE
Brand Name: VEVOR
Application: pumps/compressors/hydraulic presses/machinery/pneumatic equipment/motors
Adapters size 4: 6.7 in/ 17 cm
Adapters size 3: 3.9 in/ 10 cm
Adapters size 2: 2.4 in/ 6 cm
Adapter Sizes 1: 1.96 in/ 5 cm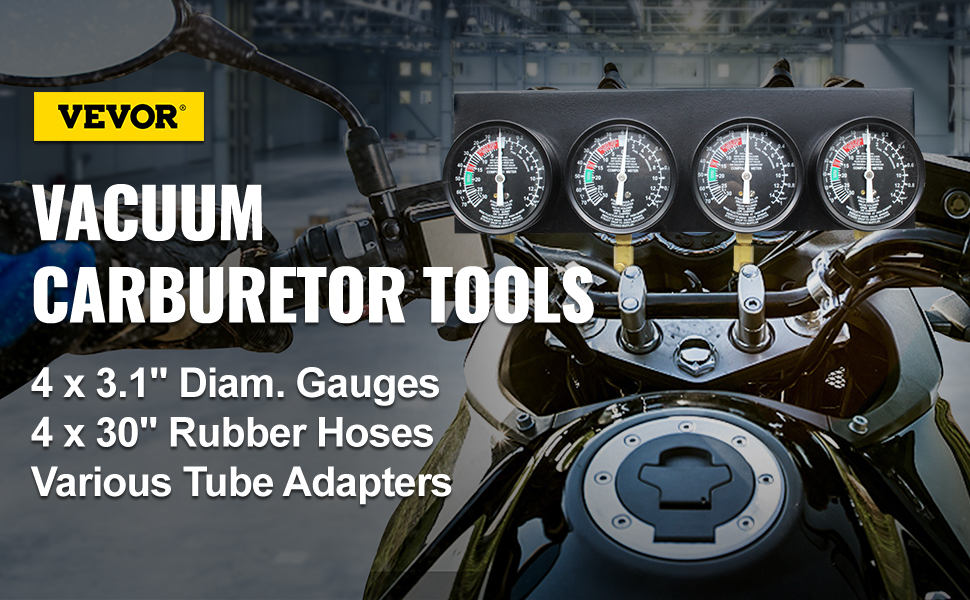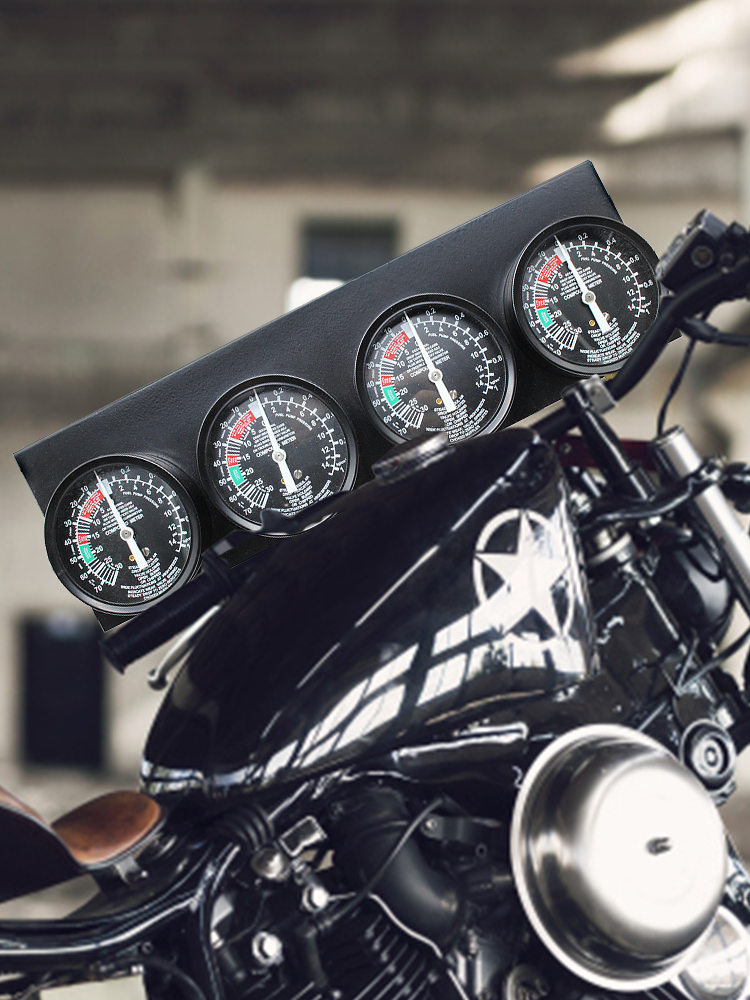 Carburetor Synchronizer Tool
4 Precision Gauges & Multi-Function & Complete Accessories
Repeatedly proven, this carburetor synchronizer tool is the most coveted choice for the task at hand. Its standout feature is the calibration capability, allowing users to fine-tune the gauges prior to usage, a key factor influencing why many opt for this tool. The pressure gauge set serves a multifaceted purpose, enabling testing of fuel pump pressure, examination of emission control components, and detection of issues like leaks, stuck mechanisms, or burnt valves. This tool stands as an indispensable asset for motorcycle maintenance, optimizing engine performance, and curbing fuel consumption.

4 Precision Gauges

Durable Frame & Multi-Function

Complete Accessories

Easy Operation
Tough Equipment & Tools, Pay Less
VEVOR is a leading brand that specializes in equipment and tools. Along with thousands of motivated employees, VEVOR is dedicated to providing our customers with tough equipment & tools at incredibly low prices. Today, VEVOR's products are sold in more than 200 countries and regions with 10 million plus members worldwide.
Why Choose VEVOR?
Premium Tough Quality

Incredibly Low Prices

Fast & Secure Delivery

30-Day Free Returns

24/7 Attentive Service
Key Features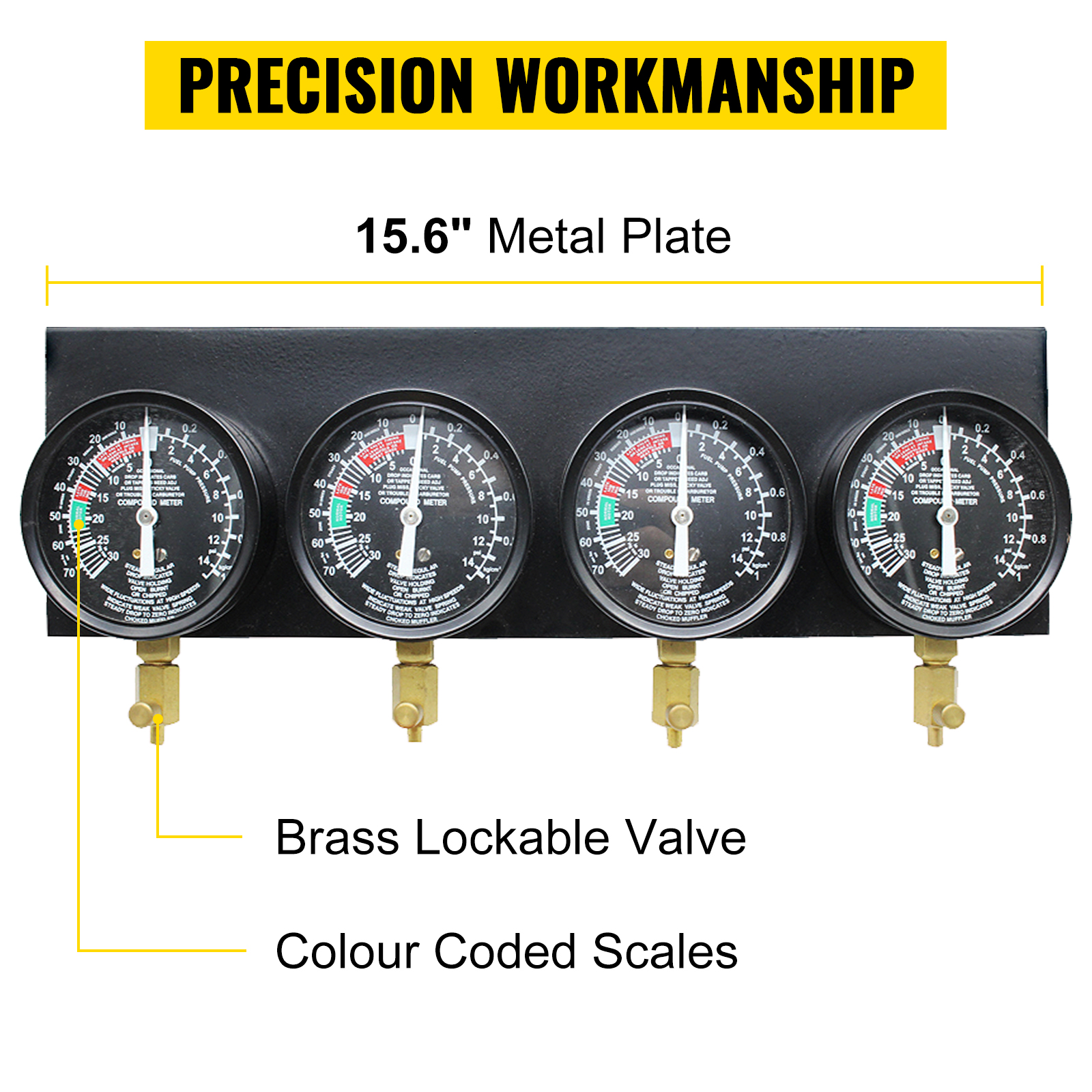 Precision Workmanship
This product comprises 4 mechanical pressure vacuum gauges equipped with a 15.6" metal plate, 4 lockable brass valves, and color-coded scales for convenient observation.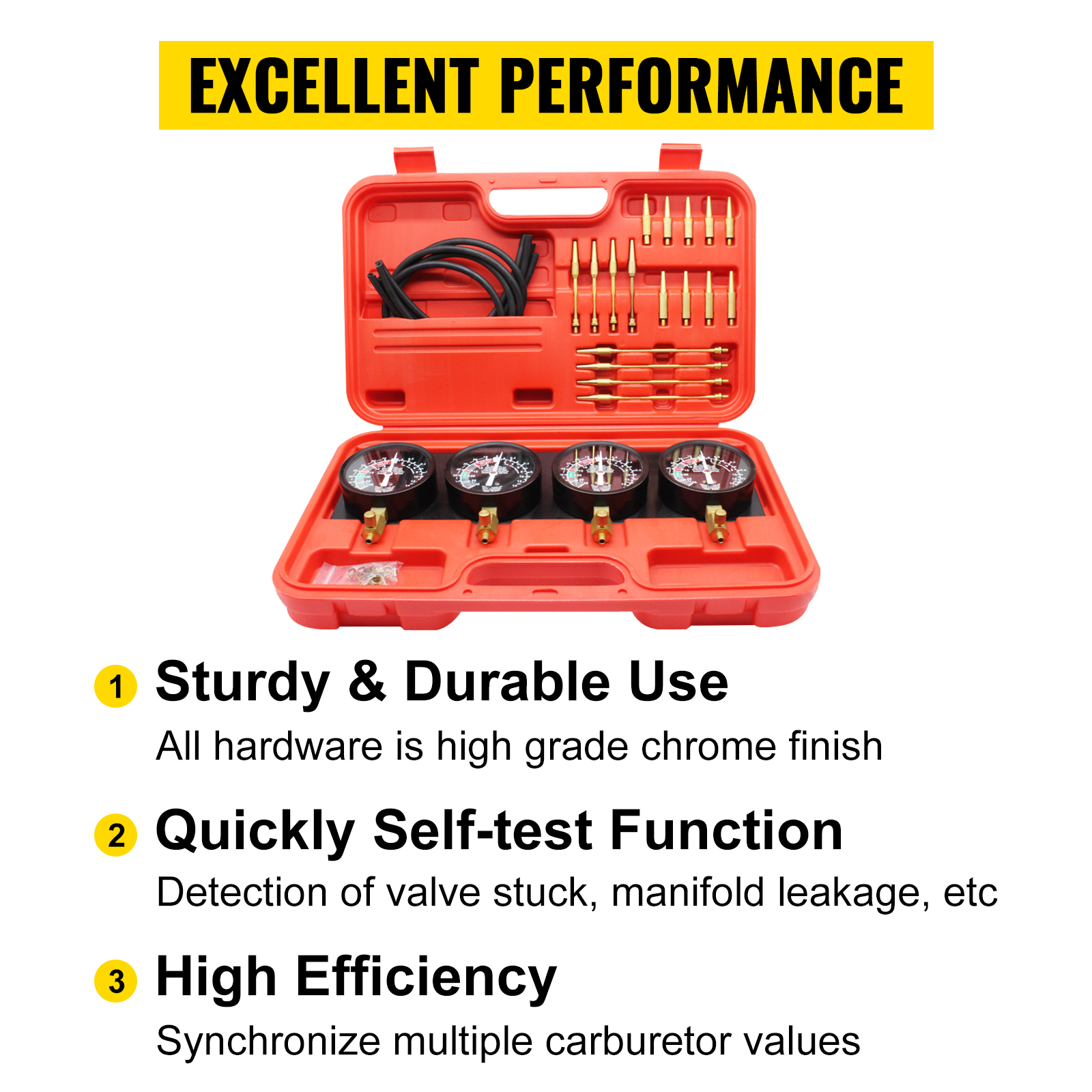 Excellent Performance
All hardware features a chrome finish with a stable structure and durable construction. The vacuum carburetor tool can quickly diagnose valve stuck, and manifold leakage, and synchronize multiple carburetor values.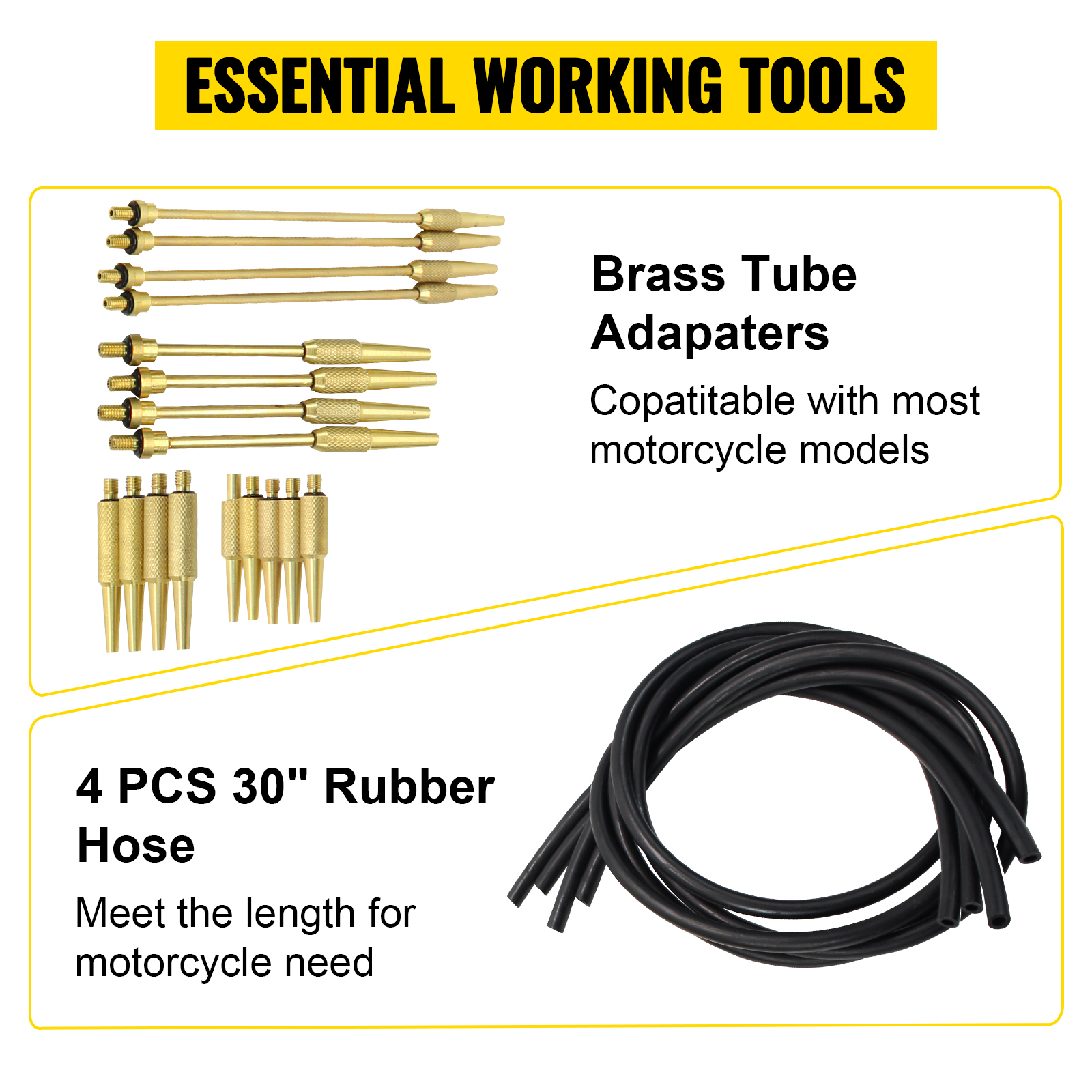 Essential Working Tools
Our product will provide 4 types of brass tube adapters with a variety of sizes, which can be compatible with most motorcycle models, and 4 PCS 30" rubber hoses to meet the length for motorcycle needs.
Tuning Process
You need to start the engine and check the gauges, adjust the dial and the screw slightly, stall the motorcycle, give the throttle a few snapbacks, and repeat the process until the designer result is achieved.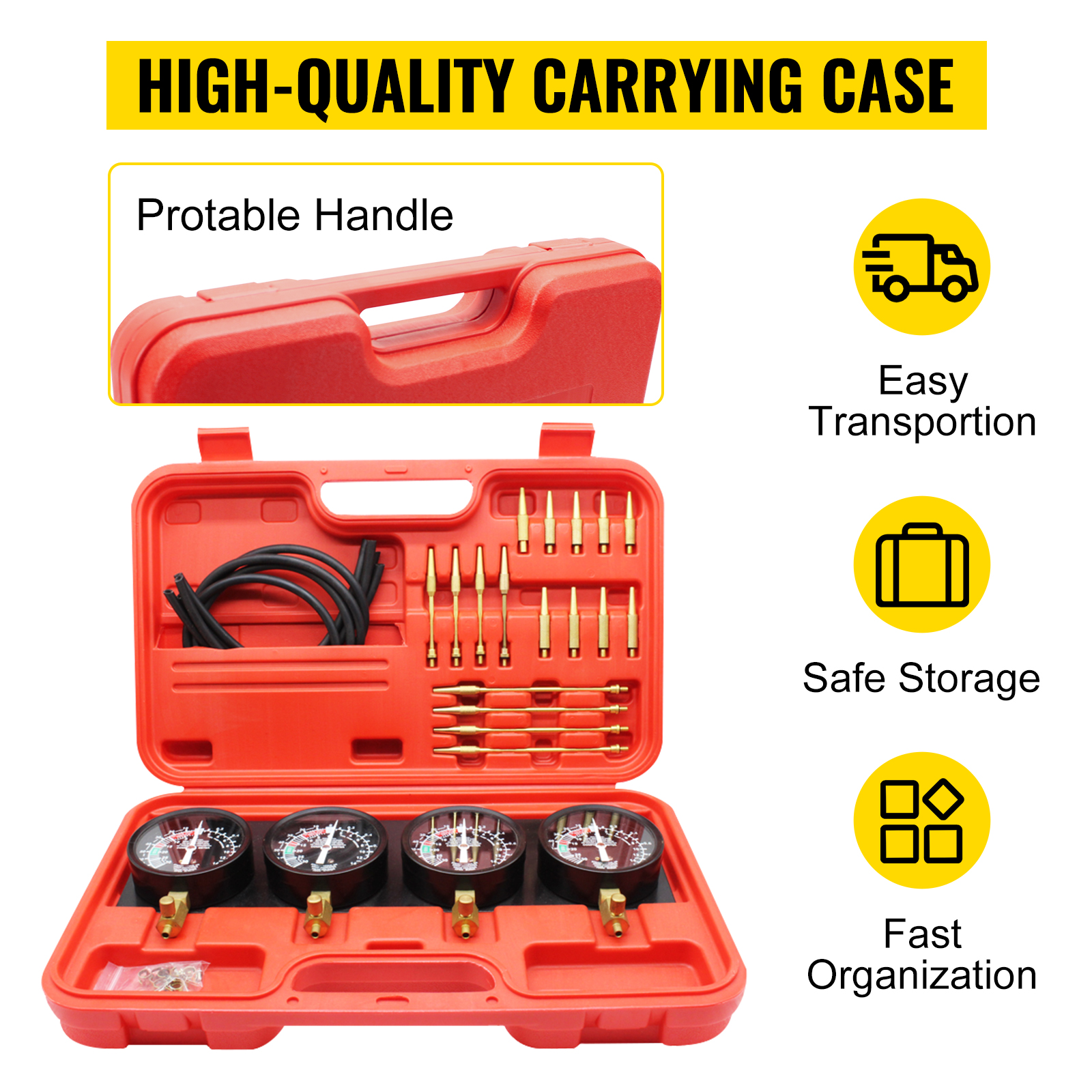 High-quality Carrying Case
This tool kit comes with a heavy-duty plastic carrying case with a handle and front locks for easy transport, convenient storage, and organization.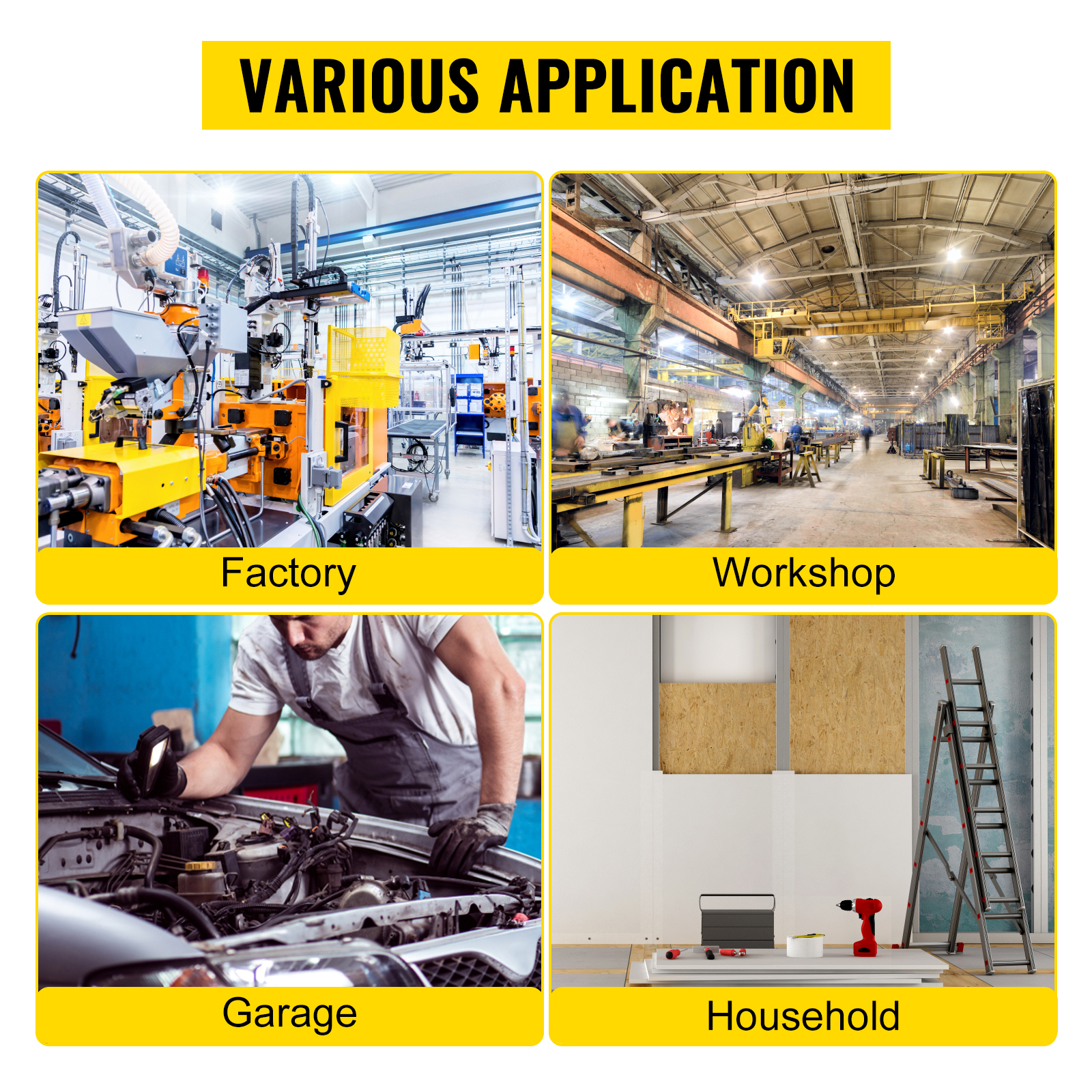 Various Application
The carburetor synchronizer tool enables testing of the fuel delivery pressure to the engine to check for worn or defective parts, which has gained excellent popularity in factories, workshops, auto repair shops, and households.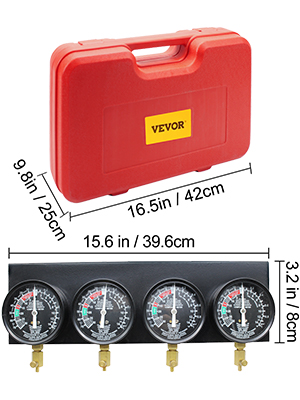 Specifications
Length of Rubber Pipe: 30 in/ 74 cm

Length of Plate: 15.6 in/ 40 cm

Adapter Sizes 1: 1.96 in/ 5 cm

Adapters size 2: 2.4 in/ 6 cm

Adapters size 3: 3.9 in/ 10 cm

Adapters size 4: 6.7 in/ 17 cm

Size of Carrying Case: 16.5 x 9.8/ 42 x 24.5 cm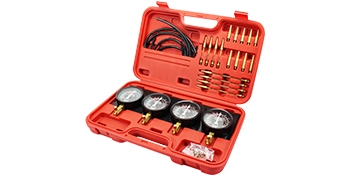 Package Content
1 x Synchronizer Gauge

4 x Rubber Pipe

17 x Adapter

1 x Carrying Case
Key Features:
Four Precision Gauges: The upgraded vacuum carburetor set boasts four precision gauges, each equipped with brass lockable valves, individual damping control, and calibration control. These gauges are securely mounted on a robust metal base designed for benchtop use, featuring color-coded scales for effortless reading.

Durable Construction & Versatility: Crafted with high-grade chrome-finished hardware, this vacuum carburetor tool is built to last. It swiftly diagnoses a range of issues, including incorrect timing, stuck valves, manifold leaks, fuel mixture imbalances, spark misfires, and more. Additionally, it can synchronize the values of 2-4 carburetors.

Comprehensive Accessories: The set includes four adapter types suitable for most motorcycle models, along with four 30" rubber hoses for remote use. For convenient transportation and storage, a sturdy carrying case with a handle and lock is provided. These accessories combine to simplify troubleshooting tasks.

User-Friendly Operation: To begin the tuning procedure, ensure that all gauges are calibrated to zero. Start the engine, let it idle, and observe the gauges. If the needle fluctuates, make minor adjustments to the dial and screw until synchronization is achieved. Stall the motorcycle, give the throttle a few snap-backs, and repeat the process until the desired result is attained.

Wide Range of Applications: While carburetor synchronization is a common and crucial task for motorcycle maintenance, selecting the right tool is equally essential. This tool extends its utility to pumps, compressors, hydraulic presses, machinery, pneumatic equipment, and motors.
Measurement Procedure:
After the engine is running correctly at the standard idle speed, turn it off.

Connect the rubber vacuum tube to the pressure gauge and secure it with the elastic clamp.

Consult your motorcycle maintenance manual for the appropriate threaded copper joint. Screw it into the carburetor thread, ensuring it fits correctly without force. Clean the threaded joint before attaching the copper joint, and confirm that the copper joint seal is intact. Insert the other end of the rubber vacuum tube into the tapered end of the copper fitting.

Verify that the pressure gauge's rubber vacuum tube is connected to the carburetor cylinder to be measured and note each cylinder's number.

Start the engine. After a few minutes of warm-up, initiate carburetor synchronization. After the initial synchronization, accelerate the engine several times. Upon returning to idle speed, recheck the pressure gauge and make adjustments if necessary.

Refer to the vehicle's factory data sheet for the motorcycle carburetor's negative pressure standard data.
Precautions:
Handle with care to prevent the entry of water, oil, dust, or other contaminants into the rubber hose passage.

Avoid dropping or subjecting the instrument to high temperatures, humidity, or direct sunlight.

Clean the meter with a soft cloth; refrain from using gasoline or solvents for cleaning.
Share
View full details