Regular price
Sale price
$137.00
Unit price
per
Sale
Sold out
SPECIFICATIONS
Origin: Mainland China
Max Lift Height:: 31.5" (800 mm),31.5" (800 mm),31.5" (800 mm),31.5" (800 mm)
Material:: 1000 Denier Nylon,1000 Denier Nylon,1000 Denier Nylon,1000 Denier Nylon
Lifting Capacity:: 4 Tons (8800 lbs),4 Tons (8800 lbs),4 Tons (8800 lbs),4 Tons (8800 lbs)
Inflation:: Tailpipe Exhaust & Air Compressor,Tailpipe Exhaust & Air Compressor,Tailpipe Exhaust & Air Compressor,Tailpipe Exhaust & Air Compressor
Exhaust Connector Cone:: 4 inch (100 mm),4 inch (100 mm),4 inch (100 mm),4 inch (100 mm)
Certification: CE
Brand Name: VEVOR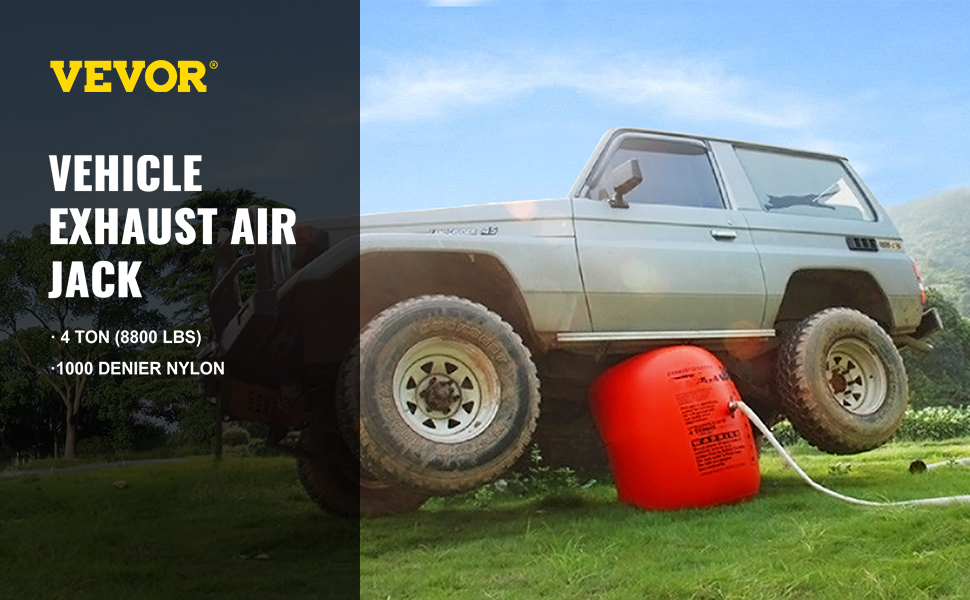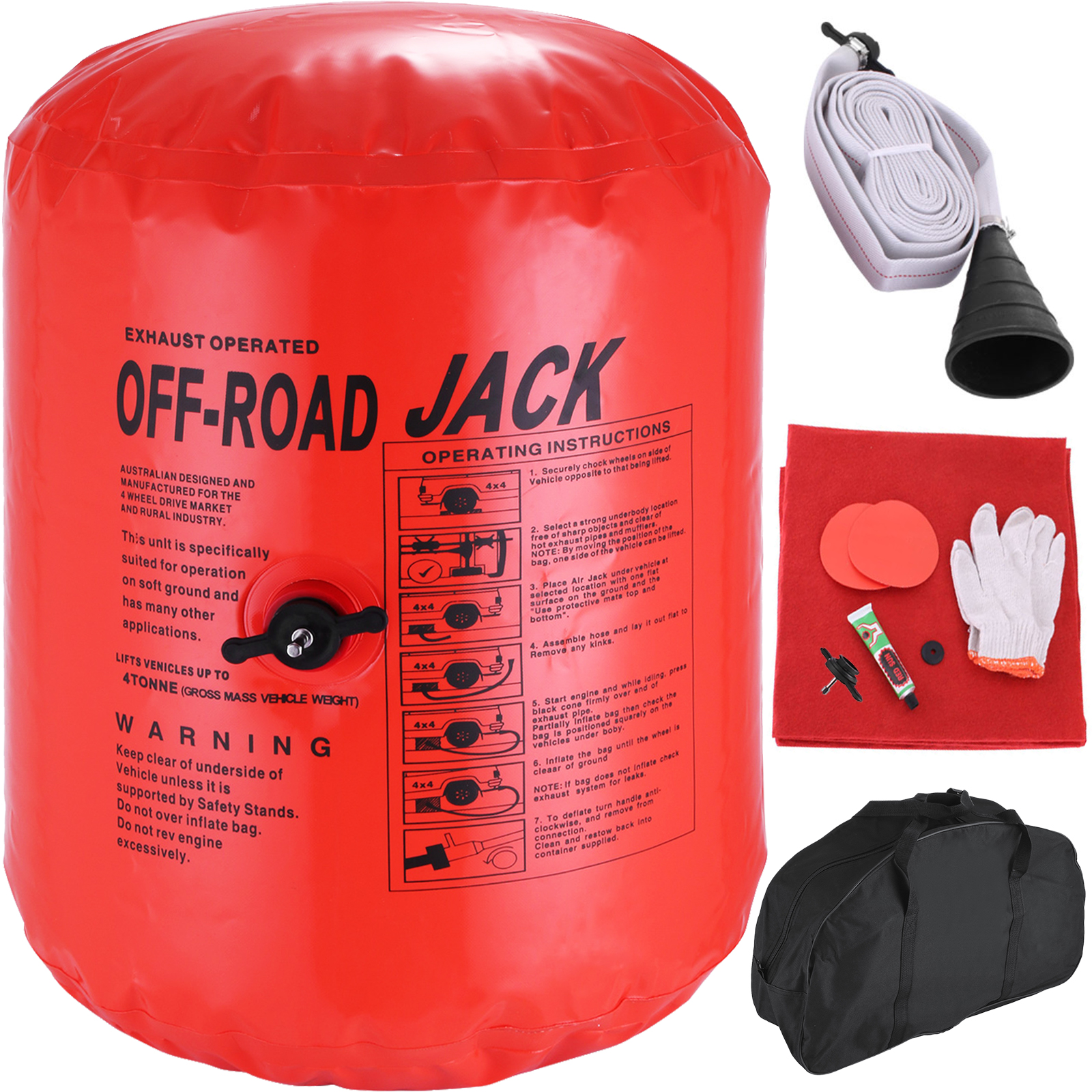 Vehicle Exhaust Air Jack
Never get stuck in the mud, snow, or sand again! This massive exhaust air jack is the perfect recovery tool for when you are stuck in tricky situations that require reliable lifting/raising your vehicle on soft, uneven ground, or even just your usual hard surface like pavement. It is perfect for jeeps, trucks, SUVs, or nearly any other vehicle. Don't let mud, snow, or sand ruin a great off-road adventure.
4 Tons Large Lifting Capacity

Sturdy Material with High Tenacity

Long Hose for Easy Operation

Bonus Advantageous Accessories

Powerful Exhaust Air Jack
Tough Equipment & Tools, Pay Less
VEVOR is a leading brand that specializes in equipment and tools. Along with thousands of motivated employees, VEVOR is dedicated to providing our customers with tough equipment & tools at incredibly low prices. Today, VEVOR's products are sold in more than 200 countries and regions with 10 million plus members worldwide.
Why Choose VEVOR?
Premium Tough Quality

Incredibly Low Prices

Fast & Secure Delivery

30-Day Free Returns

24/7 Attentive Service
Key Features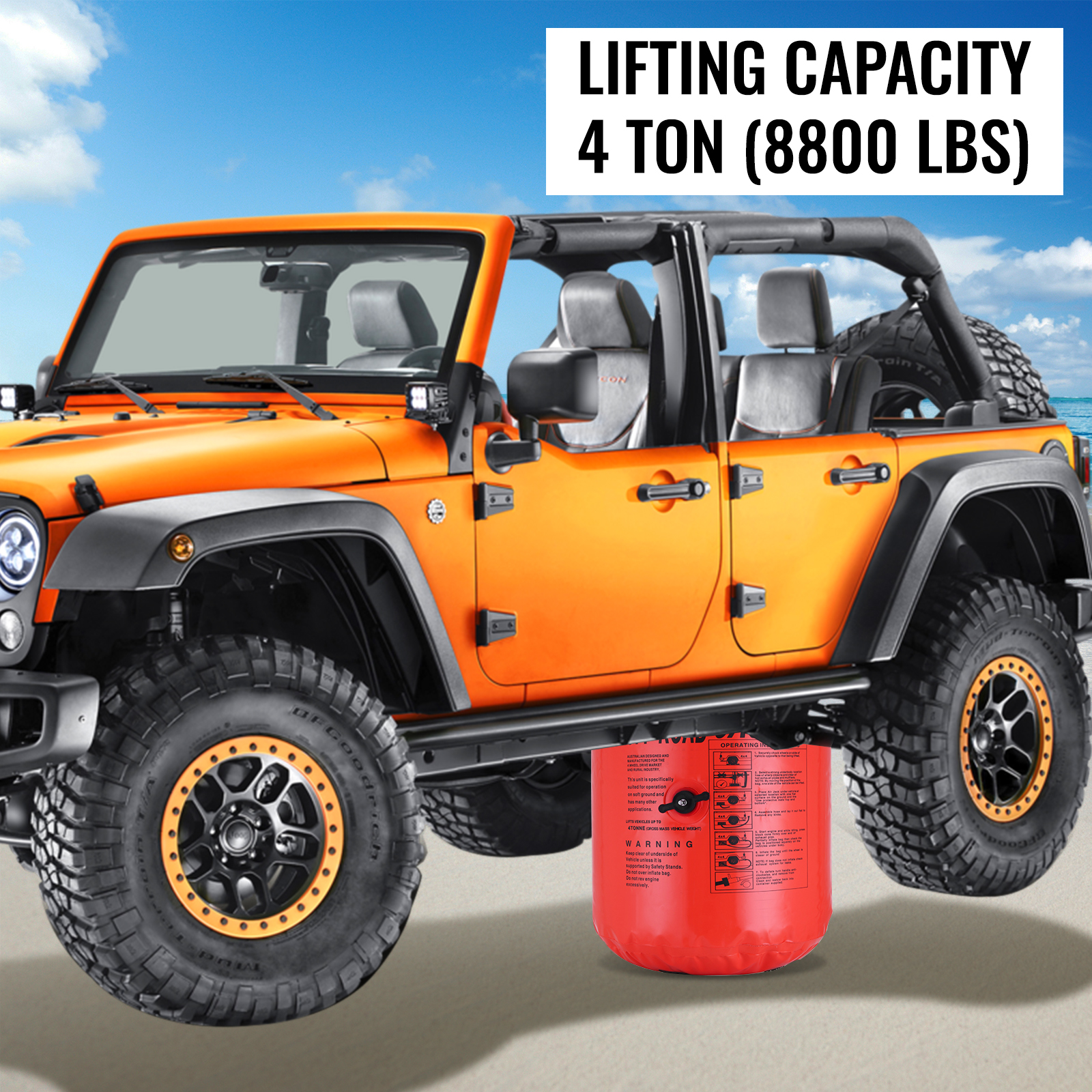 High Lifting Capacity
With strong lifting capacity, our inflatable car jack can quickly lift nearly any vehicle weighing up to 4 tons (8800 lbs), and the effective height can reach up to 31.5 inches (800 mm).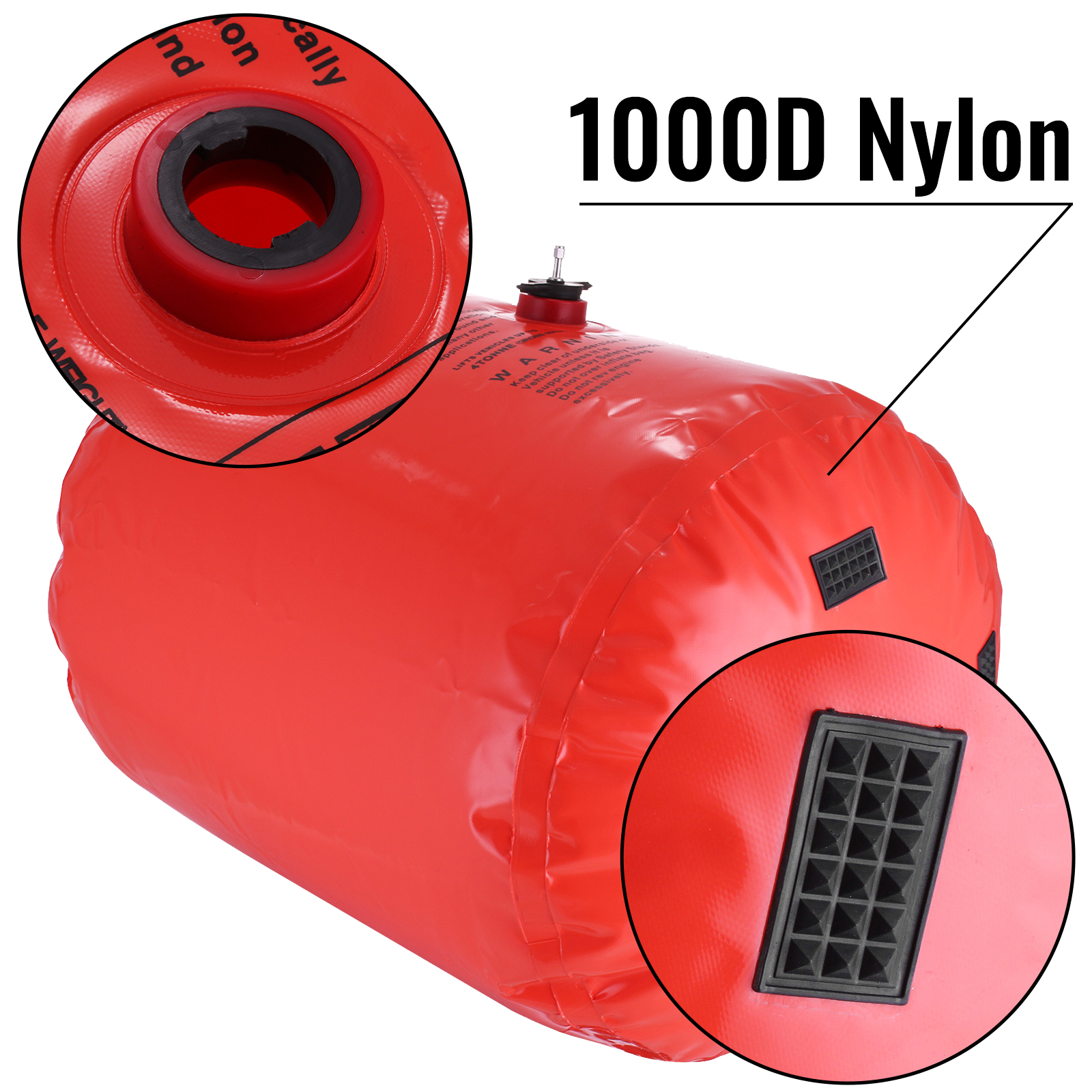 Premium Material
The air jack bag is built with ultra-durable 1000D Nylon for added durability, featuring the glass-reinforced Polyamide inlet connection, and non-slip tapered pads on the base to prevent slippage.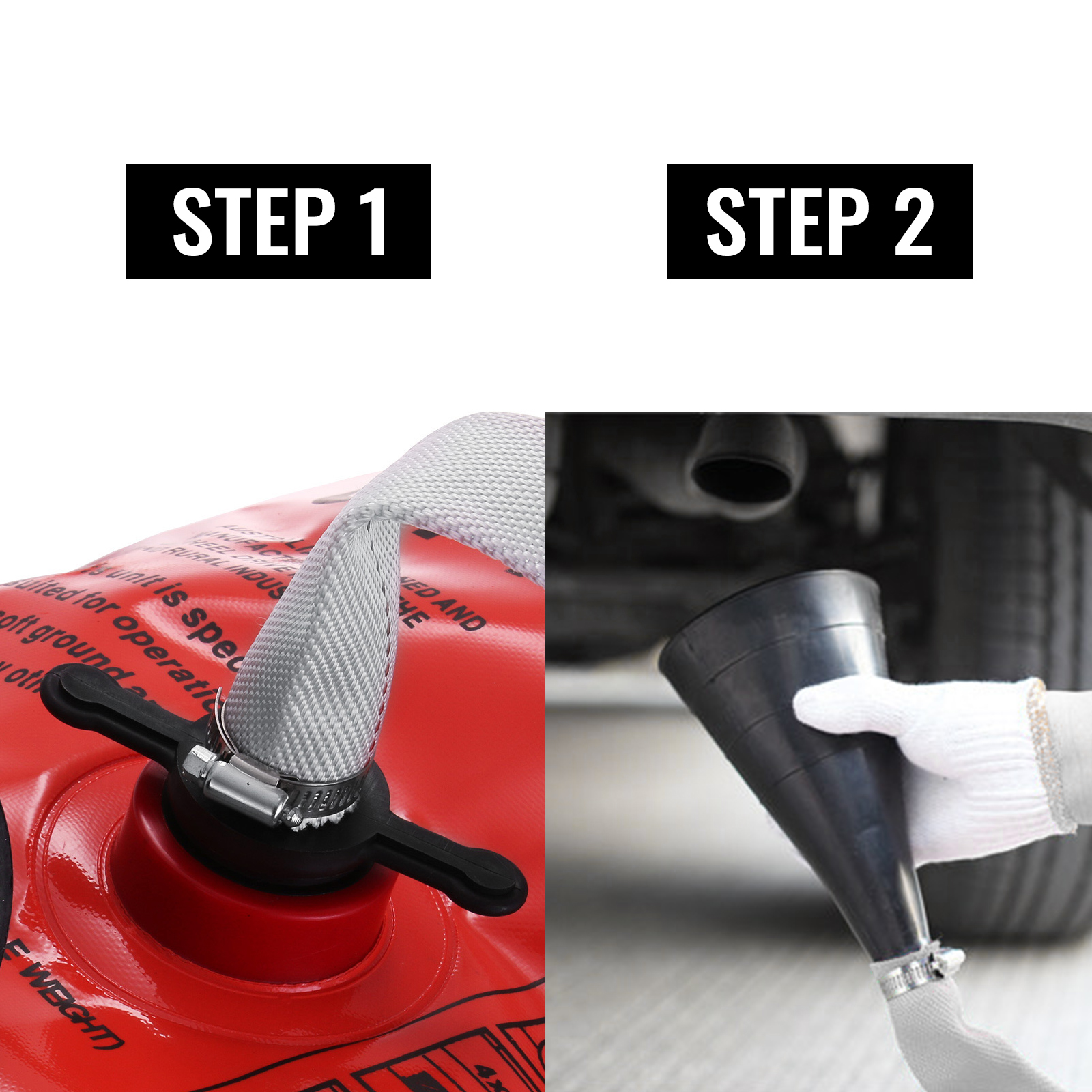 Convenient to Operate
Simply place the empty airbag below your car, where you would like it to be lifted, connect the hose to your vehicle's exhaust pipe, and then just start your car and watch it get raised in only a few seconds.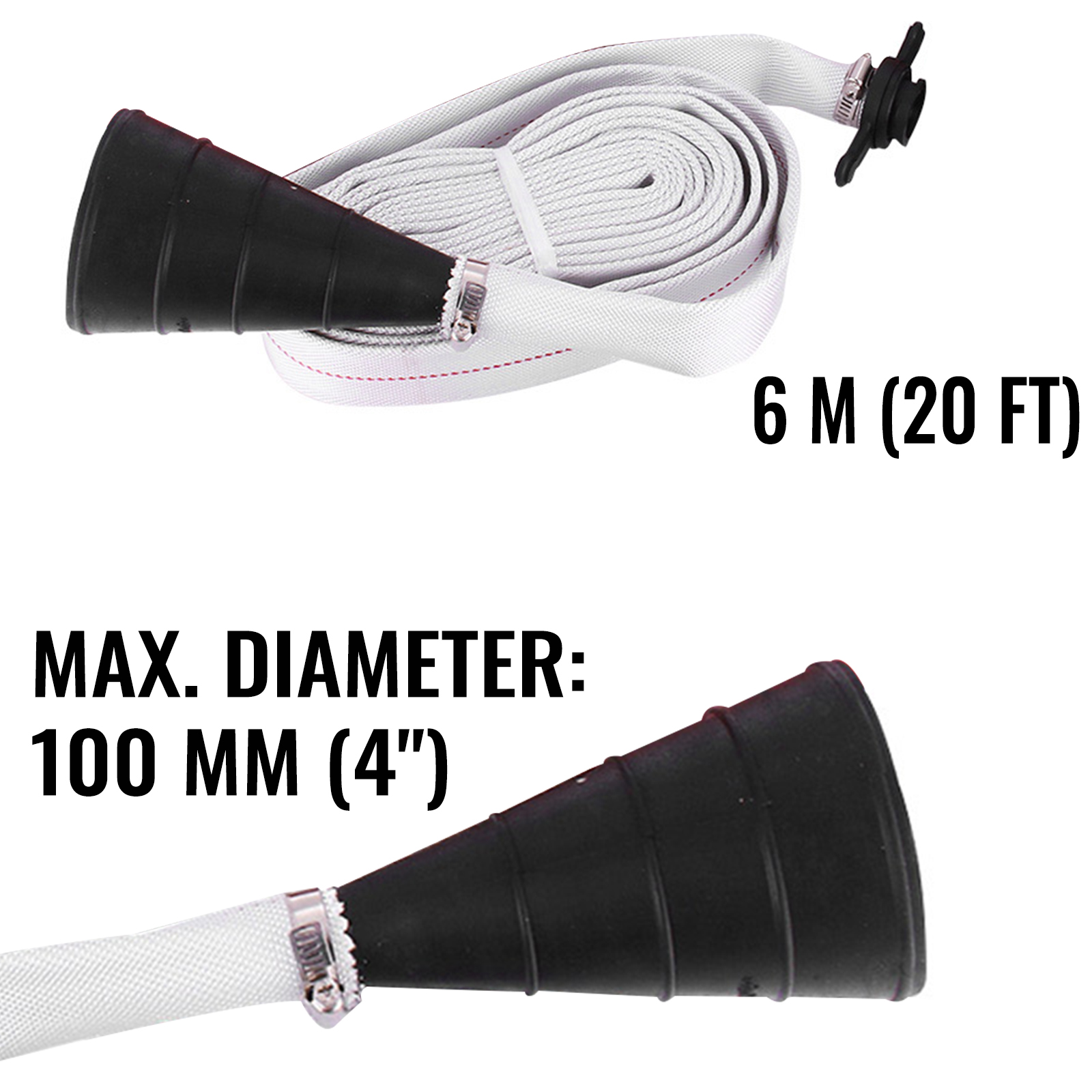 Extra-Long Exhaust Hose
It comes with a 6-meter (20-foot) exhaust hose, made of EPDM lay-flat rubber, for convenient connection to any part of the vehicle. The 4-inch diameter connector cone can collect the exhaust to a large extent.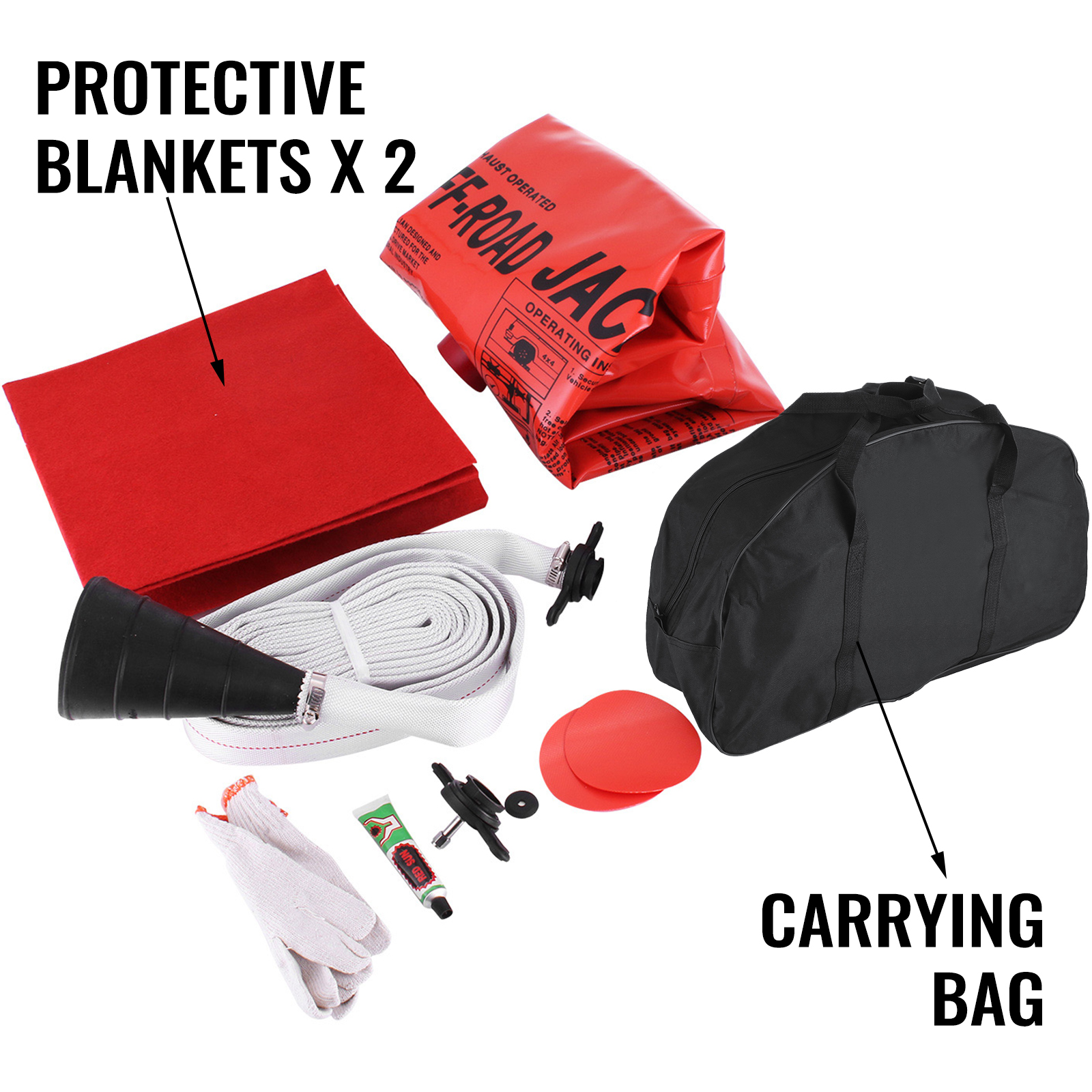 Portable & Practical
An easy-to-carry carrying bag is included in the inflation kit, and the entire kit can be easily stored. It also contains two protective blankets to prevent the jack from being punctured by sharp objects.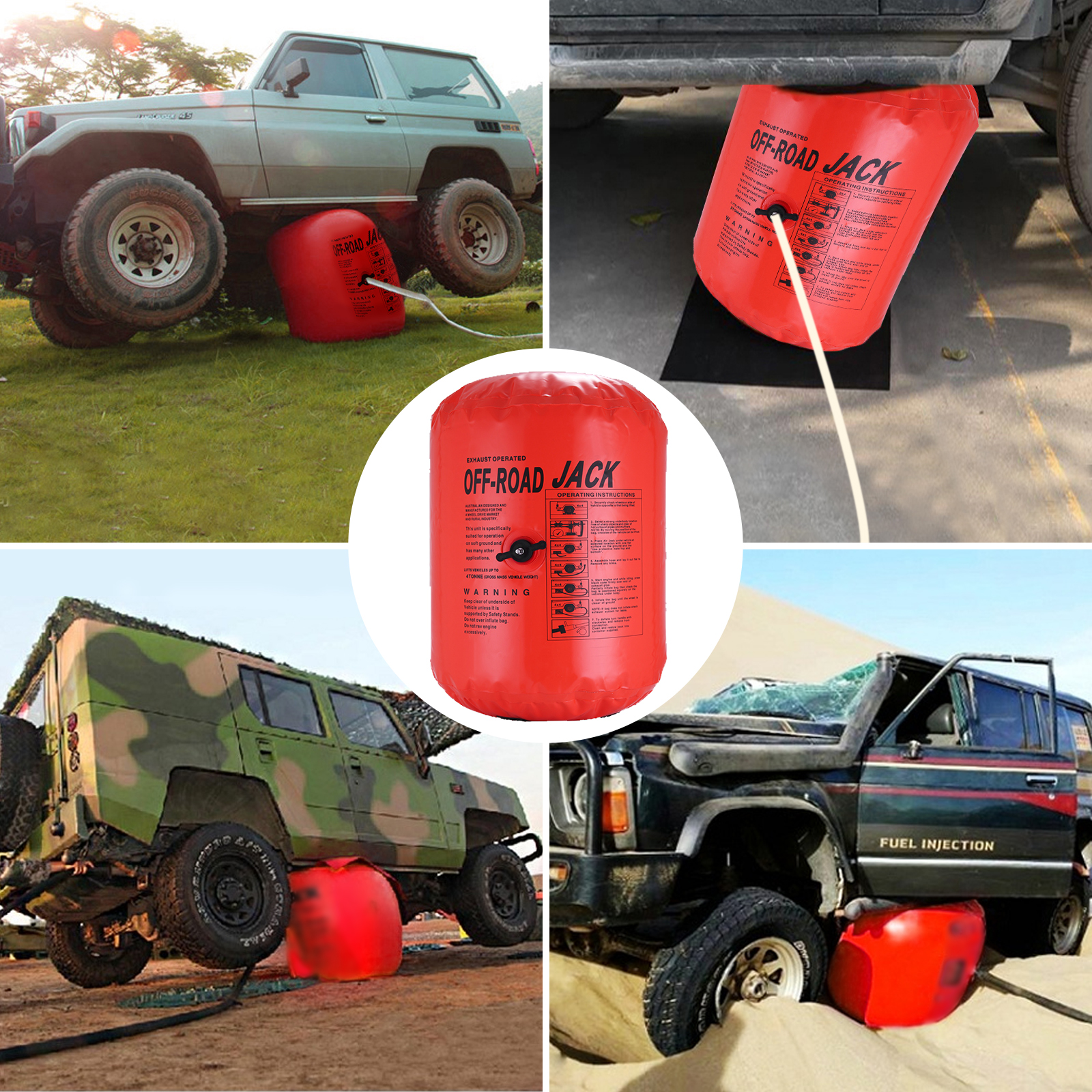 Wide Application
Easily lift any vehicle weighing up to 4 tons, including trucks, jeeps, cars, SUVs, etc. It will easily solve your problems when driving on the beach, snow, mud, and other slightly sloping ground.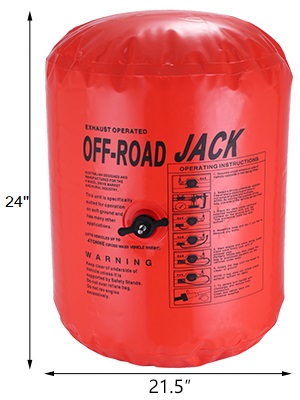 Specifications
Lifting Capacity: 4 Tons (8800 lbs)

Max Lift Height: 31.5" (800 mm)

Exhaust Connector Cone: 4" (100 mm)

Inflation: Tailpipe Exhaust and air Compressor

Material: 1000 Denier Nylon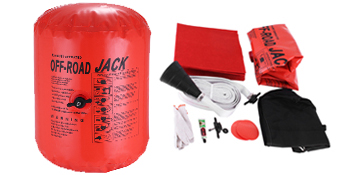 Package Content
1 x Exhaust Air Jack

1 x Air Compressor Adaptor

2 x Protective Blankets

1 x Carrying Bag

1 x Horn Shape Part for Connection

1 x Puncture Repair Kit (2 Patches + 1 Glue)

1 x Pair of Gloves

1 x Exhaust Hose
Features & Details
【4 TONS LARGE LIFTING CAPACITY】- With a large lifting capacity of 4 tons (8800 lbs), this inflatable car jack can lift an incredible 31.5-inch (800 mm) height in just seconds. It is perfect for changing tires or installing chains.

【STURDY MATERIAL W/ HIGH TENACITY】- Constructed of the sturdy 1000 Denier Nylon, sandwiched between hard-wearing tear-resistant PVC, our airbag jack is of strong durability, sturdiness, and longevity, with high tenacity.

【LONG HOSE FOR EASY OPERATION】- Our air bag car jack comes with an incredibly long 20 ft (6 m) exhaust hose, allowing it to be easily connected to any part of your vehicle, and transfer the exhaust gas to the air jack.

【BONUS ADVANTAGEOUS ACCESSORIES】- A carrying bag is available for secure storage and convenient portability. It also includes two protective blankets to protect the air lifting jack from sharp objects.

【POWERFUL EXHAUST AIR JACK】- Our inflatable jack is excellent for quickly lifting jeeps, trucks, SUVs, cars, or nearly any other vehicles. It is an ideal recovery tool for soft surfaces, like mud, sand, snow, or even just your usual hard surfaces like pavement.
Share
View full details