Regular price
Sale price
$87.00
Unit price
per
Sale
Sold out
SPECIFICATIONS
Wind Leaf: Aluminum
Water bottle: PC high-grade thermostability
Type: Countertop
Rolled sheet types: >400
Output Power: 750W
Origin: Mainland China
Net weight: 9.9 lbs (4.5 kg)
Model Number: YMK40101
Material: Stainless Steel
Manufacturer Warranty: 1 Year
Inner Container: Stainless steel 304
Filtration Method: Distillation
Feature 4: Tools
Feature 3: Beer Brewing
Feature 2: Hot Water Bottle
Feature 1: Still Distiller Alcohol
Electronic Heater: Aluminum
Distilled Water Capacity: 1.3 L/H
Dimensions of Machine: Dia 9.1x15.2 in (232x385 mm)
Contaminant Removal: VOCs
Color: White
Certification: FDA Approved/CE
Capacity: 4 L
Brand Name: VEVOR
All Stainless Steel: the top and the filter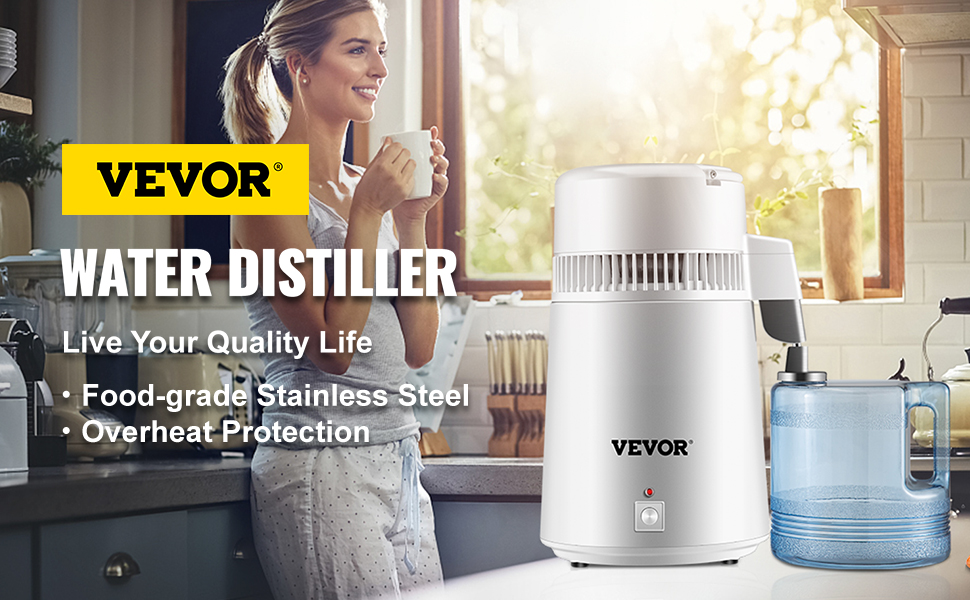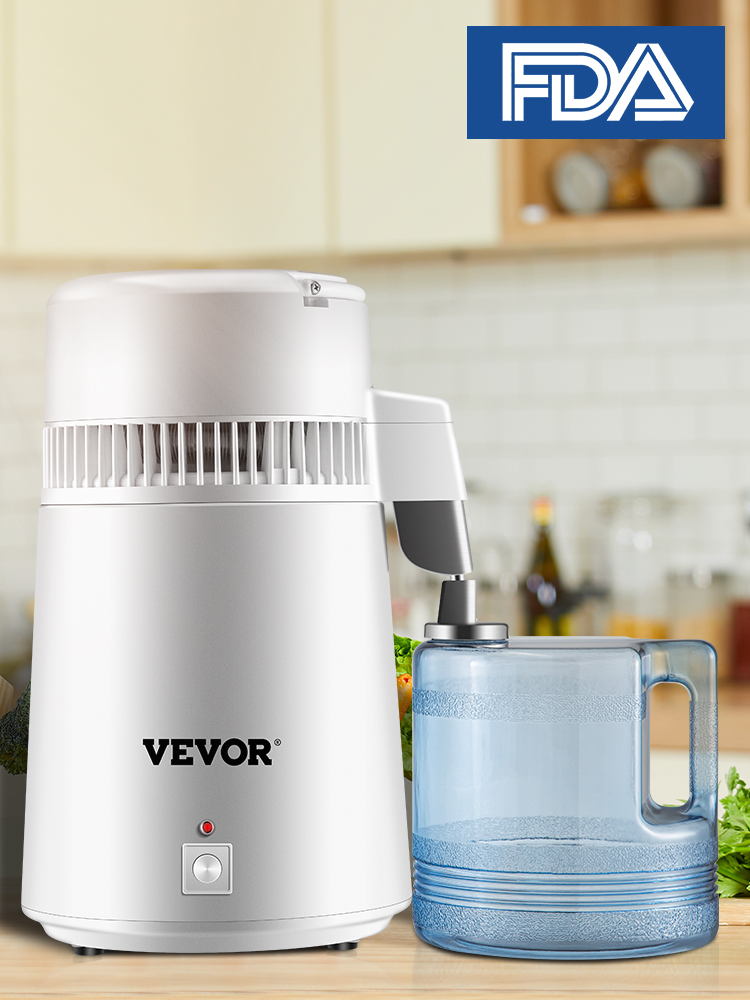 4L Water Distiller Machine--Live Your Quality Life
VEVOR's water distiller safeguards your health and can help you get a continuous supply of distilled water, whether at home or in the office. The distiller can effectively dissolve VOCs and filter other impurities, and the distillation speed can reach 1.3 liters of water per hour. More importantly, the inner container is made of high-grade 304 stainless steel and has the function of preventing dry burning. It is a perfect helper for your kitchen.
*All the products have a Certificate of ISO 9001:2015 Quality Management System, CE mark, and are already registered in the FDA of the USA.
Efficient Water Purification

Easy to Use and maintain

Fast Heat Dissipation

User-friendly Details

Health and Security
Tough Equipment & Tools, Pay Less
VEVOR is a leading brand that specializes in equipment and tools. Along with thousands of motivated
employees, VEVOR is dedicated to providing our customers with tough equipment & tools at incredibly
low prices. Today, VEVOR's products are sold in more than 200 countries and regions with 10 million
plus members worldwide.
Why Choose VEVOR?
Premium Tough Quality

Incredibly Low Prices

Fast & Secure Delivery

30-Day Free Returns

24/7 Attentive Service
Key Features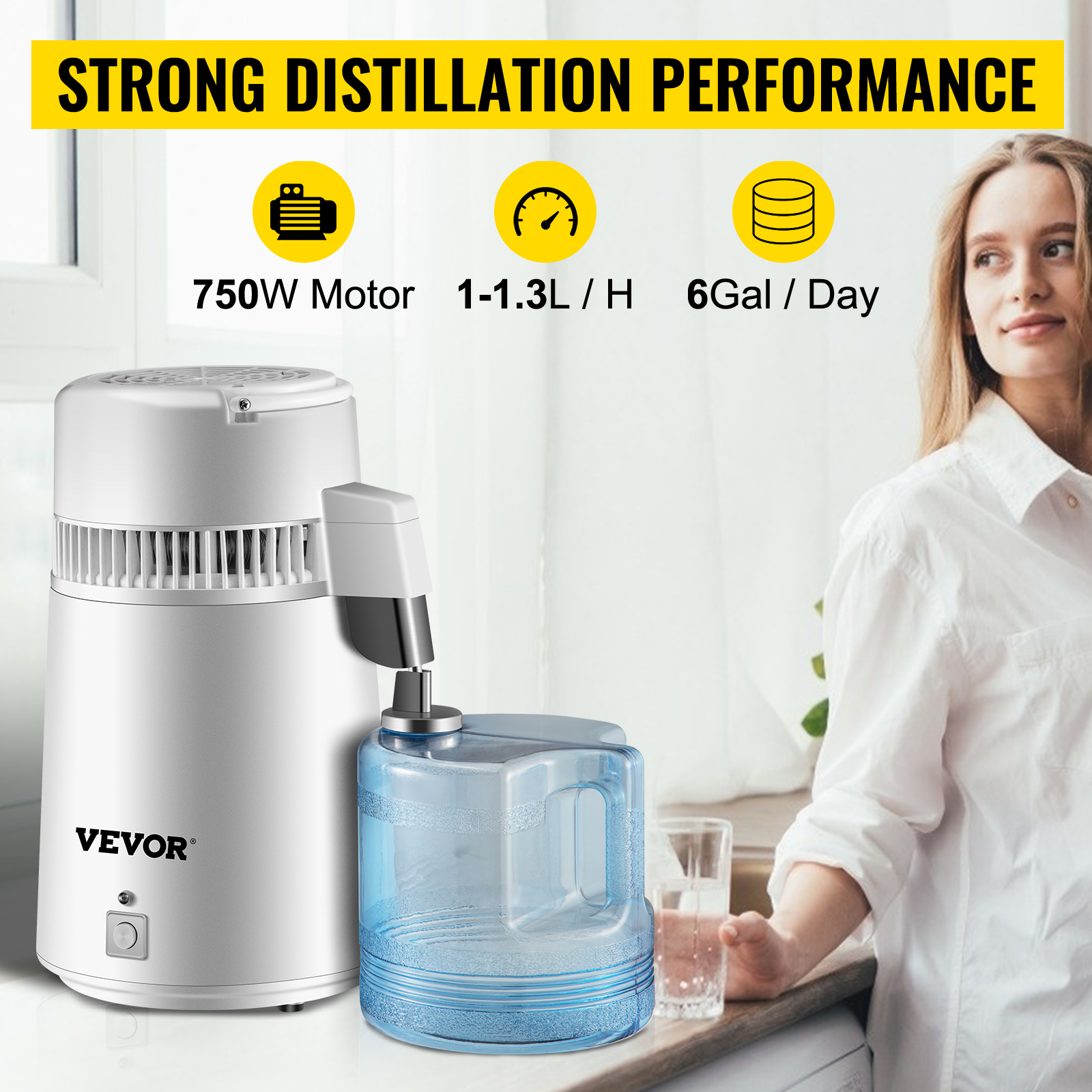 Strong Distillation Performance
The 750W distilled water maker speeds over 0.34 gal/1.3 L per hour to remove most tap water impurities like VOCs, dissolved solids, and almost all other contaminants. It can distill a total of 8.24 gal/31.2 L per day, and in order not to affect your taste, we kindly recommend that you change the filter carbon pack once a week.
Premium and Hygienic Materials
100% FOOD-GRADE material: 304 stainless steel internal tank, inner cap, water outlet, and inlet; BPA-Free plastic container with ergonomic handle and aluminum fan blades; Soft catheter to prevent leakage. Durable and compact enough to fit in anywhere.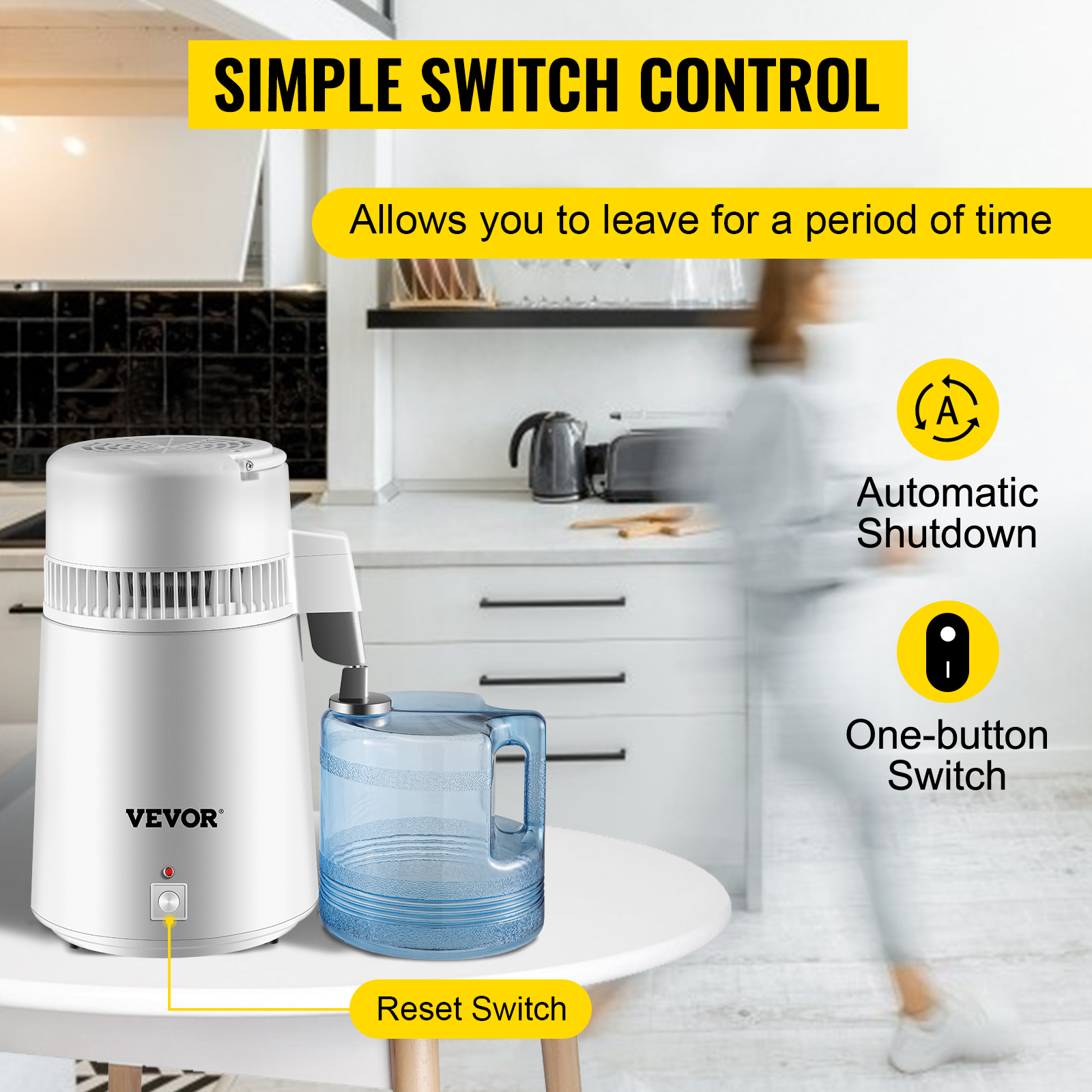 Simple Switch Control
One-key start, use reset button during distillation, and no need to plug and unplug. It also has an over-temperature automatic protection function. When the temperature is higher than 239℉/115℃, it will automatically cut off the power supply so that you can use it with peace of mind.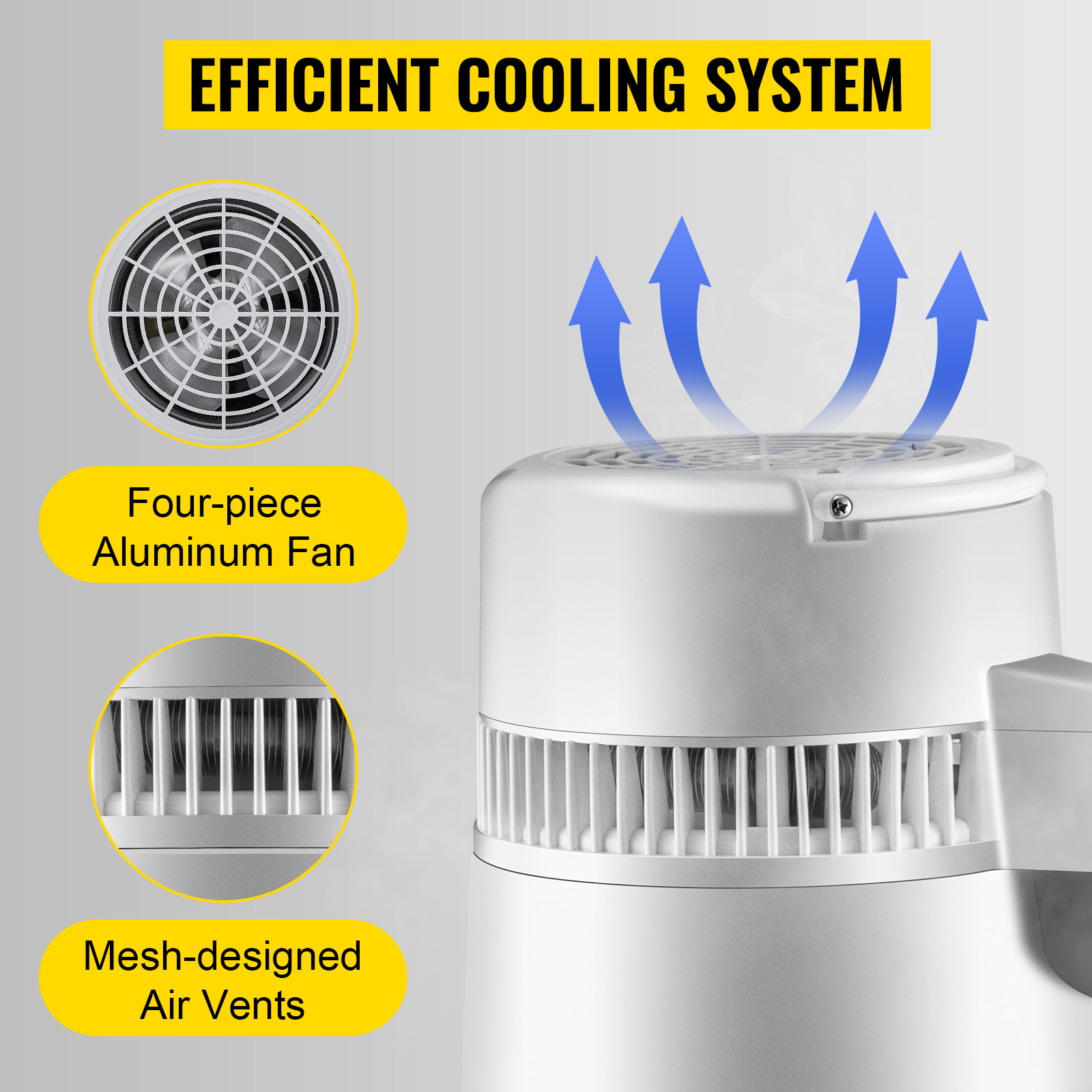 Efficient Cooling System
The four-blade fan on the top cover of the water distiller uses aluminum material instead of fragile plastic, and the exhaust cap was also changed from plastic to 304 stainless steel. So as to ensure good heat dissipation and long service life.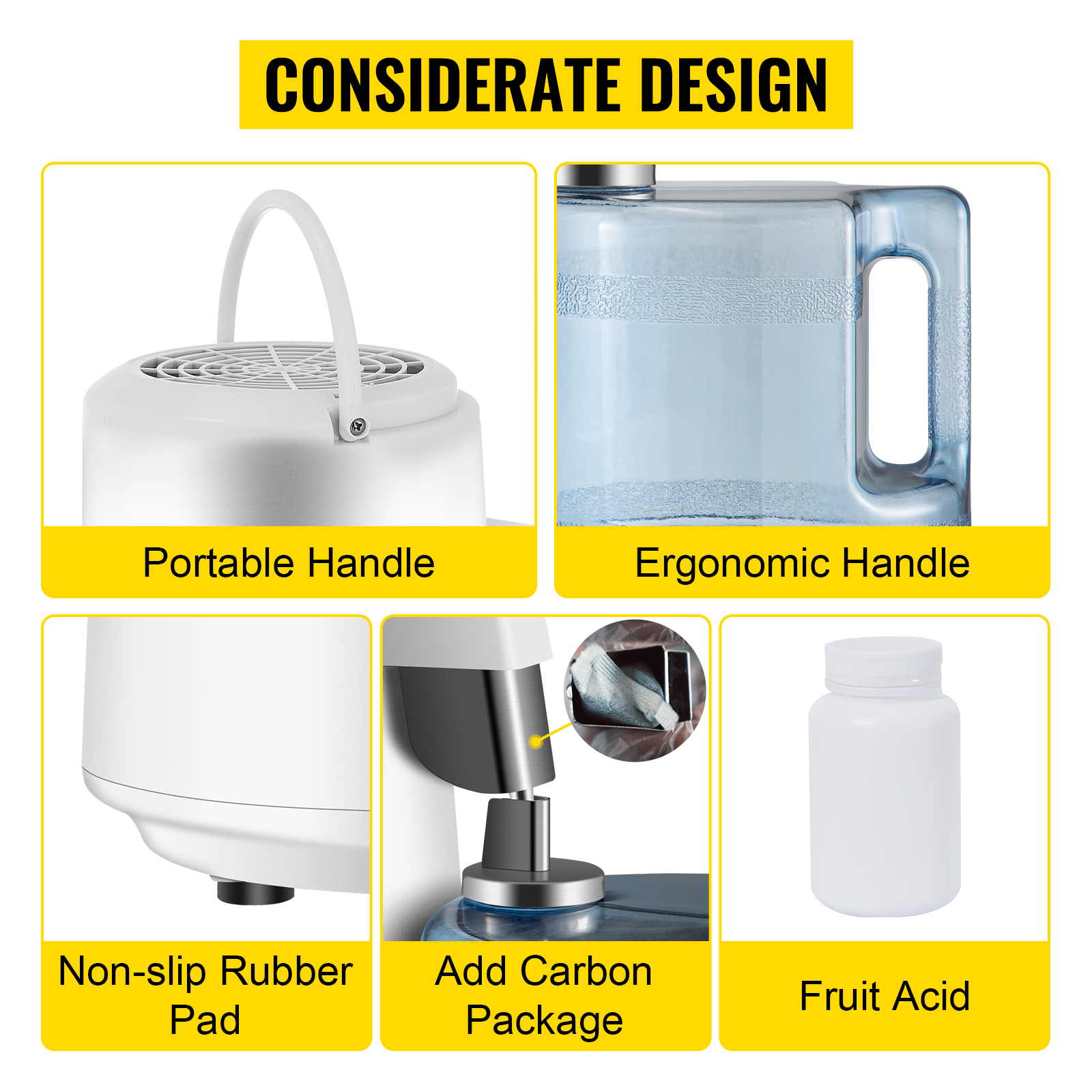 Considerate Design
The easy-to-carry distiller includes a durable collection bottle, free carbon package, and fruit acid cleaner, which is needed to purify the water and ensure the purest and safest distilled water for all your needs. And there is a non-slip foot pad at the bottom, not easy to fall.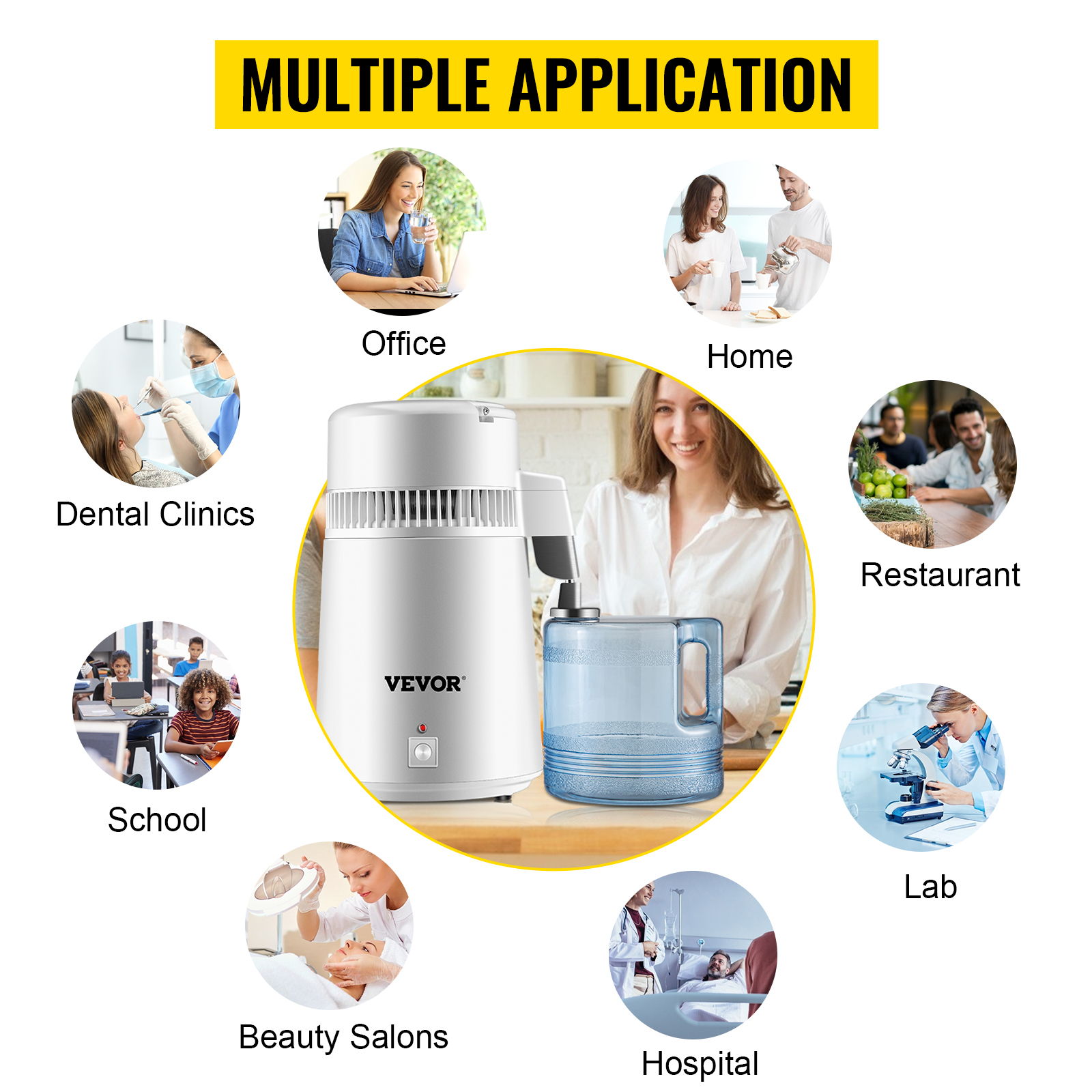 Multiple Application
Water distillers can remove most of the impurities in tap water, which is very suitable for offices, homes, laboratories, hospitals, and dental clinics. The distilled water can be used as daily drinking water, coffee brewing water, beauty salon water purification, etc.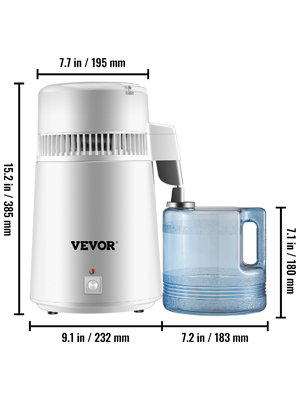 Specifications
Model: YMK40101

Rated Power: 750 W

Distilling Speed: 0.34 Gal/H (1.3 L/H)

Container Volume: 1.1 Gal / 4 L

Barrel Diameter: 7.7 in / 195 mm

Barrel Material: 304 Stainless Steel

Container Size: Φ7.2 x 7.1 in / Φ183 x 180 mm

Product Dimensions: Φ9.1 x 15.2 in / Φ232 x 385 mm

Product Dimensions: Φ9.1 x 15.2 in / Φ232 x 385 mm
Package Content
1 x Water Distiller

1 x Glass Water Container

3 x Carbon Packages

1 x Bottle of Fruit Cleaning Powder

1 x User Manual
Features & Details
Efficient Water Purification: Power level: 750W; volume: 4L/1.1 gallon. This water distiller can distill 6 gal/22.7 L per day to remove dissolved solids, VOCs, and almost all other impurities, offering you the purest water. Ideal for distilling water, alcohol, and so on. Perfect for offices, homes, labs, dental clinics, etc.

Health and Security: Full 304 stainless steel, including the internal tank, inner cap, water outlet, inlet, and all parts in contact with liquid, meet food hygiene standards. They are featuring in CE & FDA certificate, BPA plastic-free container, and aluminum cooling fan.

Easy to Use & Maintain: The distilled water machine can be started by simply pressing a button, also with an automatic shutdown button inside. When the heating temperature exceeds 239℉/115℃, the distiller will automatically shut down to avoid excessive temperature damage to the machine.

Fast Heat Dissipation: Unlike plastic fan blades, our countertop water distiller is changed to aluminum fan blades to improve heat dissipation. The exhaust cap is also changed from plastic to 304 stainless steel, improving the heat dissipation capability.

User-friendly Details: The upgraded home water distiller machine has a unique portable handle on the top, easy to carry. The water container has a large opening and an ergonomic handle for easy access and cleaning. We also provide free carbon packs and fruit acid cleaners without your additional purchase.
Share
View full details