Regular price
Sale price
$133.00
Unit price
per
Sale
Sold out
SPECIFICATIONS
Voltage: 110V(US)
Single Line Lifting Speed: 10 m/min(32.8 ft/min)
Single Line Height: 12 m/39.4 ft
Rated Lifting Capacity 2: Double Line 880lbs
Rated Lifting Capacity 1: Single Line 440lbs
Power Type: Electric
Power: 850W
Packing Size: 43 x 15 x 25 cm/16.9 x 5.9 x 9.8 inch
Origin: Mainland China
Net Weight: 35kg
Double Line Speed: 5 m/min(16.4 ft/min)
Double Line Height: 6 m/19.7 ft
Certification: CE
Brand Name: VEVOR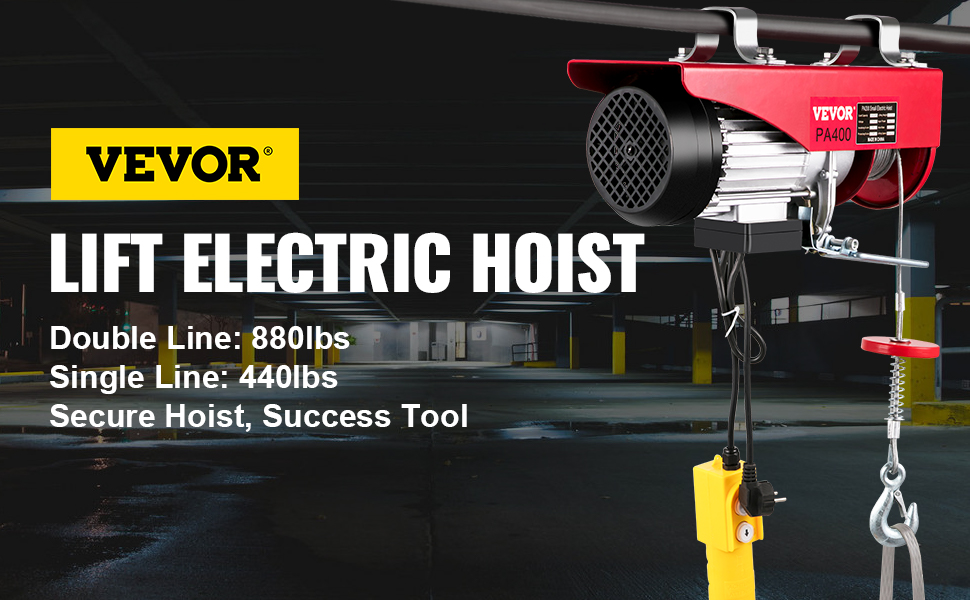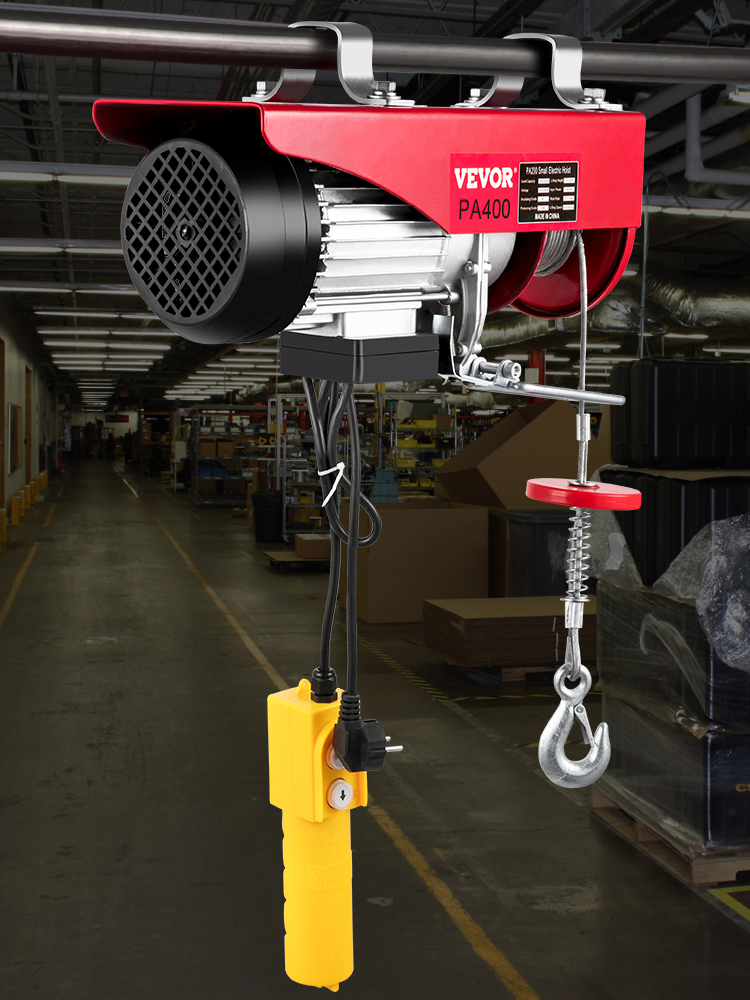 880LBS Lift Electric Hoist
850W Copper Motor & Anti-Rotate Steel Wire & High Security
This lift electric hoist is designed for lifting and moving heavy-duty applications. The steel construction and pure copper motor make it durable and highly efficient. The hoist can be used with a single line 440 lbs/200 kg capacity or double lines 880 lbs/400 kg capacity. It is an ideal handling tool for factories, docks, warehouses, goods lifting, construction sites, and other places.

880LBS Load Capacity

850W Powerful Motor

4.8Ft Control Cord

Premium Structure
Tough Equipment & Tools, Pay Less
VEVOR is a leading brand that specializes in equipment and tools. Along with thousands of motivated employees, VEVOR is dedicated to providing our customers with tough equipment & tools at incredibly low prices. Today, VEVOR's products are sold in more than 200 countries and regions with 10 million plus members worldwide.
Why Choose VEVOR?
Premium Tough Quality

Incredibly Low Prices

Fast & Secure Delivery

30-Day Free Returns

24/7 Attentive Service
Key Features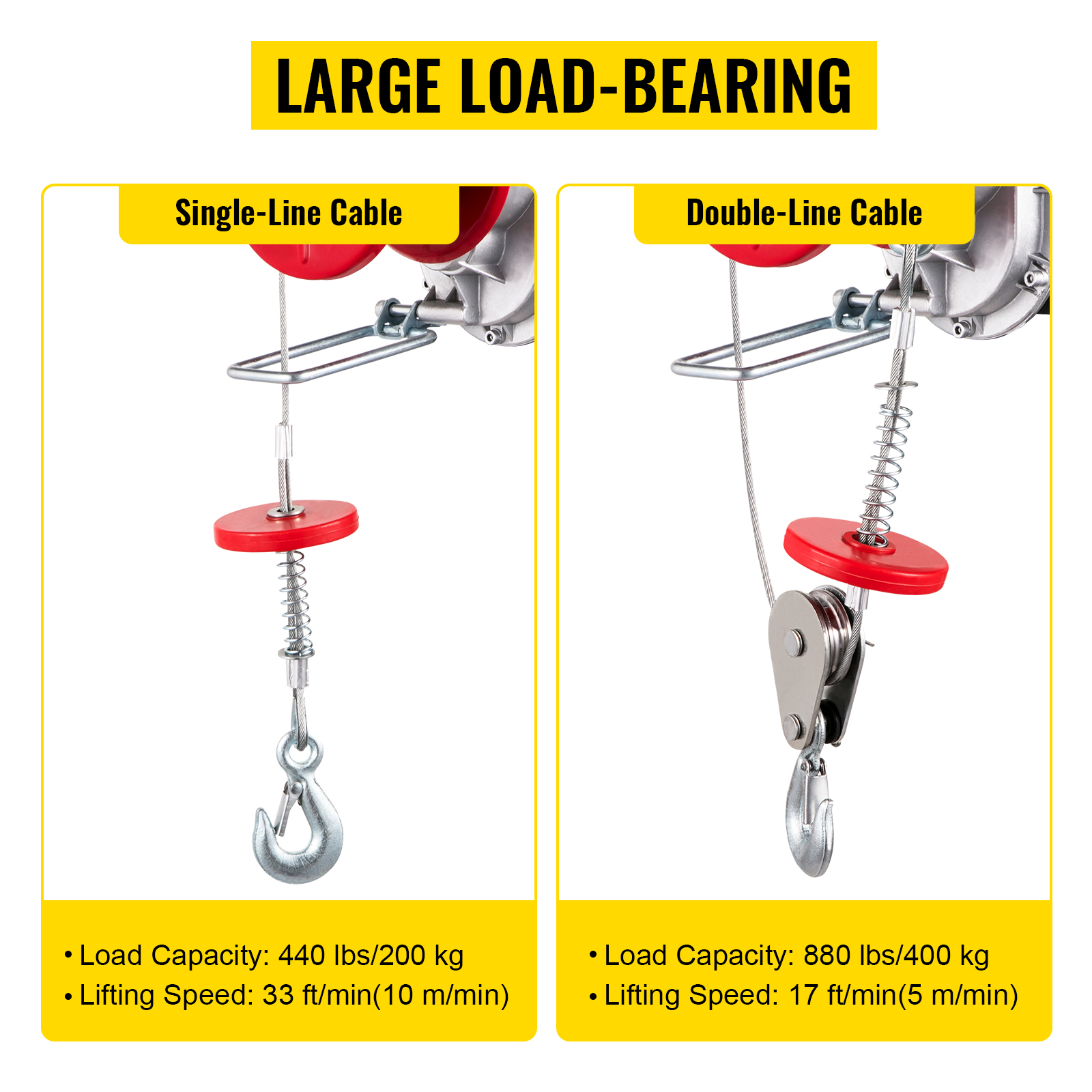 Large Load-Bearing
Our lift electric hoist meets your various demands on strength and hardness. The single line capacity and speed are 440 lbs/200 kg, 33 ft/min(10 m/min). Double line capacity and speed are 880 lbs/400 kg, 17 ft/min(5 m/min).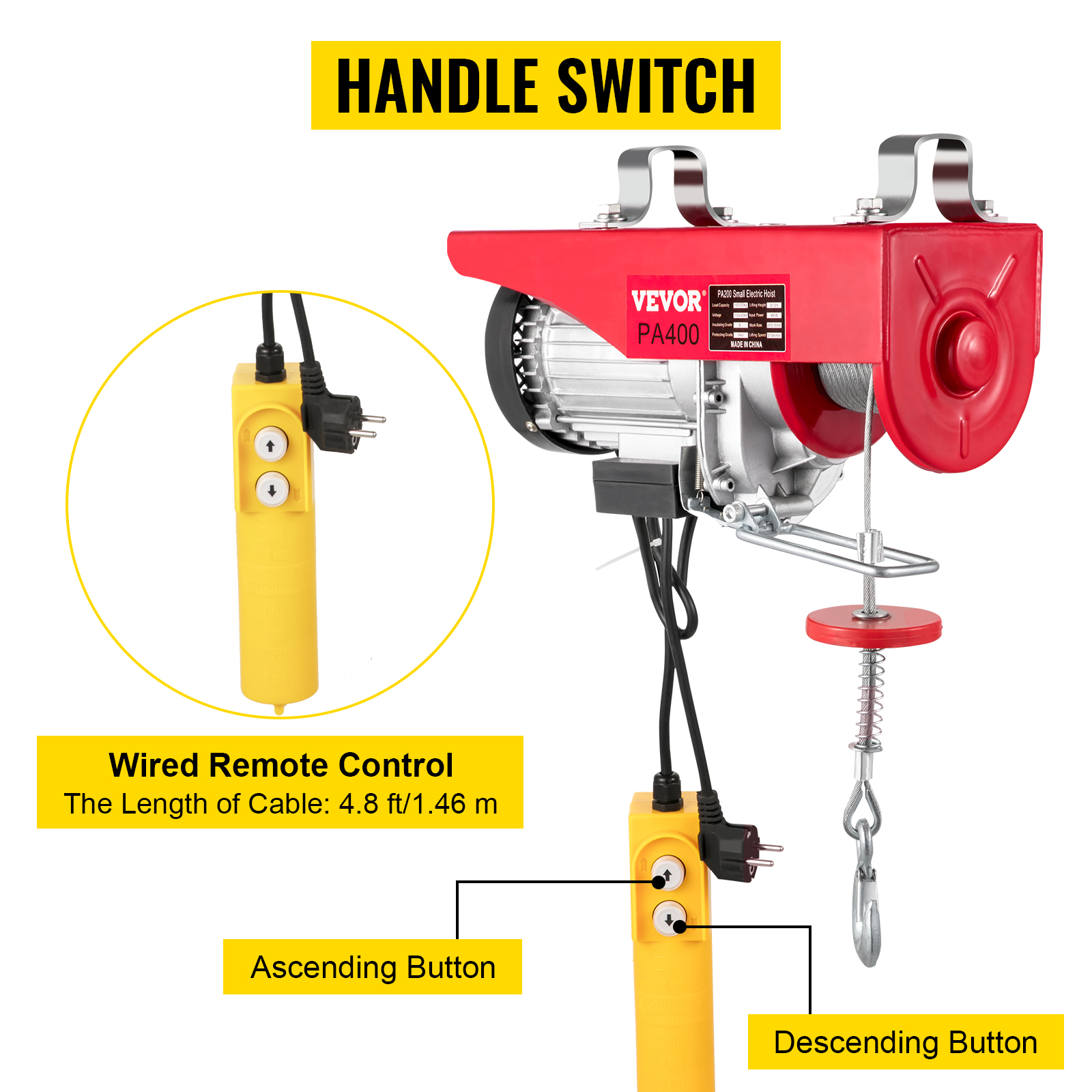 Handle Switch
The wired remote control in this hoist is achieved through a handle switch. The pressing upside is going up, conversely going down. Around 4.8 ft/1.45 m cable allows you to operate at a certain distance.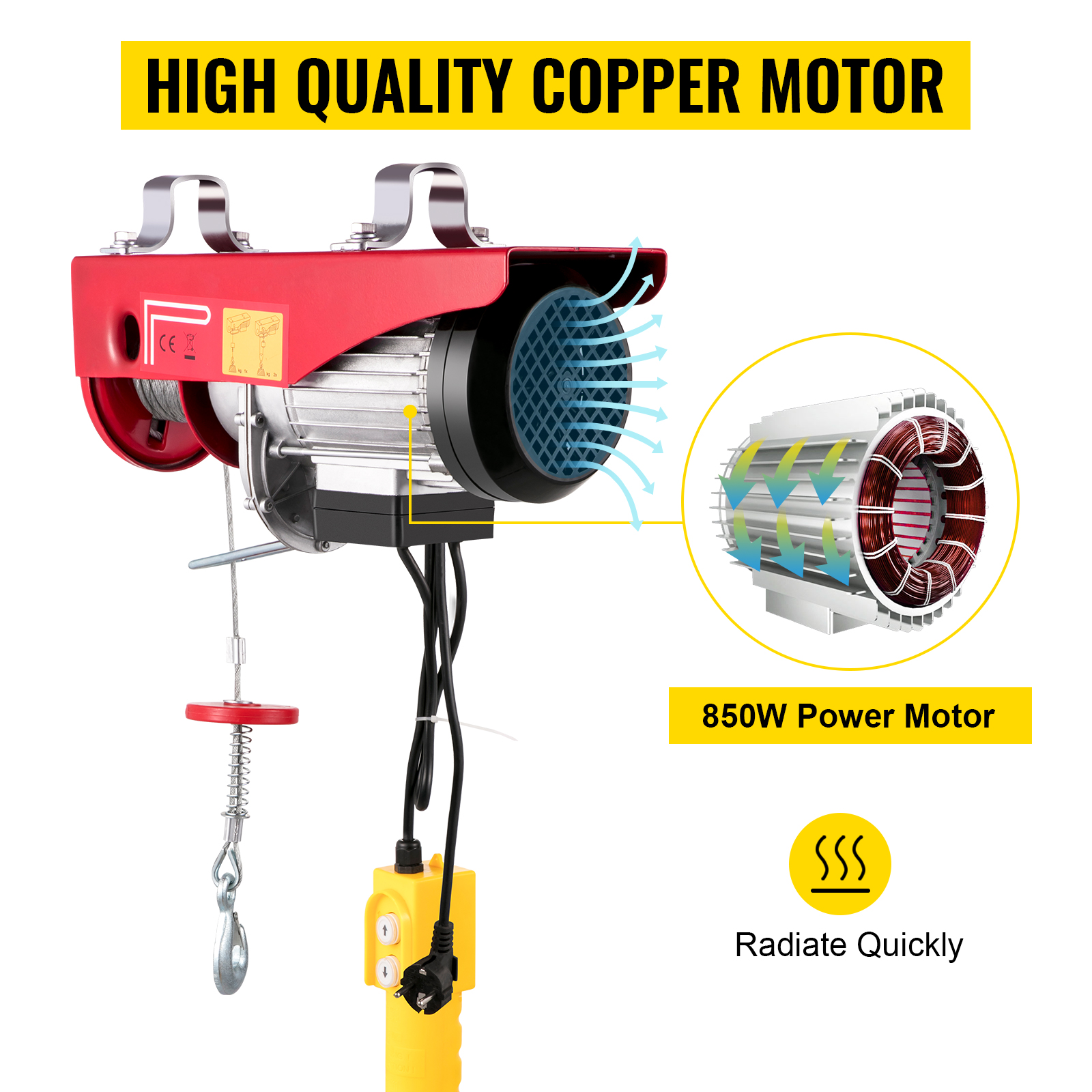 High-Quality Copper Motor
The electric hoist winch adopts an 850W pure copper motor, which features high efficiency and low noise. Furthermore, the electric winch can continuously work for a long time because it radiates rapidly.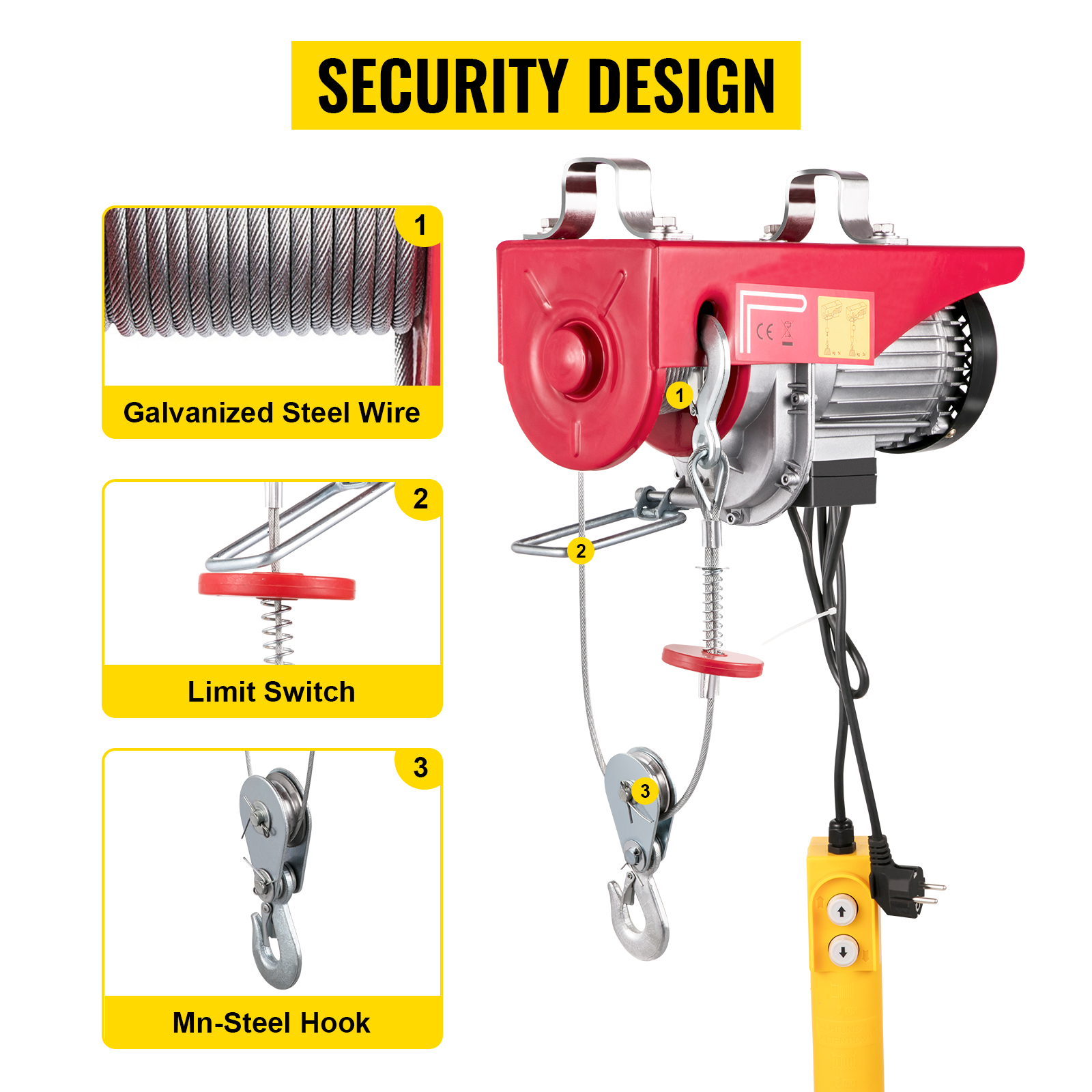 Security Design
When the red block touches the limit switch, the motor stops automatically to prohibit the chains from overloading. Moreover, the galvanized steel wire and hook with latch provide double-protected operation.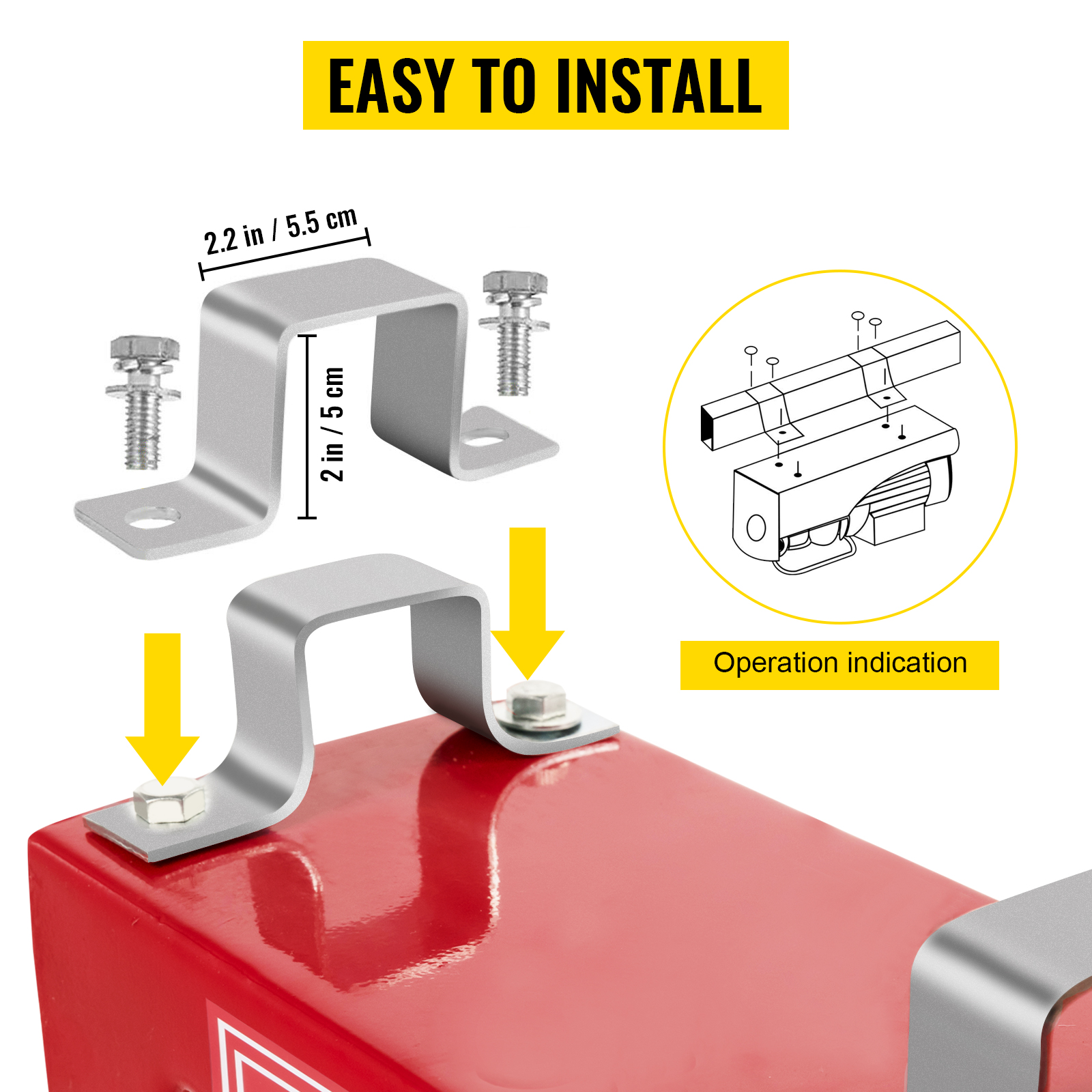 Easy to Install
For the purpose of satisfying your needs, our electric hoist is possessed of a metal fixing ring that is installed effortlessly. Just remember the bar's width and height shall not surpass the internal size of the mounting brackets. The ring width: is 2.2/5.5 cm; the height: is 2in/5 cm.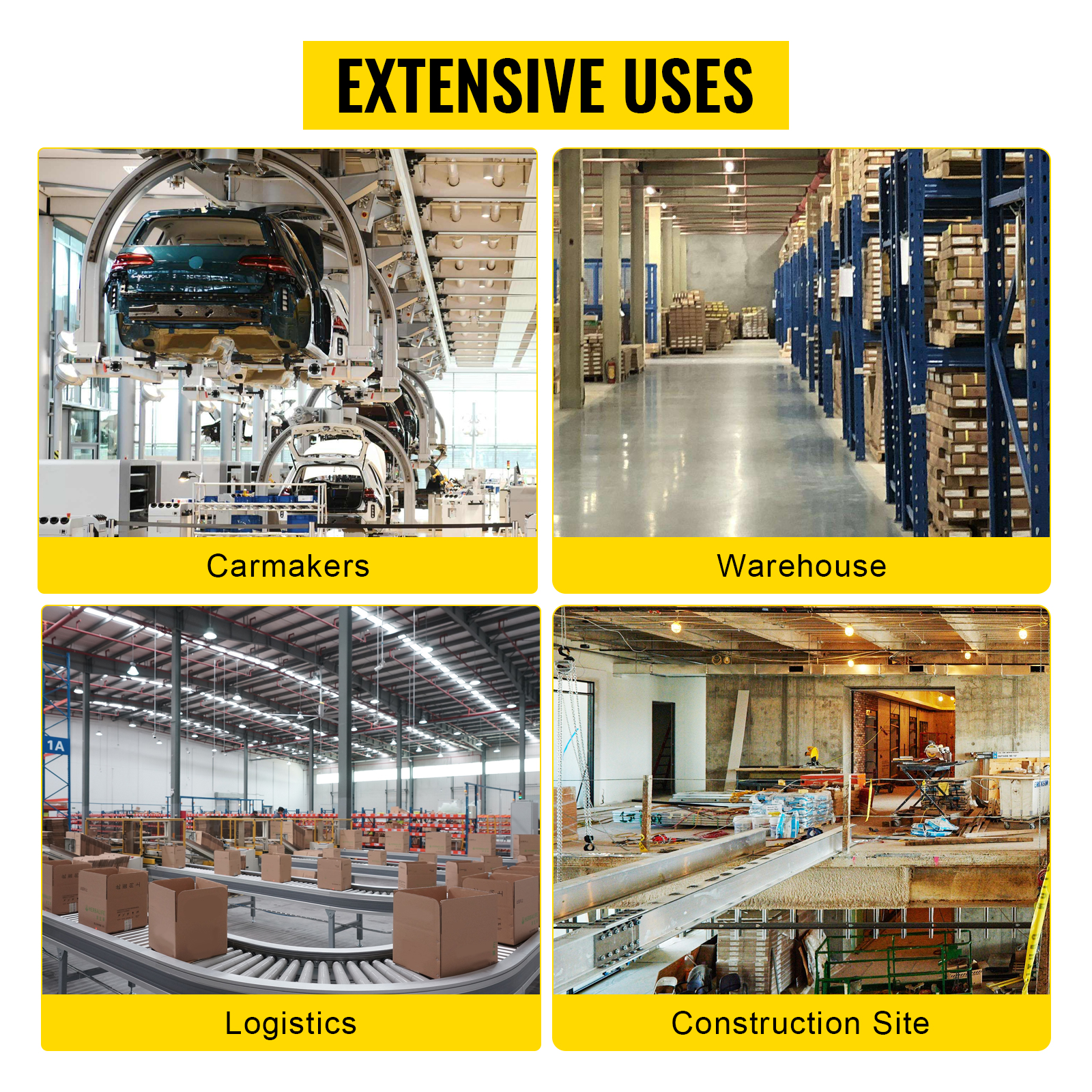 Extensive Uses
This power electric hoist is an excellent choice to lift regular or irregular shape things such as stones, trees, mowers, engines, and so on. As a result, it is widely used in carmakers, construction sites, logistics, warehouses, etc.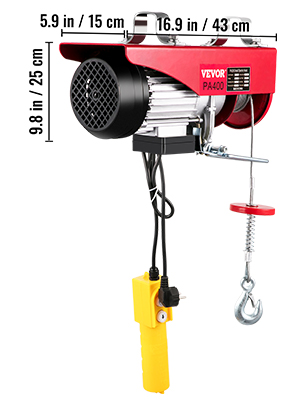 Specifications
Model: PA400

Material: Cast Iron & Aluminum

Voltage: 110V(US) / 220V(EU)

Power: 850W

Load Capacity: 440 lbs / 200 kg, 880 lbs / 400 kg

Lifting Height: 39.4 ft / 12 m, 19.7 ft / 6 m

Lifting Speed: 33 ft/min / 10 m/min, 17 ft/min / 5 m/min

Steel Line Length: 39.4 ft / 12 m

Remote Control Cord Length: 4.8 ft / 1.45 m

Power Cord Length: 2.1 ft / 0.65 m

Cable Gauge: 0.16 in / 4 mm

Item Size: 16.9 x 5.9 x 9.8 in / 43 x 15 x 25 cm

Item weight: 33.1 lbs / 15 kg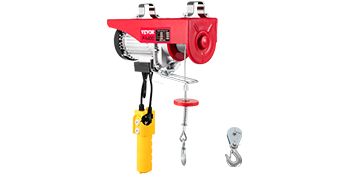 Package Content
1 x Lift Electric Hoist

2 x Lifting Lugs

1 x Moveable Pulley

1 x Bag of Screws

1 x User manual
Features & Specifications
Impressive 880 lbs Load Capacity: This electric hoist is a versatile workhorse, effortlessly lifting small engines, transmissions, or construction materials. It offers two lifting modes, with a secure latch steel hook. The single-line mode has a capacity and speed of 440 lbs / 200 kg at 33 ft/min (10 m/min), while the double-line mode can handle 880 lbs / 400 kg at 17 ft/min (5 m/min).
Robust 850W Motor: Powered by a high-quality copper motor with 850W of formidable strength, this electric winch can withstand significant forces without deformation. Its large radiator fan facilitates rapid cooling and comes with overheat protection, ensuring both efficiency and energy conservation.
Convenient 4.8 Ft Control Cord: The electric hoist features a remote control operated via a handle switch conveniently located on the machine, allowing for safe and remote operation. Additionally, it comes equipped with a limit switch and buffer spring to halt the machine automatically and prevent any sagging.
Premium Construction: Crafted with an alloy shell and galvanized steel wire, this electric hoist is engineered to resist corrosion, rust, and exposure to rain. The steel line boasts a length of 39.4 ft / 12 m and a diameter of 0.16 in / 4 mm. Furthermore, the adjustable metal fixing ring accommodates various needs and offers straightforward installation.
Versatile Applications: This power hoist finds its place in factories, warehouses, construction sites, automotive facilities, railway projects, and more. It proves to be an indispensable tool for both indoor and outdoor work under challenging conditions. Ensure compatibility by using it within the width and height constraints of your mounting brackets.
Share
View full details