Regular price
Sale price
$89.00
Unit price
per
Sale
Sold out
SPECIFICATIONS
Type: Tap and Die
Type: Tap & Die Set
Taper taps(110PCS): 35pcs
Tap Wrench: T Bar
Tap Holder 1(110PCS): M6 - M20 (1/4 inch - 3/4 inch)
Tap And Die set: Titanium
System of Measurement: Metric
Sub-Type: Engineering Tap And Die Set
Plug taps(110PCS): 35pcs
Origin: Mainland China
Number of Pieces: 86pc/110pc
Number of Pieces: 86/110
Material: Tungsten Steel
Dies(110PCS): 35pcs
Die Holder 2(110PCS): Total length 270mm (1-1/2 inch diameter bore)
Die Holder 1(110PCS): Total length 200mm (1inch diameter bore)
DIY Supplies: ELECTRICAL
Brand Name: VEVOR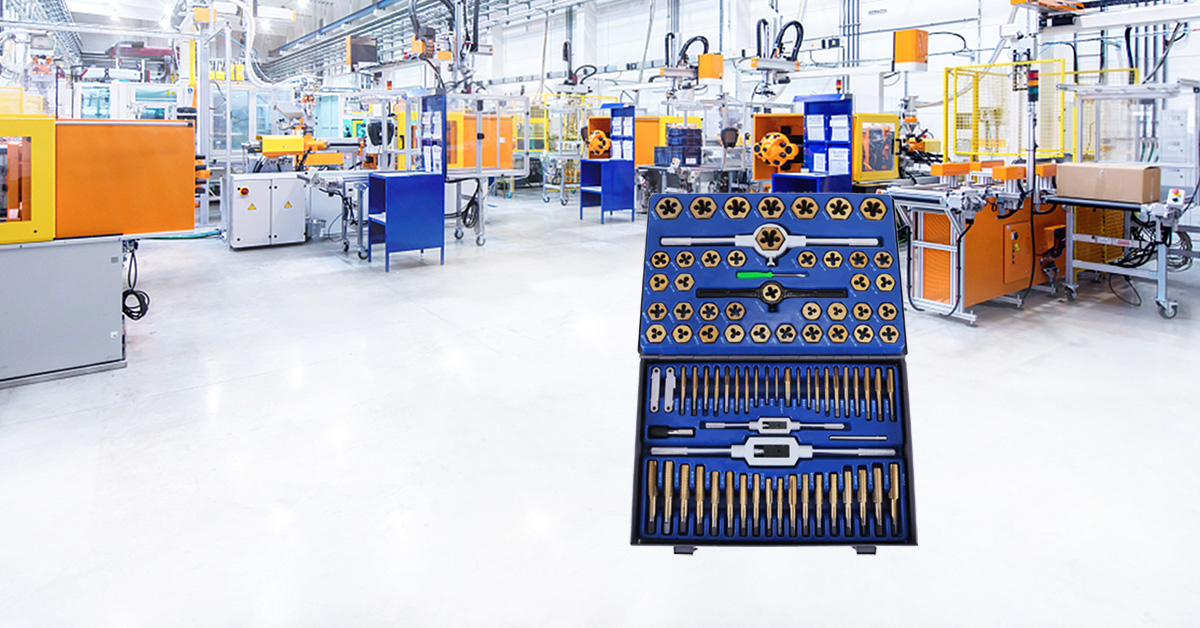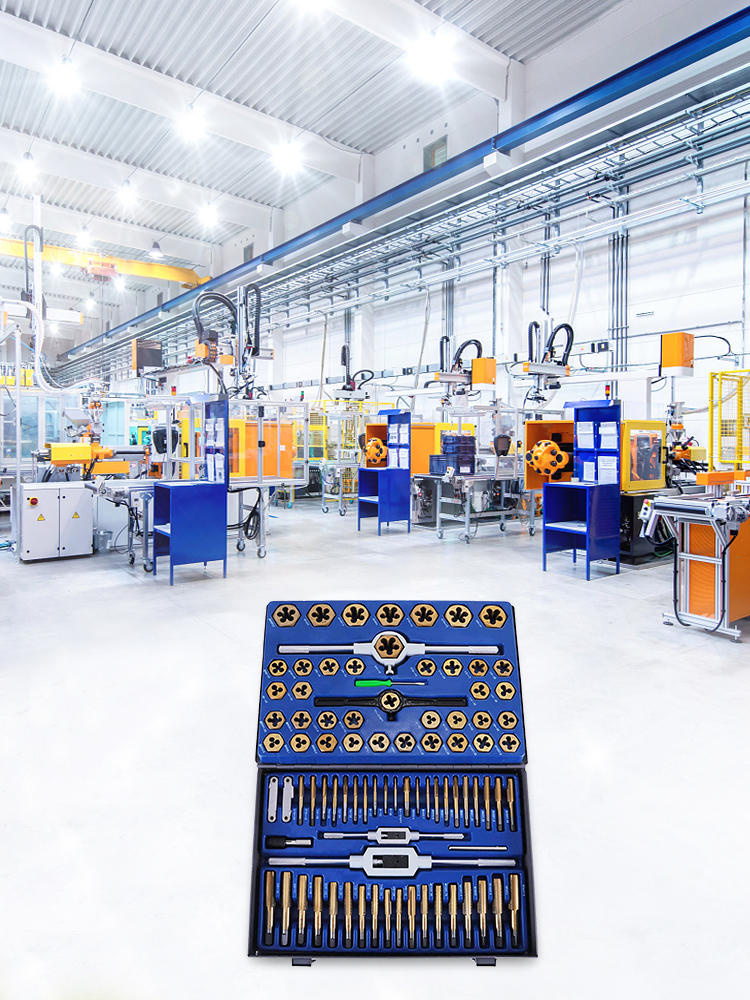 86/110-Piece Tap and Die Set
Our durable and reliable 86/110-piece tap and die set includes Metric coarse and fine sizes,super-hard & high-precision, and can offer you excellent performance in applications like machine tools, precision modules, transformers, etc.
Premium Quality

Excellent Performance

Reinforced Stability

Adjustable Tap Wrench

Most Popular Sizes Included
Tough Equipment & Tools, Pay Less
VEVOR is a leading brand that specializes in equipment and tools. Along with thousands of motivated employees, VEVOR is dedicated to providing our customers with tough equipment & tools at incredibly low prices. Today, VEVOR's products are sold in more than 200 countries and regions with 10 million plus members worldwide.
Why Choose VEVOR?
Premium Tough Quality

Incredibly Low Prices

Fast & Secure Delivery

30-Day Free Returns

24/7 Attentive Service
Key Features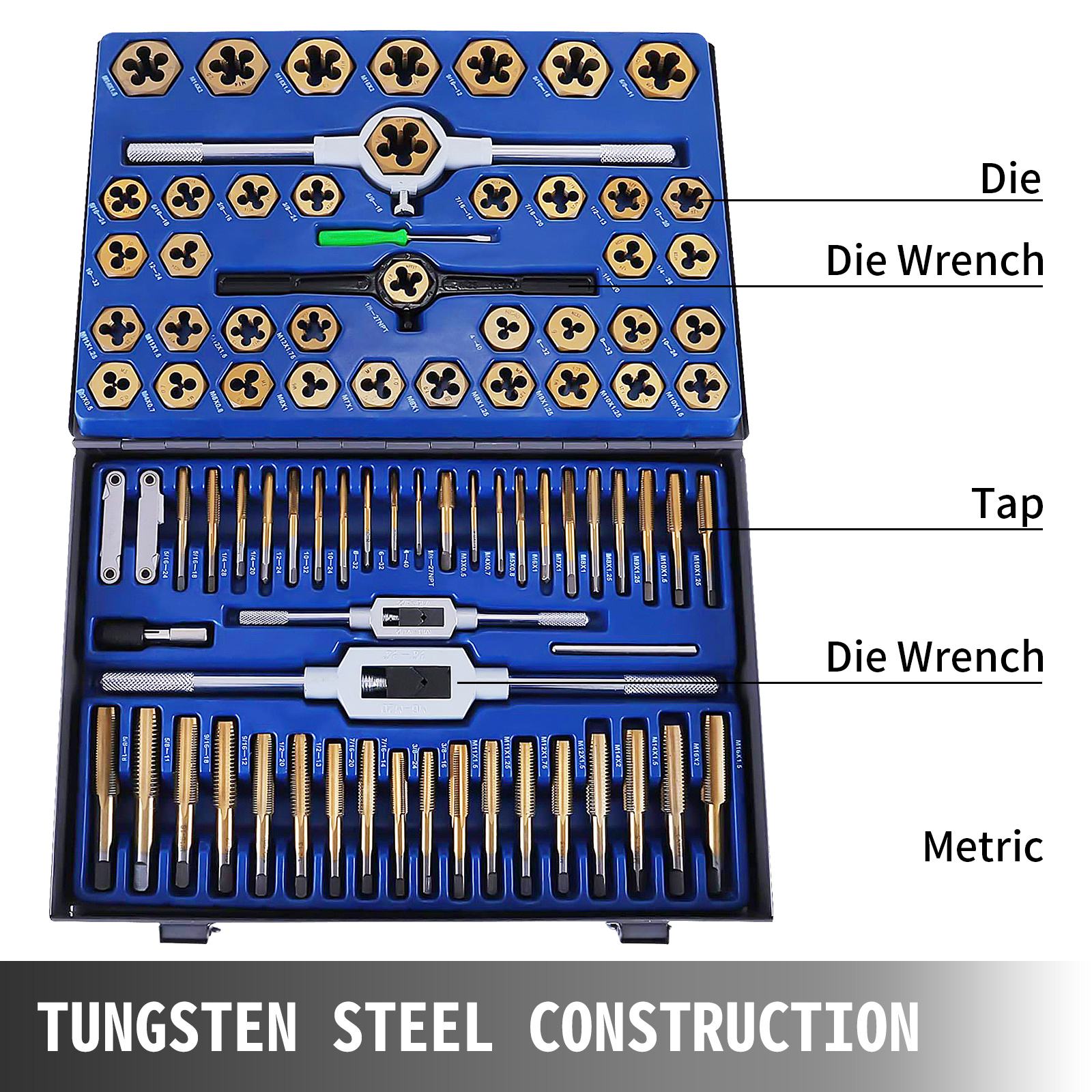 Tungsten Steel Construction
Tungsten steel taps with high-hardness can stand high temperatures and corrosion durable enough for your long-lasting use.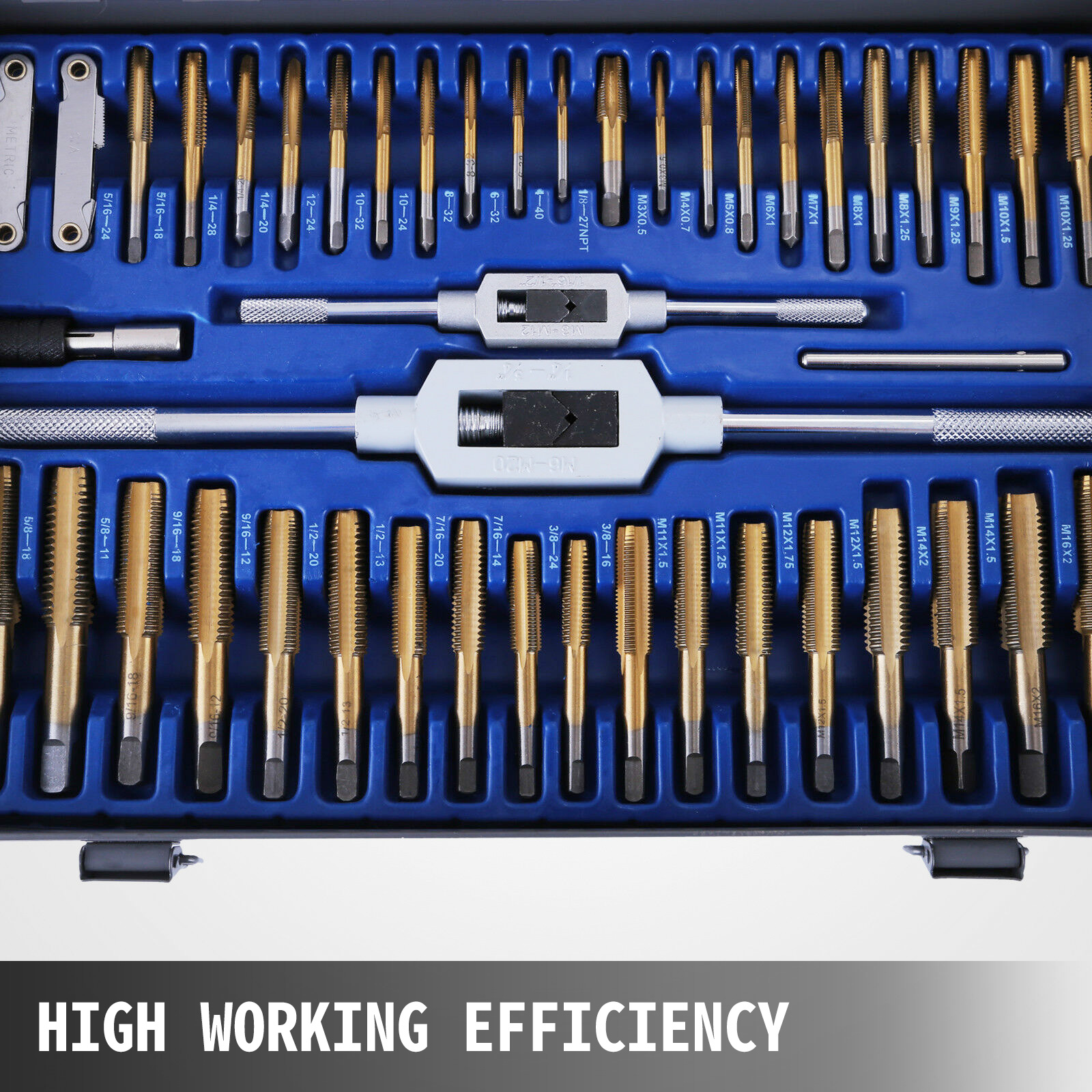 High Working Efficiency
The fully ground tap is super-sharp enough to guarantee its smooth chip-removing & tapping without fracturing.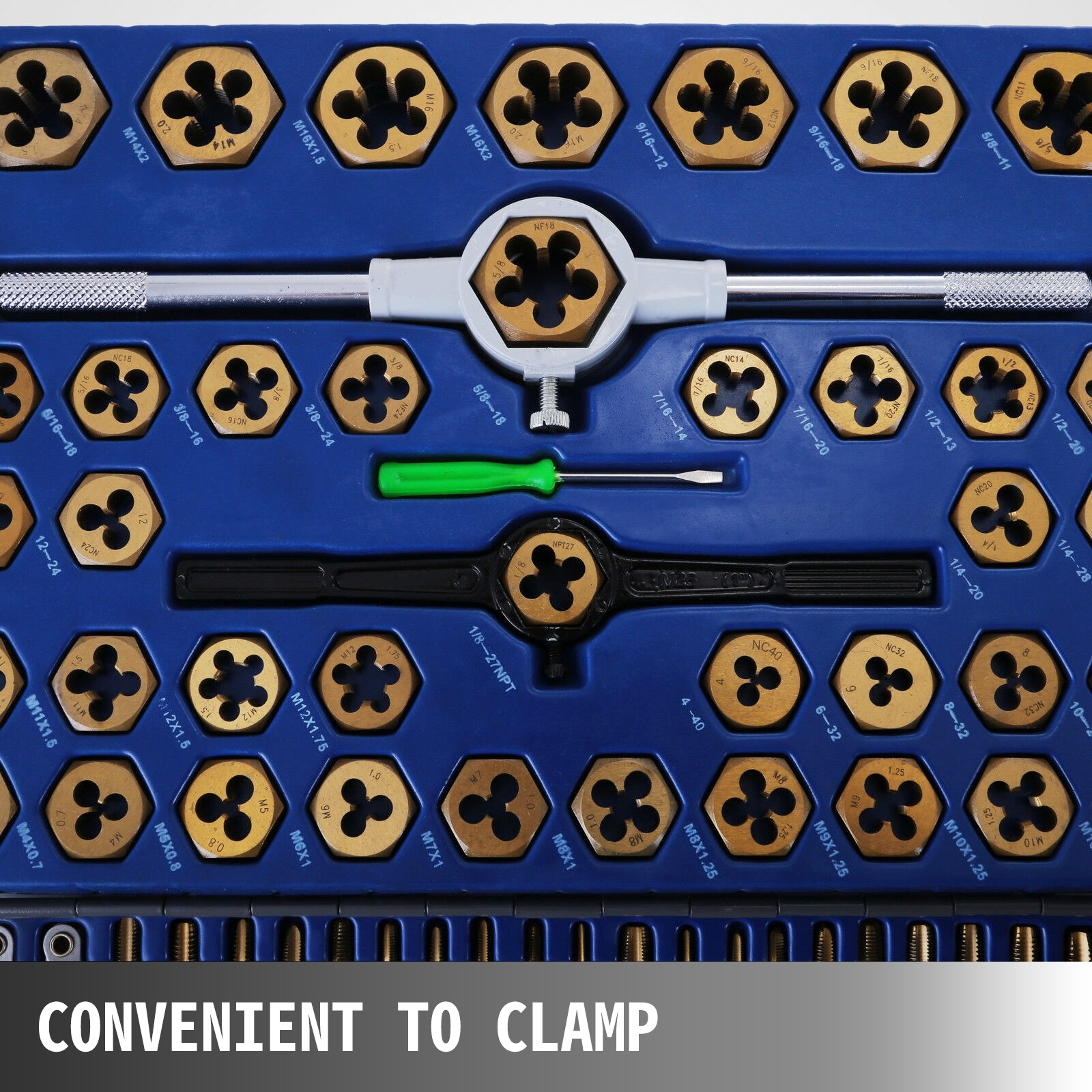 Convenient to Clamp
A lock hole on the dies is to ensure its double stability when screwing it on.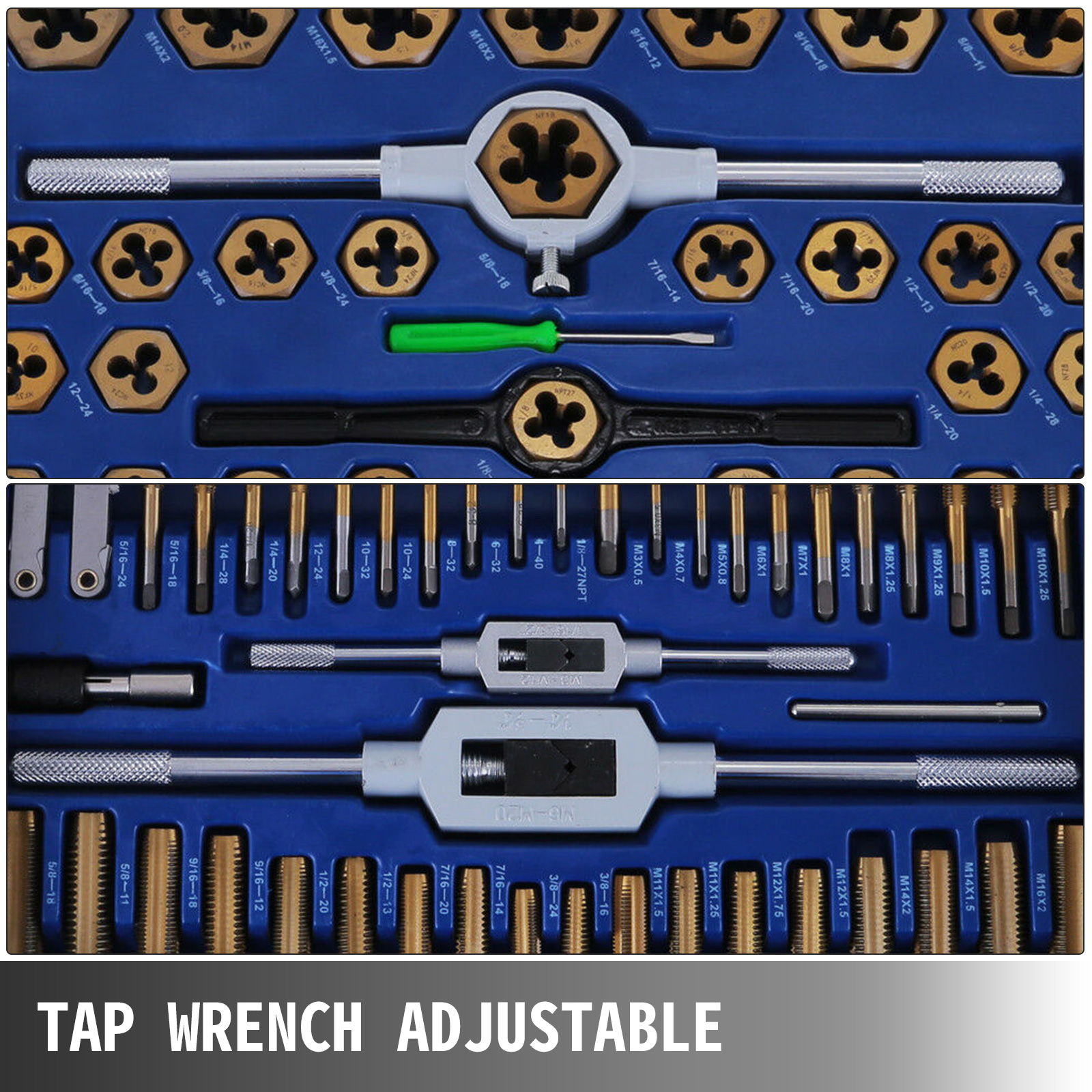 Tap Wrench Adjustable
An adjustable top wrench is for you to adjust tap size freely.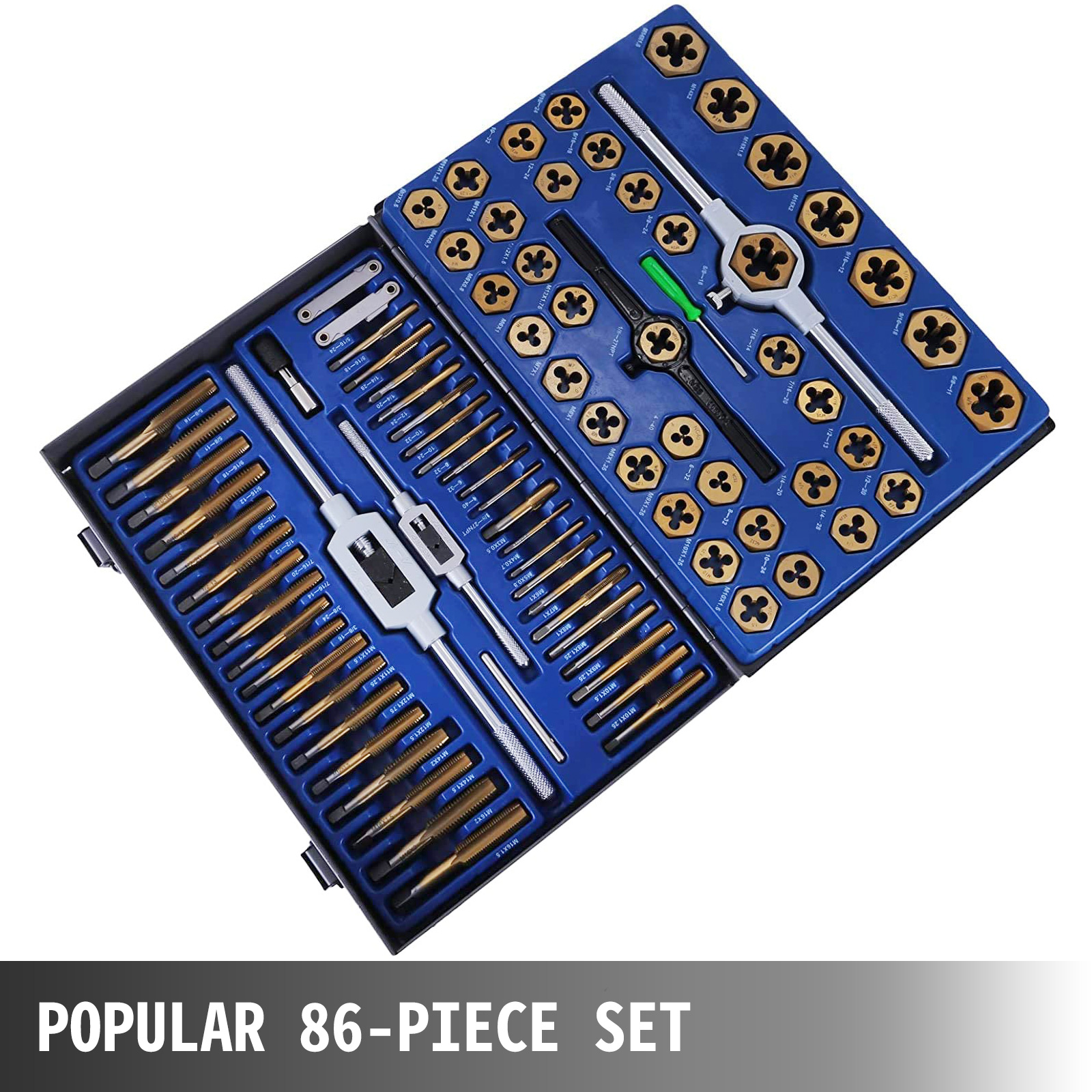 Popular 86/110-Piece Set
The broad range of sizes and thread pitch, a total of 86/110 pieces to meet your different requirements.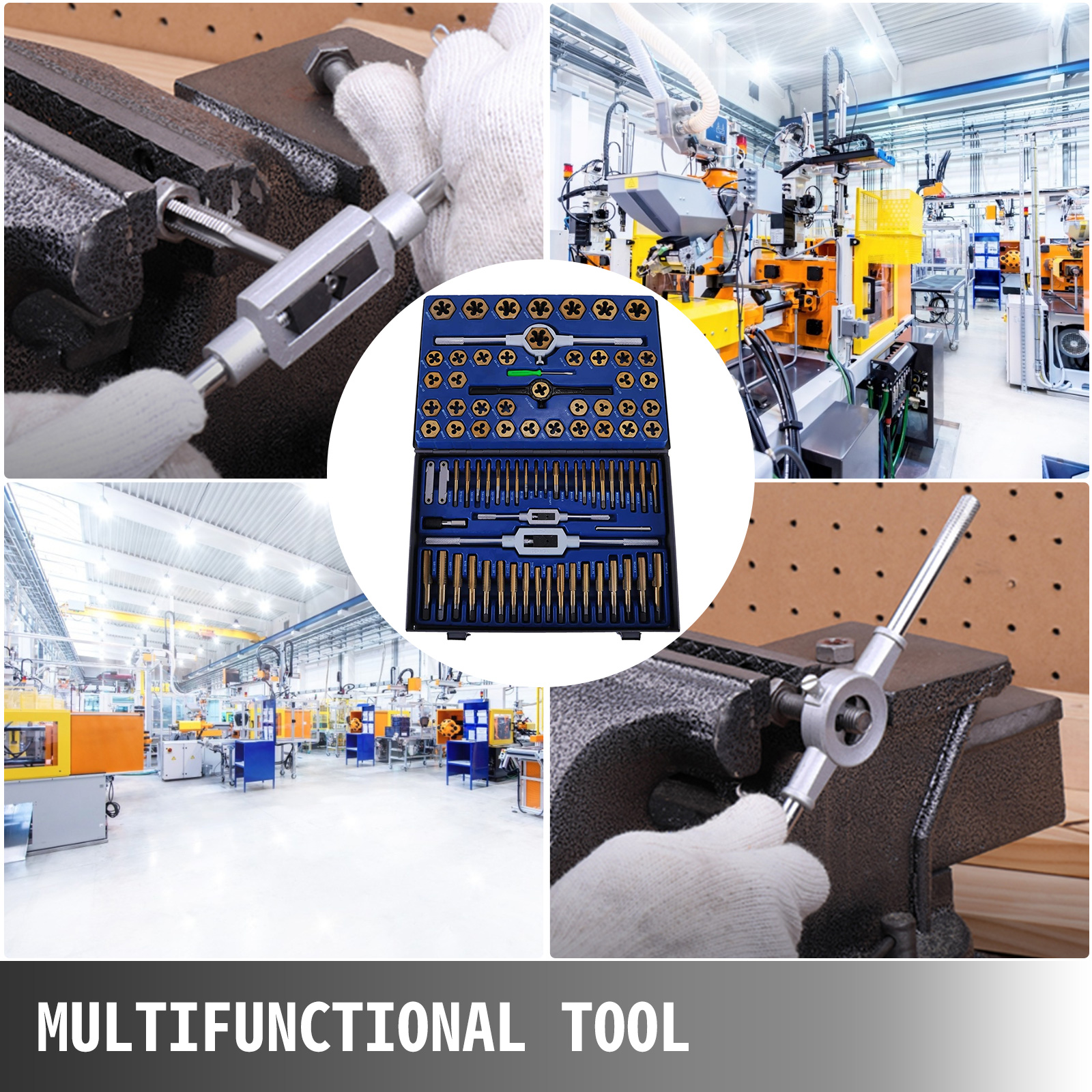 Multifunctional Tool
It is extensively used in many fields like machine tools, precision modules, transformers, etc.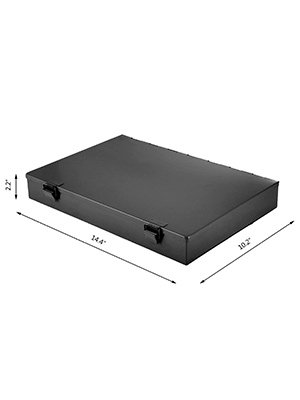 86-Piece Tap and Die Set
Condition: New

Material: Tungsten steel

Type: Tap & Die

Tap And Die set: Titanium

Number of Pieces: 86pcs

Length: 50.8 cm/20''

Width: 27.94 cm/11''

Height: 7.62 cm/3''

Net Weight: 5.9928 kg/13.2 lbs

Volumetric Weight: 1.57717 kg/3.473942lbs

Package Length: 50 cm/19.69''

Package Width: 27 cm/10.63''

Package Height: 7 cm/2.76''

Gross Weight: 6 kg/13.22 lbs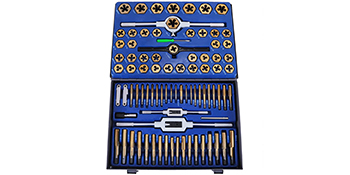 Package Content
1 x Adjustable Tap Wrench (M6 to M20 - 1/4" to 3/4")

1 x Long Handle Adjustable Tap Wrench (M3 to M12 - 1/16" to 1/2")

1 x T-Handle Tap Wrench

1 x Die Handle (M25 - 1")

1 x Long Die Handle (M38 - 1-1/2")

1 x Screwdriver

1 x Screw Pitch Gauge Metric

1 x Screw Pitch Gauge SAE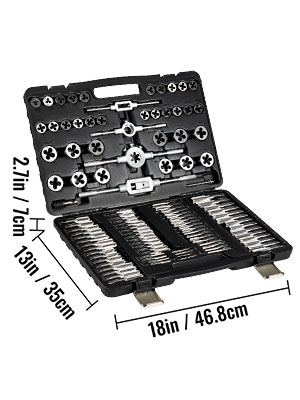 110-Piece Tap and Die Set
Material: Tungsten Steel

Sub-Type: ENGINEERING TAP AND DIE SET

Tap Holder: M2 - M12 (1/16" - 1/2")

Tap Holder: M6 - M20 (1/4" - 3/4")

Tap Wrench: T-bar

Die Holder: Total length 200 mm (1" diameter bore)

Die Holder: Total length 270 mm (1 1/2" diameter bore)

Taper Taps: 35pcs (M2 x 0.4, M3 x 0.5, M4 x 0.7, M5 x 0.8, M6 x 0.75, M6 x 1, M7 x 0.75, M7 x 1, M8 x 0.75, M8 x 1, M8 x 1.25, M9 x 0.75, M9 x 1, M9 x 1.25, M10 x 0.75, M10 x 1, M10 x 1.25, M10 x 1.5, M11 x 0.75, M11 x 1, M11 x 1.25, M11 x 1.5, M12 x 0.75, M12 x 1, M12 x 1.25, M12 x 1.5, M12 x 1.75, M14 x 1, M14 x 1.25, M14 x 1.5, M14 x 2, M16 x 1, M16 x 1.5, M16 x 2, M18 x 1.5)

Plug Taps: 35pcs (M2 x 0.4, M3 x 0.5, M4 x 0.7, M5 x 0.8, M6 x 0.75, M6 x 1, M7 x 0.75, M7 x 1, M8 x 0.75, M8 x 1, M8 x 1.25, M9 x 0.75, M9 x 1, M9 x 1.25, M10 x 0.75, M10 x 1, M10 x 1.25, M10 x 1.5, M11 x 0.75, M11 x 1, M11 x 1.25, M11 x 1.5, M12 x 0.75, M12 x 1, M12 x 1.25, M12 x 1.5, M12 x 1.75, M14 x 1, M14 x 1.25, M14 x 1.5, M14 x 2, M16 x 1, M16 x 1.5, M16 x 2, M18 x 1.5)

Dies: 35pcs (M2 x 0.4, M3 x 0.5, M4 x 0.7, M5 x 0.8, M6 x 0.75, M6 x 1, M7 x 0.75, M7 x 1, M8 x 0.75, M8 x 1, M8 x 1.25, M9 x 0.75, M9 x 1, M9 x 1.25, M10 x 0.75, M10 x 1, M10 x 1.25, M10 x 1.5, M11 x 0.75, M11 x 1, M11 x 1.25, M11 x 1.5, M12 x 0.75, M12 x 1, M12 x 1.25, M12 x 1.5, M12 x 1.75, M14 x 1, M14 x 1.25, M14 x 1.5, M14 x 2, M16 x 1, M16 x 1.5, M16 x 2, M18 x 1.5)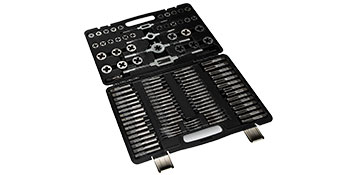 Package Content
2 x Tap holders (different sizes)

1 x T-bar tap wrench

2 x Die holders (different sizes)

35 x Taper taps

35 x Plug taps

35 x Dies

1 x Portable Storage Case
Features & Details
【PREMIUM QUALITY】-High-duty heat-treated Tungsten steel construction, high-hardness, wear-resistant, and its service life is 5-10 times longer than that of non-tungsten taps, durable and reliable for your long-lasting use.

【EXCELLENT PERFORMANCE】-Fully ground & high-precision tap is super-sharp for your tapping and chip removing operation, running smooth and efficient, offering you excellent performance.

【REINFORCED STABILITY】-Each dies is designed with a lock hole, it can be locked tightly after the screw is aligned and locked, ensuring double stability during your operation.

【ADJUSTABLE TAP WRENCH】-Ta wrench is adjustable: You can set the adjustable basin wrench to either its position for turning clockwise (tightening) or turning anti-clockwise (loosening). You can do this by flipping the jaws 180 degrees over its pivot.

【SAE AND METRIC INCLUDED】-This tap and die set comes with 86 pieces in total: 39 pcs taps,39 pcs dies, 2 tap holders (M6 to M20 - 1/4" to 3/4"& M3 to M12 - 1/16" to 1/2"), 2 die holders (M25 - 1") & (M38 - 1-1/2")and 1 T-bar tap wrench, most popular sizes included.

Tap & Die Sizes

SAE TAP SIZES:1/8"-27NPT, 4-40, 6-32, 8-32, 10-32, 10-24, 12-24, 1/4"-20, 1/4"-28, 5/16"-18, 5/16-24, 3/8"-16,3/8"-24, 7/16"-14, 7/16"-20, 1/2"-13, 1/2"-20, 9/16"-12, 9/16"-18, 5/8"-11, 5/8"-18.

SAE DIE SIZES:1/8"-27NPT, 4-40, 6-32, 8-32, 10-32, 10-24, 12-24, 1/4"-20, 1/4"-28, 5/16"-18, 5/16-24, 3/8"-16,3/8"-24, 7/16"-14, 7/16"-20, 1/2"-13, 1/2"-20, 9/16"-12, 9/16"-18, 5/8"-11, 5/8"-18.

METRIC TAP SIZES M3-0.5, M 4-0.7, M 5-0.8, M 6-1.0, M 7-1.0, M 8-1.0, M 8-1.25, M 9-1.25, M 10-1.5, M 10-1.25, M 11-1.5, M 11-1.25, M 12-1.75, M 12-1.5, M 14-2, M 14-1.5, M 16-2, M16-1.5

METRIC DIE SIZES M 3-0.5, M 4-0.7, M 5-0.8, M 6-1.0, M 7-1.0, M 8-1.0, M 8-1.25, M 9-1.25, M 10-1.5, M 10-1.25, M 11-1.5, M 11-1.25, M 12-1.75, M 12-1.5, M 14-2, M 14-1.5, M 16-2, M16-1.5
Share
View full details