Regular price
Sale price
$65.00
Unit price
per
Sale
Sold out
SPECIFICATIONS
Origin: Mainland China
Feature: Fuel Vacuum Carburetor Synchronize Tool/Carburetor Synchronizer
Brand Name: VEVOR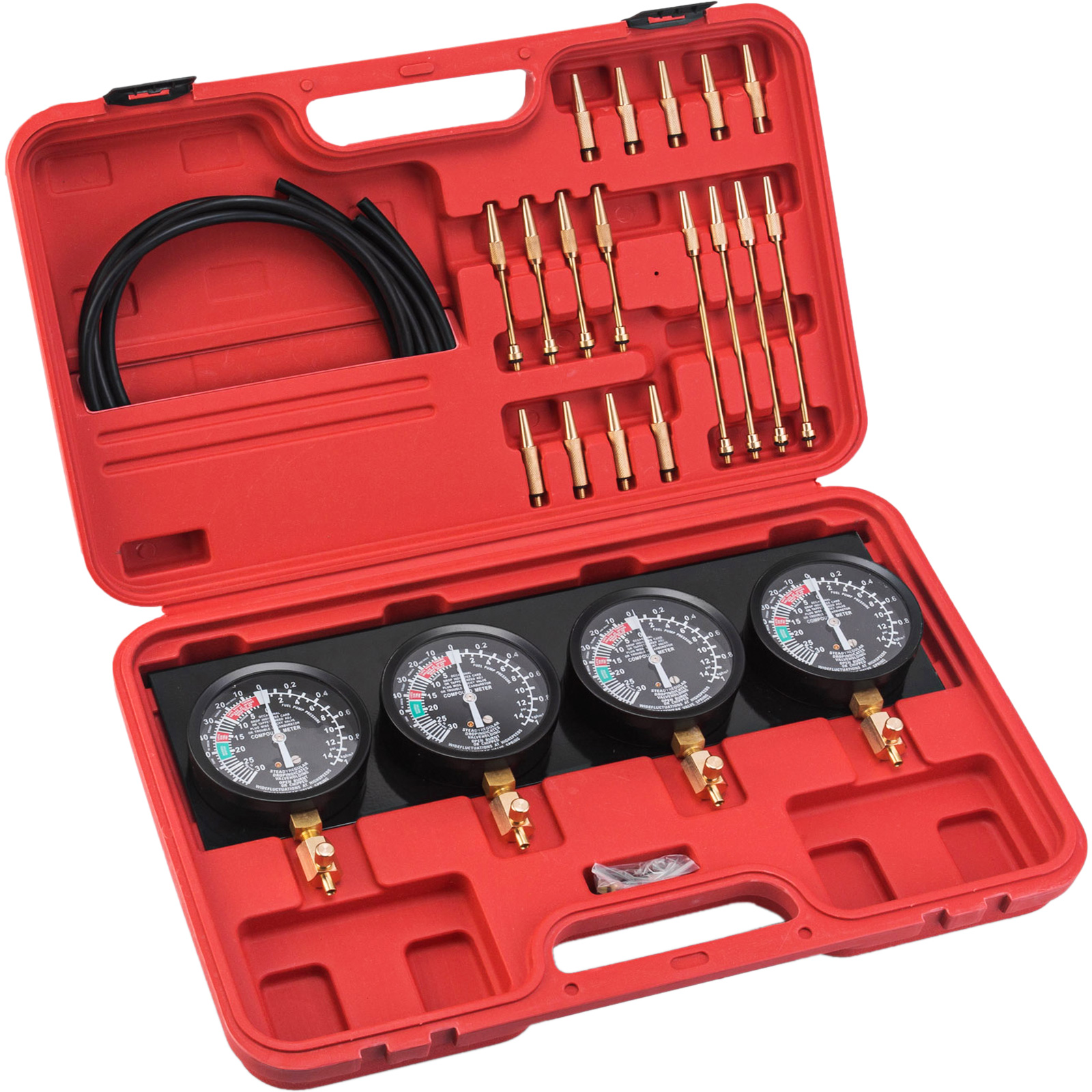 Carburetor Synchronizer Tool
4 Precision Gauges & Multi-Function & Complete Accessories
This pressure gauge set can be used to test fuel pump pressure, emission control devices, and leaking stuck or burnt valves. Eliminate muffler, turbine, or exhaust system clogs and help locate gas line leaks, valve timing, worn rings and seals, and heating and air conditioning components. It is an indispensable tool for motorcycle maintenance.
4 Precision Gauges

Durable Frame & Multi-Function

Complete Accessories

Easy Operation
Tough Equipment & Tools, Pay Less
VEVOR is a leading brand that specializes in equipment and tools. Along with thousands of motivated employees, VEVOR is dedicated to providing our customers with tough equipment & tools at incredibly low prices. Today, VEVOR's products are sold in more than 200 countries and regions with 10 million plus members worldwide.
Why Choose VEVOR?
Premium Tough Quality

Incredibly Low Prices

Fast & Secure Delivery

30-Day Free Returns

24/7 Attentive Service
Key Features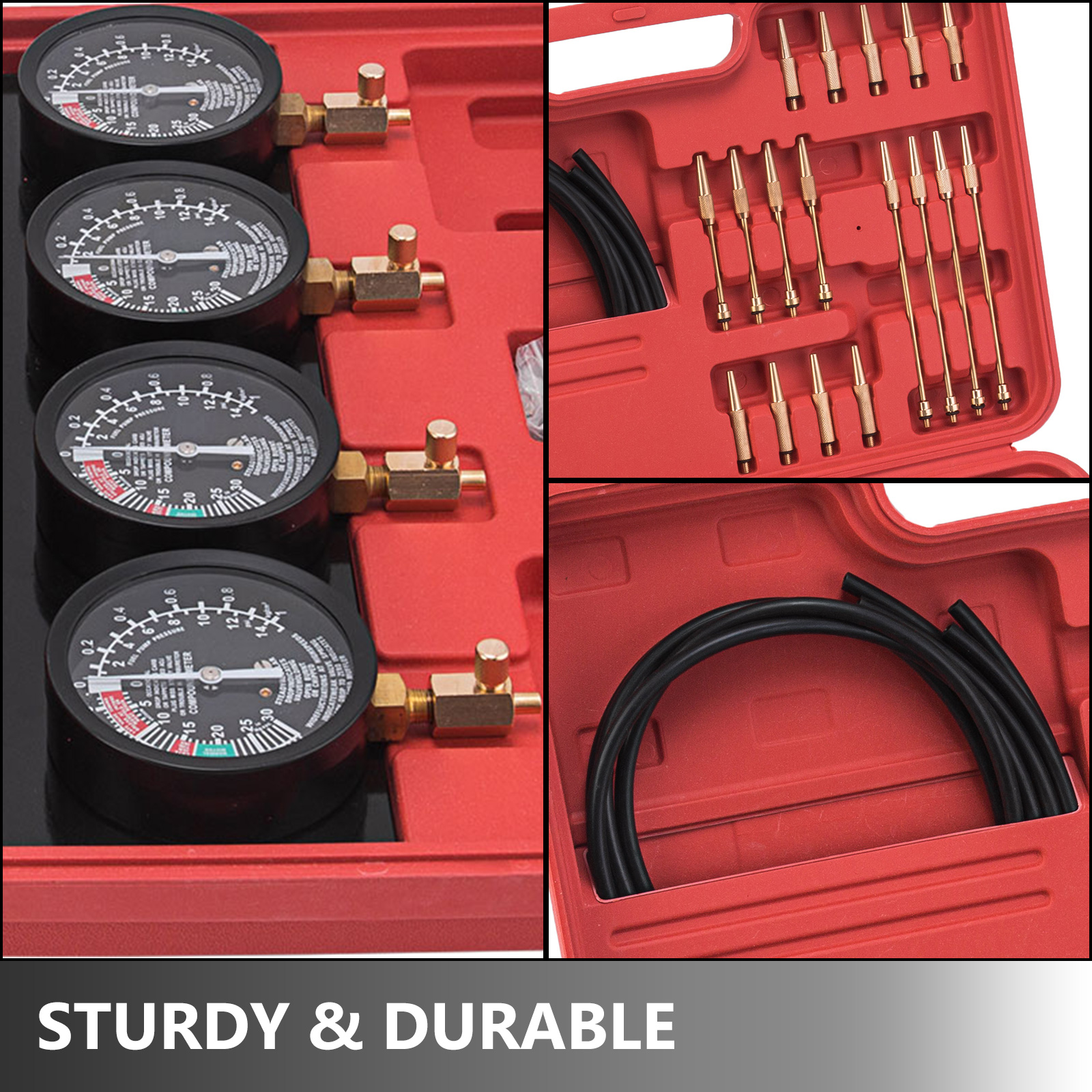 Precision Workmanship
This product comprises 4 mechanical pressure vacuum gauges equipped with a 15.6" metal plate, a lockable brass valve, and color-coded scales for convenient observation.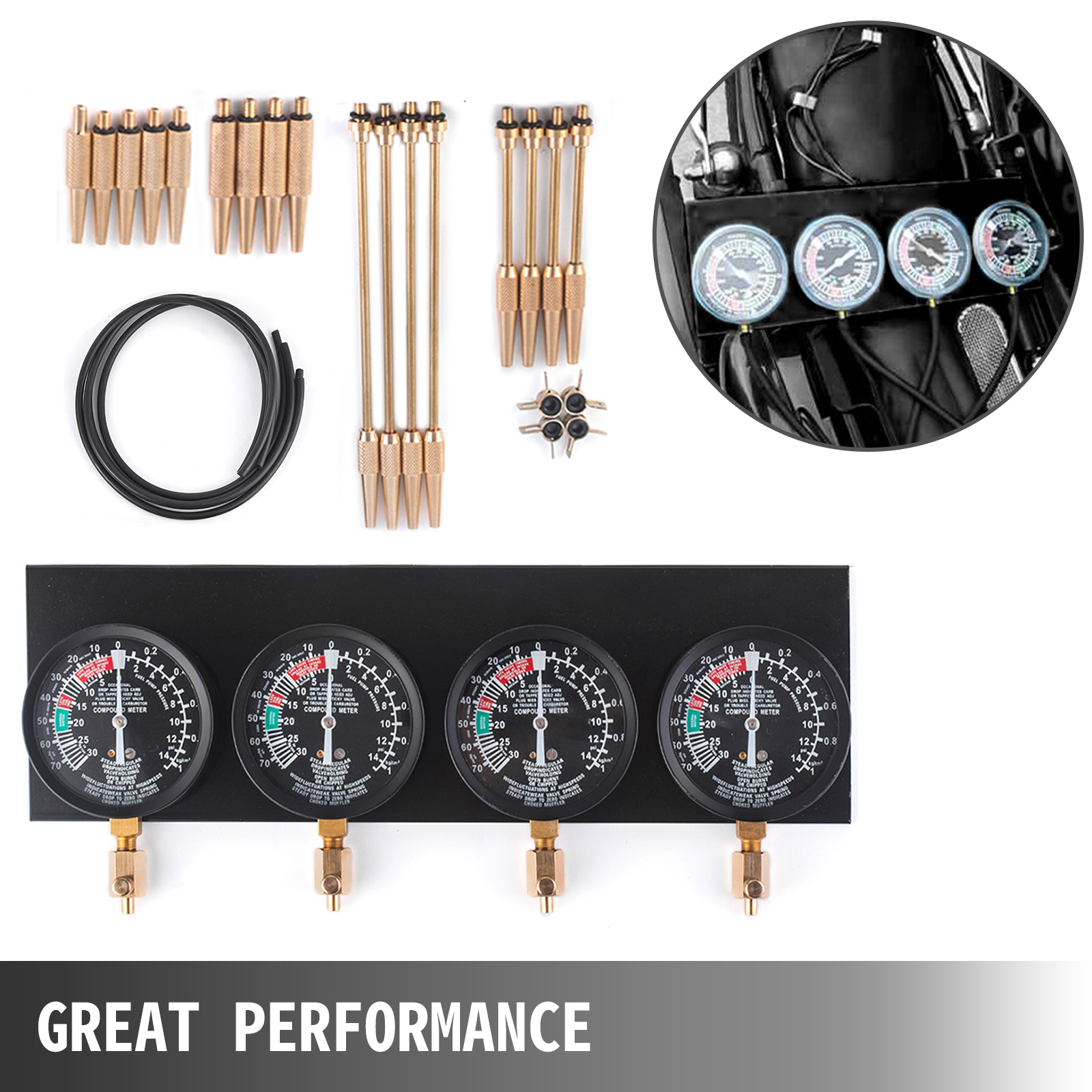 Excellent Performance
All hardware features a chrome finish with a stable structure and durable construction. The vacuum carburetor tool can quickly diagnose valve stuck, and manifold leakage, and synchronize multiple carburetor values.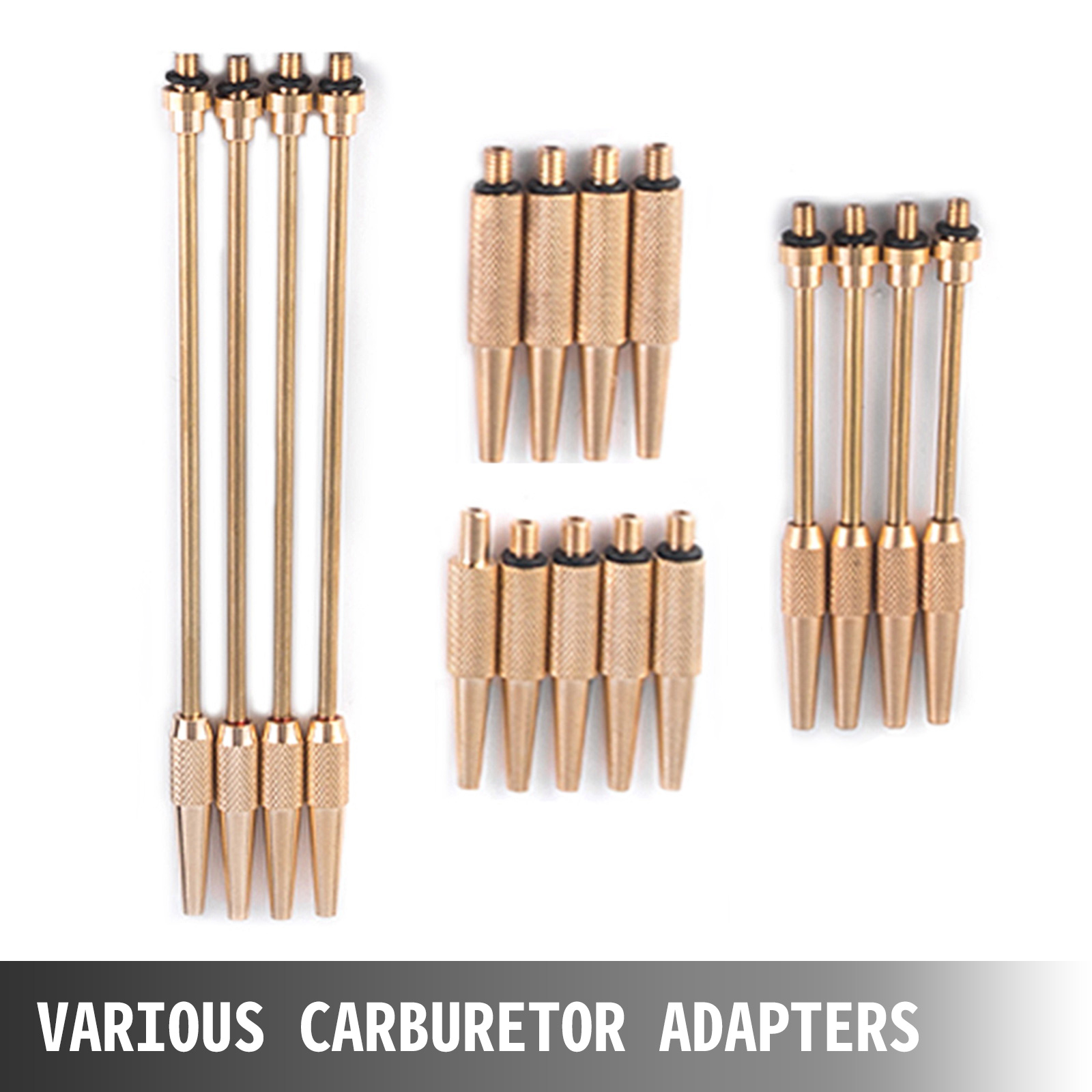 Essential Working Tools
Our product will provide 3 types of brass tube adapters, which can be compatible with most motorcycle models, and 4 PCS 30" rubber hoses to meet the length of motorcycle needs.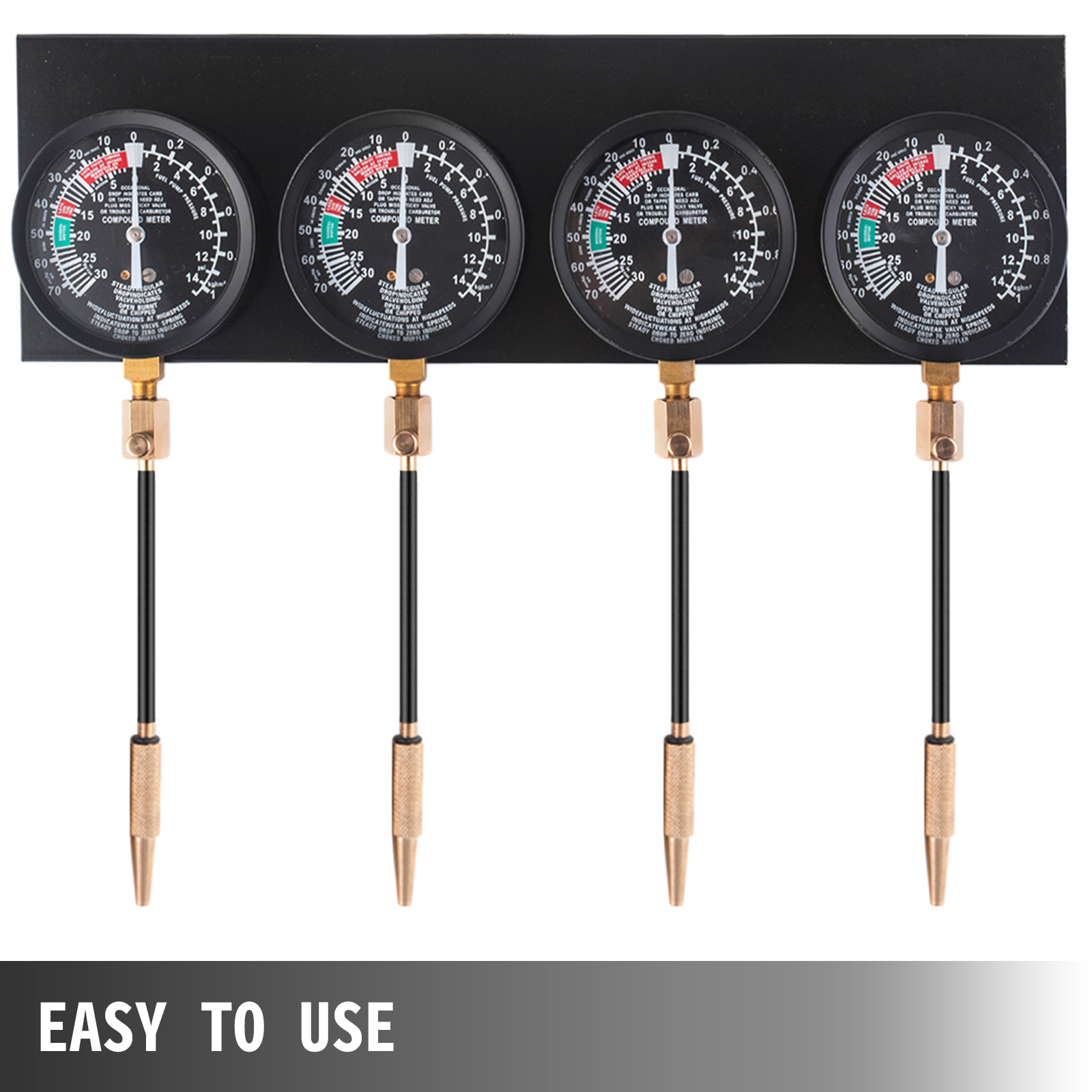 Tuning Process
You need to start the engine and check the gauges, adjust the dial and the screw slightly, stall the motorcycle, give the throttle a few snapbacks, and repeat the process until the designer result is achieved.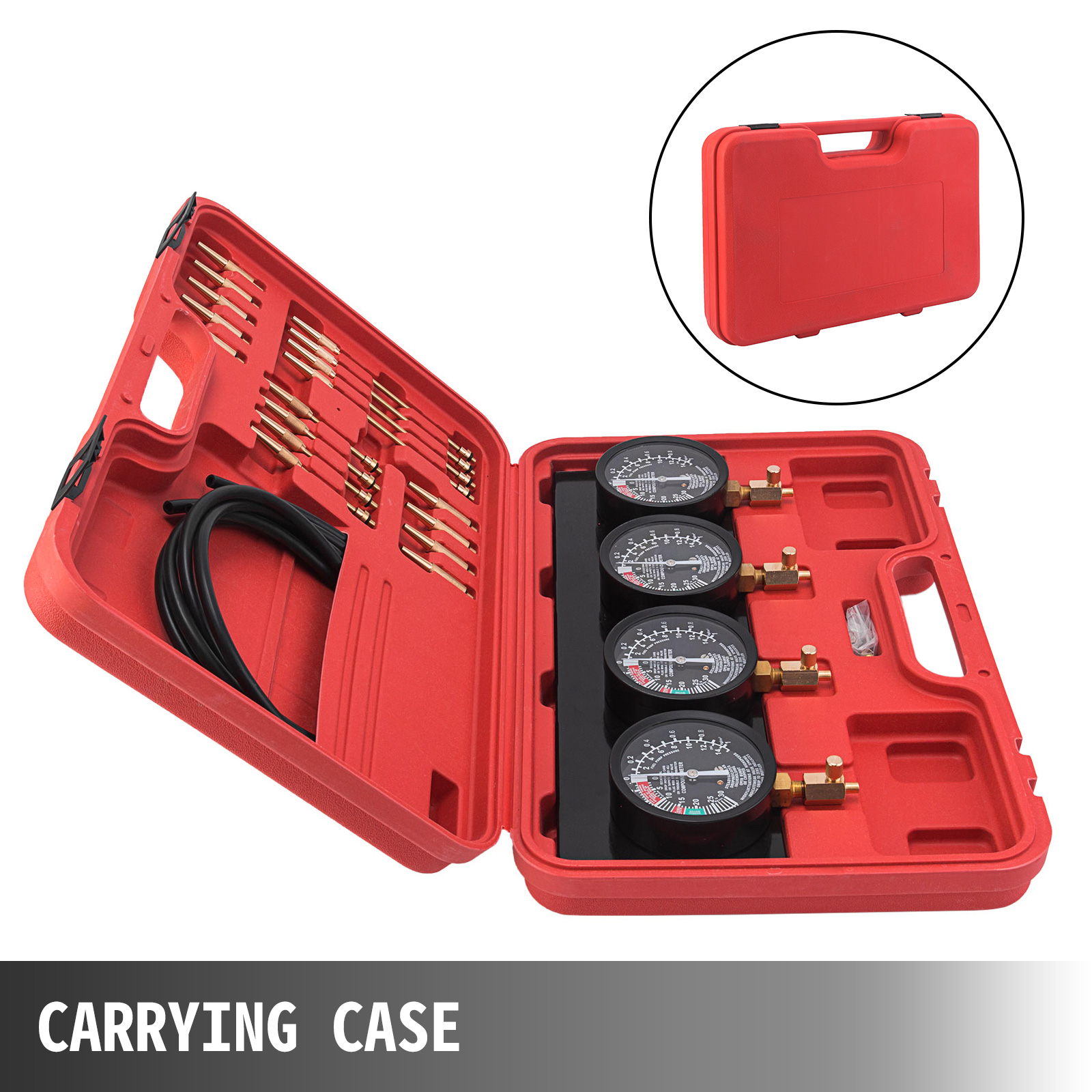 High-quality Carrying Case
All the tools in a storage case are well organized for easy transportation, simple storage, and quick identification. The length of the case is 17 inches, and the width is 3.6 inches.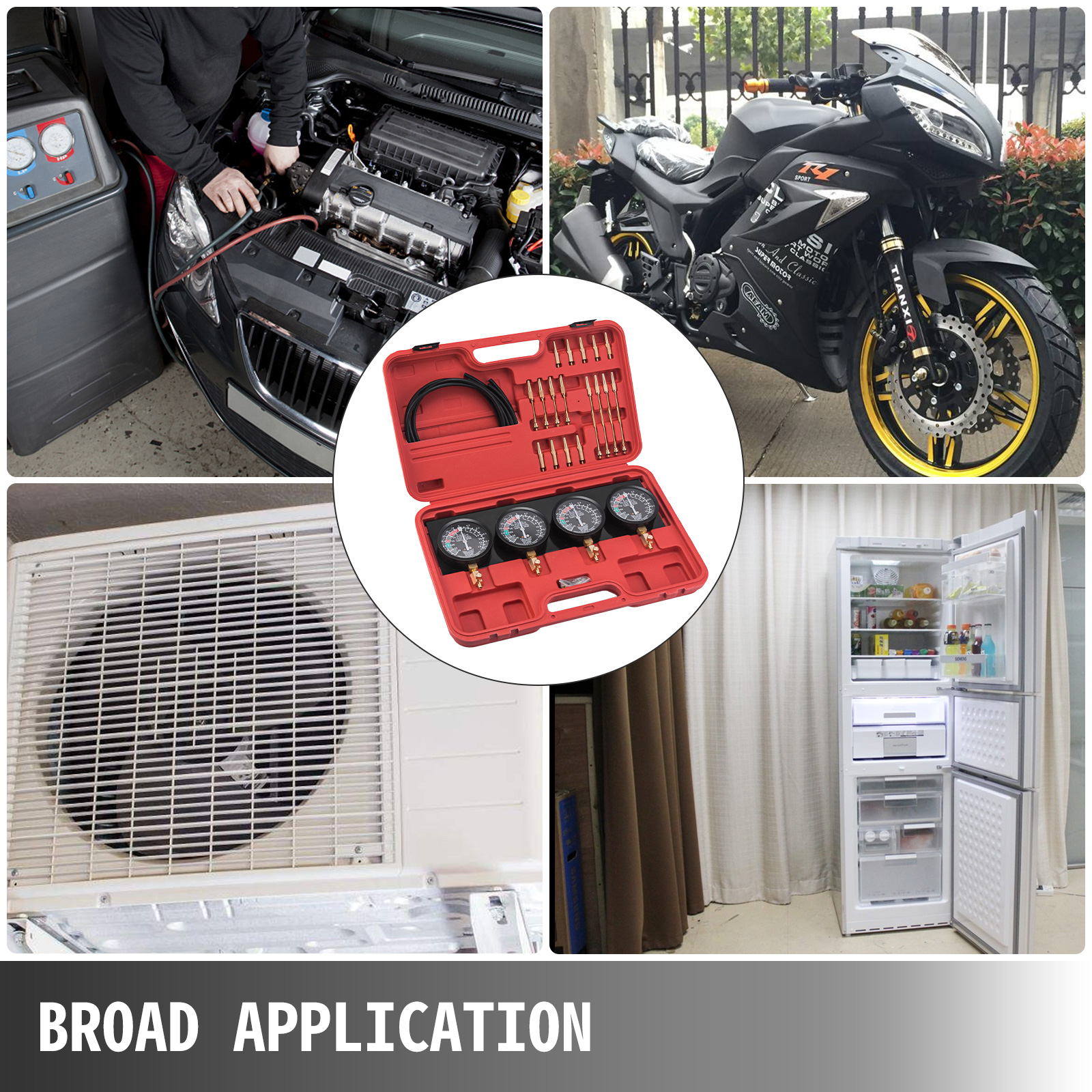 Various Application
The fuel pump pressure & vacuum tester gauge kit, and carburetor test enable testing of the fuel delivery pressure to the engine to check for worn or defective parts, which gained excellent popularity in factories, workshops, auto repair shops, and households.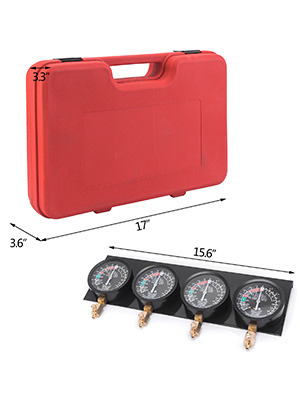 Specifications
The set includes 4 synchronizer gauges with fixed plate (vacuum), 4 rubber pipes (8x750mm)

Set includes 4 extension tubes (3.9 x 52mm) and 4 tubes (3.9 x 122mm), 8 tubes with conical connector (8 x 40mm)

Set includes 4 tubes (10 x 53mm) (M6 x 0.75), 4 tubes (10 x 60mm) (M6 x 1.0)

Packing size: 50x30x15cm/20x12x6inch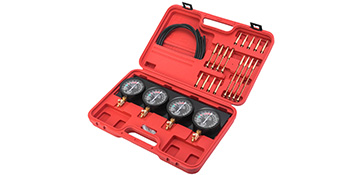 Package Content
4 X 3-1/2" Synchronizer Gauges with Fixed Plate (vacuum)

4 X Rubber Pipes (8x5x750 mm)

4 X Tubes of Extension (3.9x52mm) and 4 Tubes (3.9x122mm)

8 X Tubes of Conical Type Connector (8x40 mm)

4 X Tubes (10x53mm) (M6x0.75)

4 X Tubes (10x60mm) (M6x1.0)
 
Complete Carburetor Synchronization Kit with 4 Precision Gauges and Accessories
Features & Highlights
Precision Synchronization: Keep your motorcycle's carburetor in optimal condition with this essential tool kit. Comprising four precision gauges with color-coded scales, lockable brass valves, and a 15.6-inch metal base for tabletop use, this kit ensures accurate carburetor synchronization.
Sturdy Construction & Multi-Function: Crafted with durability in mind, the vacuum carburetor tool features high-grade chrome-finished hardware. It's capable of diagnosing various issues, including improper timing, leaking manifolds, and misfires. Additionally, this tool synchronizes values for 2 to 4 carburetors.
Comprehensive Accessories: The kit offers versatility with three types of adapters designed for various motorcycle models. A set of four 30" rubber hoses facilitates remote use. For your convenience, the kit includes a lockable carrying case with a handle, making transportation and storage hassle-free.
Effortless Operation: Start by calibrating all gauges to zero. Begin the tuning process by starting the engine, observing the gauges, and making necessary adjustments. Repeat the process after stalling the motorcycle and giving the throttle a few snap-backs until the desired synchronization is achieved.
Wide Applicability: This vacuum carburetor synchronization tool kit includes both long and short carburetor adapters, ensuring accessibility for different setups. Crafted from high-quality materials, it boasts a sturdy structure for prolonged service life. Suitable for use in factories, workshops, garages, and households.
Measurement Method:
Adjust the engine's idle speed according to standard data and turn off the engine.
Attach the rubber vacuum tube to the pressure gauge and secure it with the elastic clamp.
Using the special threaded copper joint, screw it into the carburetor thread, ensuring a proper fit. Connect the other end of the rubber vacuum tube to the copper fitting.
Confirm the pressure gauge rubber vacuum tube is connected to the carburetor cylinder being measured.
Warm up the engine, start adjusting carburetor synchronization, and fine-tune after refueling (accelerating) and returning to idle speed.
Consult the vehicle's factory data sheet for carburetor negative pressure standards.
Precautions:
Handle with care to prevent water, oil, dust, and debris from entering the rubber hose passage.
Avoid impacts, high temperatures, humidity, and direct sunlight to maintain the instrument's integrity.
Clean the meter with a soft cloth; refrain from using gasoline or solvents.
Share
View full details